Sports



Thursday, August 7, 2014




Major makeover planned for Progressive Field




No price tag yet, but it will cut about one-fifth of seats and be funded privately


by WKSU's KABIR BHATIA


Reporter
Kabir Bhatia
Progressive Field's upper deck has been quiet for many years, but next season will be replaced by expanded bar and restaurant space, plus a new kids' area and more
Courtesy of K. Bhatia
Download (WKSU Only)
Progressive Field is getting a major makeover after 20 years, as Indians management says it's time for the stadium to adapt to changing fan needs. WKSU's Kabir Bhatia reports.
The home of the Cleveland Indians will lose about 7,000 seats, with the area above right field converted to more bar and restaurant space, a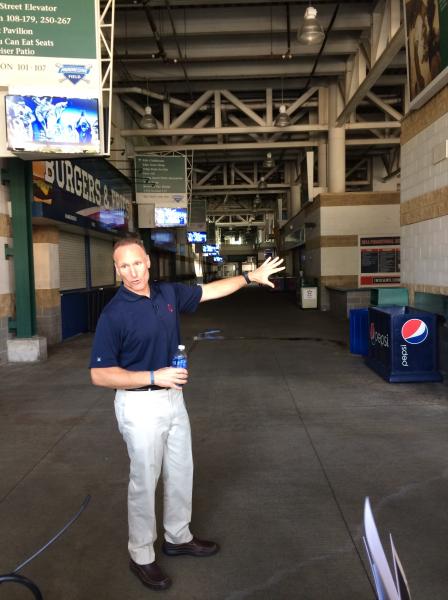 greatly expanded kids play area and a promenade highlighting Cleveland's diverse neighborhoods like Ohio City and Tremont. Team President Mark Shapiro says he wants Progressive Field to be "a neighborhood ballpark," which will not need to be replaced as it ages.

"The sports-entertainment experience is still always about the team on the field. But the way fans watch games -- the way they interact with games -- has changed. It's evolved. The way our kids will watch games will be very different in the next five, 10 [and] 15 years."

Shapiro also touted a major revamp of Gate C on E. 9th. He says that street is coming alive. And with more people living downtown, fans expect to be connected to their city. The cavernous corridor at Gate C will become open air, and a statue of Larry Doby will be erected next year. Bull pens will also be moved to an area nearby, within the stands.

The project's price tag should be announced next month, and it's being funded entirely by the team and its partners. Shapiro says he hopes for an increase in ticket demand, but does not expect an increase in ticket prices.
Page Options
Print this page
---
---