A conversation about LGBT inclusiveness
A small group of Gay Games athletes paused from competing and sightseeing to gather at the United Church of Christ headquarters in downtown Cleveland Tuesday.
They sang, worshipped and heard from a panel of faith leaders of LGBT-inclusive churches in the Cleveland-area. Rainbow decorations and signs that promised "you're welcome here" were scattered around the intimate chapel.
Gay Games faith partners
The Gay Games has 18 faith partners representing eight denominations including the Episcopal Church, the United Methodist Church and The United Church of Christ, which was the first mainline denomination to support the Games financially, becoming one of the top sponsors.
Andy Lang is director of the U.C.C.'s Open and Affirming Coalition. He says the church has 1,200 congregations nationwide --- or about one-fifth of its total -- that have committed to including LGBT people. And he says that number is growing each month.
"Other churches aren't there yet, but their consciences have been disturbed," Lang says. "And they're beginning to rethink what they believe. So I really believe there's a future not only for American Christianity but for other faith traditions as well. It's going to take a long time to get there, but we're at a turning point in history."
"To stand up and be counted"
About a mile away from Cleveland's U.C.C. headquarters, rainbow ribbons decorate the doors of The Trinity Episcopal Cathedral. Gay Games partner signs are throughout thebuildings. The dean, Tracey Lind, says that full inclusion of the LGBT community still has ways to go, but she is amazed how far the church has come.

Lind first came out as a lesbian while she was in seminary about 40 years ago, but with a promise that she would keep it quiet and not embarrass the church. That changed about 25 years ago; she was a priest at a church in Patterson, New Jersey:
"When one of my bishops was put on trial for heresy and the reason for it was he ordained an openly gay man who had been in my seminary class. And I thought, 'You know, it could have been me but instead it was him.' And so, I thought, I got to stand up and be counted," Lind says.
Lind was featured in a Time Magazine article about openly gay clergy in 2000, the year she joined Trinity Episcopal. She married her partner In New Hampshire and performs same-sex blessings for couples who are married in other states – a right the Episcopal Church gave to its congregations in 2012.
Churches help sponsor Central American athletes
Trinity and the other churches in the region have reached out beyond their own congregations to support Gay Games athletes – as well as the Games themselves.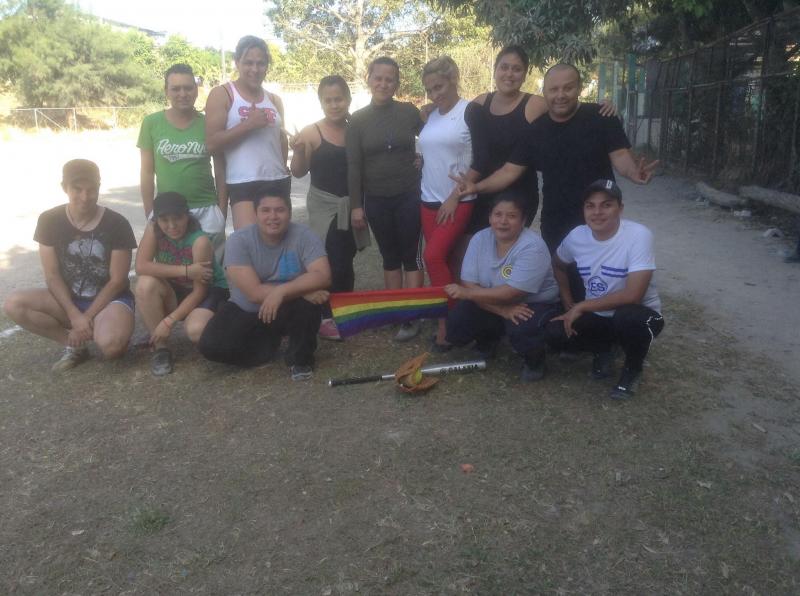 A Cleveland-based group called Inter-Religious Task Force raised about $15,000 -- mostly from local churches -- to sponsor two Central American teams in the Gay Games. The softball team from El Salvador and volleyball team from Columbia are the first to represent those countries in the Games.
Task Force member Mary Williams says her group was inspired by an Anglican bishop they met in El Salvador who supported the LGBT community, and a lesbian woman whose faith was undeterred by the disapproval of her church and community.
"She was just so adamant on believing in God and believing in the church even though she would tell us stories about having to walk home to her house every night a different way because she was so scared for her life," Williams says. "These people don't live in fear because of their faith and they just keep doing the work that they're doing. And I've just carried that with me."
"Get with the times"
Faith leaders and organizers in Northeast Ohio hope their outreach both in the community and worldwide continue to strengthen after the Gay Games.

Trinity Episcopal's Lind says excluding the LGBT community is becoming a thing of the past. "Everybody under the age of 35 is over it. It's a non-issue. Even among Evangelical Christians, it's a non-issue. And so, the church needs to get with the times."
Even some of the churches that remain opposed to same-sex relationships and gay marriage have extended a welcome to the gay community during the games. The Roman Catholic Diocese has distributed brochures that list Mass times and locations and is staffing the Spiritual Center in the Festival Village in downtown Cleveland.