The 57,000 people who work for Parker Hannifin make lots of stuff that has to do with motion and control – things for aerospace, climate control, gas and oil drilling.
But head of th ehuman motion control project, Achilleas Dorotheou, says his company had a hankering to do something, as he puts it, more directly related to the human condition.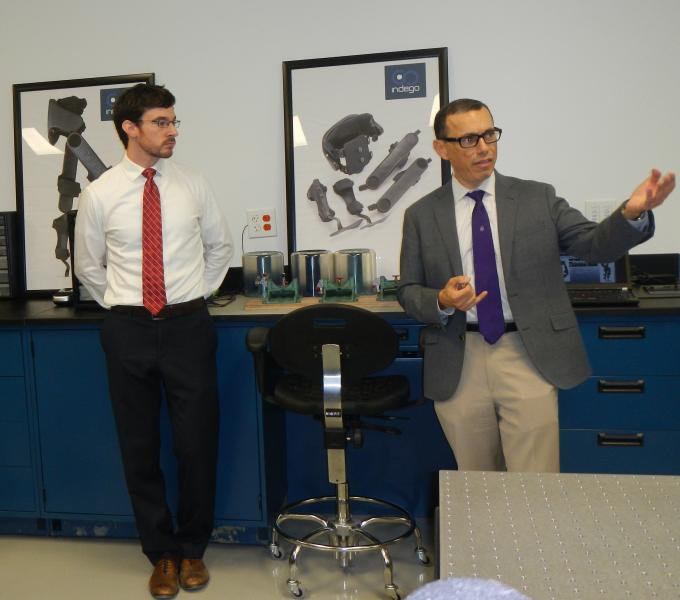 "All that Parker makes fits into something else and they never see the eventual product. And I think there was this pent-up desire to have a visible impact on the lives of people."
Meet the Indego
The impact that Dorotheou's project developed with Vanderbilt University is a sleek, black, 26-pound combination of backpack, lightweight leg braces and foot blades, motors, sensors and a lithium ion battery that cost half a million dollars to develop.

"I was the ... we'll use the word 'test pilot,'" says Michael Gore. He's from North Carolina, where an industrial accident in 2002 left him in a wheelchair with no movement from the waist down. He underwent extensive therapy at Atlanta's Shepherd Center for people with spinal injuries. But he says he'd accepted the mantra for people with his injuries – that after 12 to 18 months, "you live with what you have."
Looking people in the eye
Then the Shepherd Center called and asked if he wanted to help test what's become known as the Indego. (Think of the combination of the words "independent" and "go," not the color.)
He teamed up with physical therapist Casey Kandilakis two years ago. She joins him for a demonstration.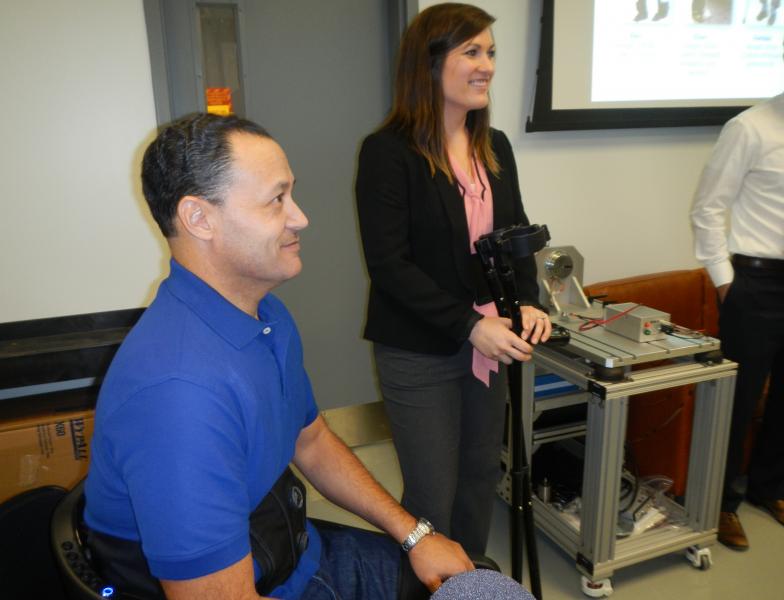 "So Michael, if you'd like to go ahead and scoot forward."
"OK."
"Michael uses this device intermittently since it's still not FDA approved," Kandilakis explains. "No one at present has used it long term. So we're very, very interested to see with this clinical trial in the fall to see how things change and how people can improve."
Gore plants his feet, and with the help of the Indego and metal crutches, he rises.
Vibrations and cell phones
But as Ryan Farris explains, that's only the start. Farris co-invented the Indego while a doctoral student at Vanderbilt.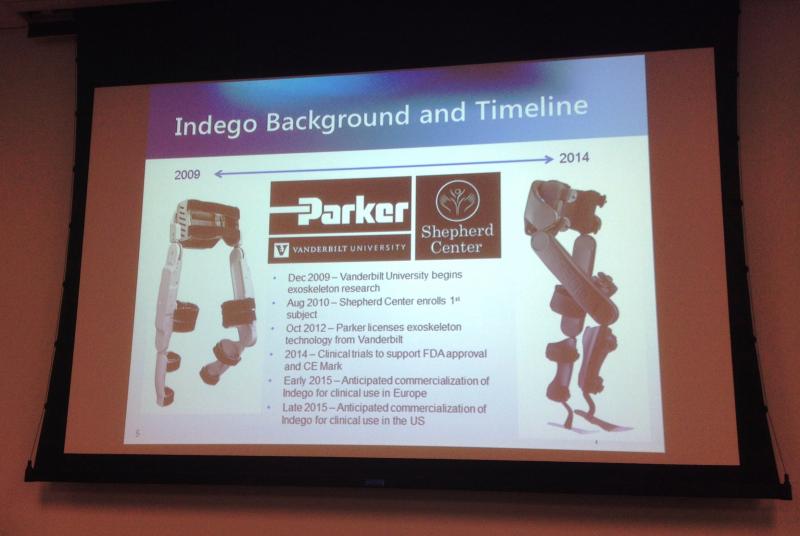 "Walking is essentially a sequence of leaning forward and putting a foot out to catch ourselves. So we have accelerameters and gyroscopes with the same positional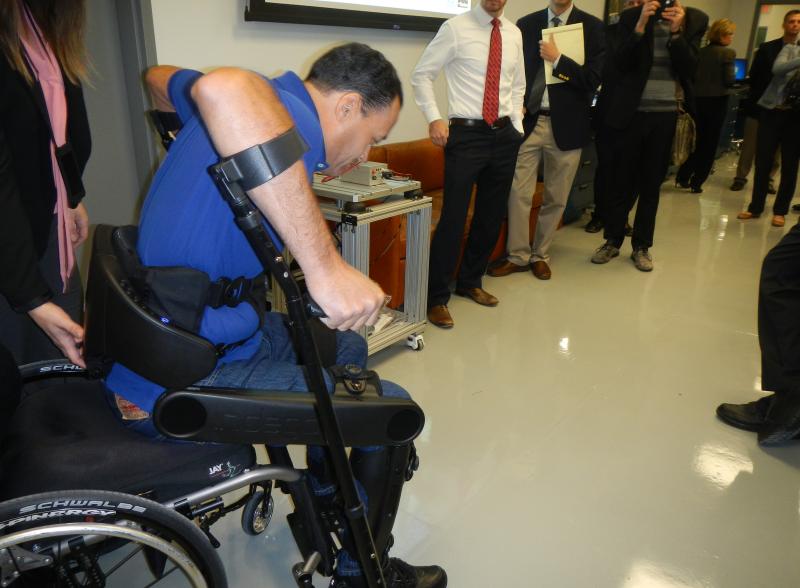 awareness that you have inside your smart phone these days. So if you turn your smart phone, the screen responds by changing its orientation. Our system can do the same thing, but what we use the information for is to determine the posture of the user."
Kandilakis says the key is a vibration that alerts the user.
"He's in blue mode so nothing's going to happen. But if he leans forward and feels that vibration," she begins. Gore picks up the narration: "I know the machine is ready to take a step. If I'm ready, hold that position. If I'm not, I stand up. "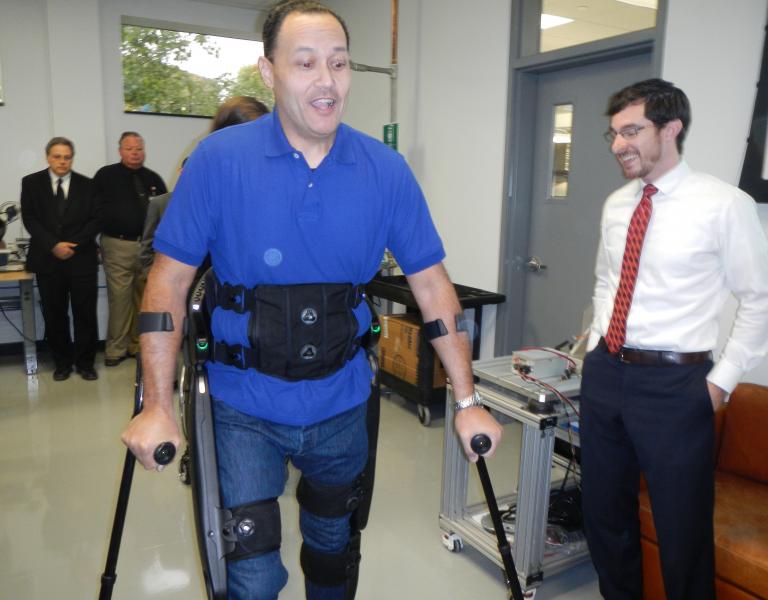 Yes, there's an app for that
And, of course, there's an app for the Indego: Kandilakis and therapists like her can adjust the speed, height and length of steps.
Michael Gore never expects to be completely free of a wheelchair, but he relishes the times when he can stand and look someone in the eye and walk even for a few steps beside them.
Therapist Kandilakis sees others with less severe injuries going even further.
"For people who have any residual leg function, this gives us the ability to get them up earlier in a very functional way and get them walking and training the muscles to do what they've been doing their whole lives."
Home grown and made
Parker Hannifin – hosted a tour and demonstration of the Indego for U.S. Sen. Sherrod Brown – and assured him the supply chain is short -- and Ohio centric. It also assured him that production will be in Northeast Ohio.
The company hopes to get the OK and begin selling the Indego in the European market in February, which should make it easier to get FDA approval. It that happens, it should be selling in the U.S. by 2016.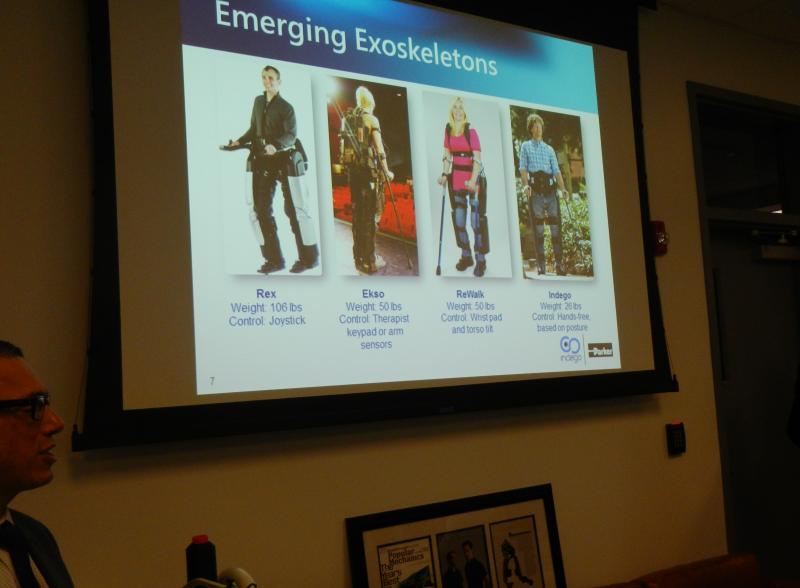 Models from other companies – the Ekso and ReWalk – are already on the market at roughly the same $70,000 price. But they weigh about 50 pounds, nearly twice as much as the Indego. And they don't come in modular pieces that can fit inside a gym bag and be donned by a person in a wheelchair without assistance.

Parker Hannifin hopes that may be key to convincing the VA, workers comp and private insurers that the price is worth it. People are less likely to use equipment they see as too cumbersome and complicated. And that makes any of their therapeutic value a loss.