Sunday night will be the first time concert-goers will walk through the new Zimmermann Symphony Center to hear the Canton Symphony Orchestra.
The orchestra moved into its gleaming new edifice on the campus of McKinley High School over the summer. The actual performance space, Umstaddt Hall, has had a sprucing-up, too, as part of a $5 million dollar capital campaign. The 35-year-old concert hall now has nicer restrooms, a brighter lobby, a new coat of paint, new seats and carpeting.
And a new electromagnetic communication system.
Wired for clarity
The hall is wired with a hearing induction loop that transmits music directly into hearing aids and cochlear implants. The hearing-impaired can simply flip a switch and no matter how far back they're sitting the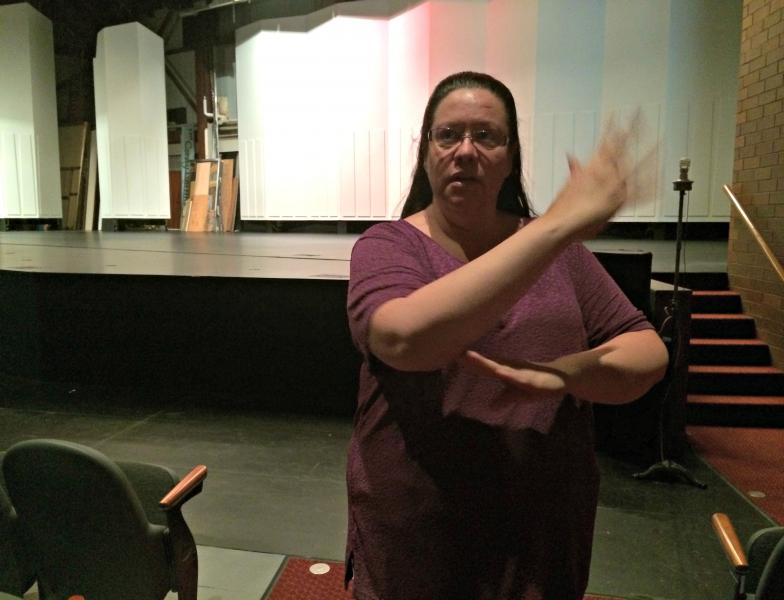 music comes in loud and clear.
Tiffany Hamilton of the Canton-based agency, TRIAD Deaf Services says the new technology also filters out distracting background sounds. "The side conversations, the ruffling of papers, that'll get taken away, and they're able to just listen to what the loop is picking up."
Signing with everything she's got
And for choral pieces, to help the deaf community better understand the lyrics, Hamilton will sign. She uses not just her hands and fingers but her whole body to express the music. "Eyebrow movement, mouth movements, all of that is incorporated in the language. But when you add music to it your body moves as well. Your signs get bigger. They get more graceful. They follow the rhythm."
She's signed choral music before. "For a high school level, yes, but not a professional level like this, never."
Dismissed at first
It was a signed high school performance at her son's school that gave Canton Symphony Executive Director Michele Mullaly the idea to add sign language interpretation."Actually it was met with quite a strong negative reaction at first.
Everybody was like, 'Why would we do that? Why would
deaf people come to a musical concert?' And I said, 'Well, I really think there would be an audience for that.'"
The maestro signs on
Music Director Gerhardt Zimmermann agreed with her right away.
"I think it's absolutely wonderful. You know we've had children come to rehearsals, and they will hold balloons. And the vibration of the balloons, I mean they would really get excited about it. They couldn't hear but they could see the orchestra really playing out, and it was a lot of fun to watch their reaction."
Zimmermann has long been an advocate for the rights of the disabled. He was crippled with polio at the age of 7. "I was given a lot of opportunity when I was growing up with this disability."
Inclusion is all in the family
The opportunity for Canton's deaf community to enjoy classical music gets Tiffany Hamilton's standing ovation. "I just really appreciate it anytime any organization realizes that there's a deaf community out there that deserves and has the right to equal access."
Hamilton's the only child of deaf parents and says American Sign Language is her first and native language. She brought a friend to help explain the benefits of sign language interpretation for music. "This is Stacy Harper and she is deaf. She has brought along her two daughters, Ashley and Hayley, who are hearing."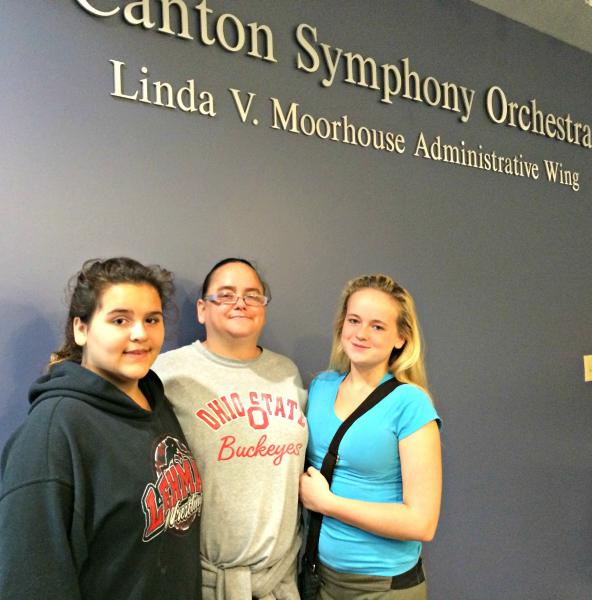 "I like music, "says Ashley, and I think it's wonderful how my Mom can feel the beats and stuff." "And she likes to dance to it with us," says Haley, "and it makes me feel good."
Ashley is 14, Haley is 12, and they both love to dance. Stacy, their Mom, speaks through Tiffany, the interpreter, to tell us about her girls.
"Oh, I have to dance with them. I just move! I have to put my hearings aids in sometimes to dance so that I can follow the beat better."
Through Tiffany, again, Stacy tells us she can feel music. "As long as it's loud enough I can feel it, but I don't understand the words at all."
Expressing the feeling in the lyrics
But her friend Tiffany helps her understand. "When a person is signing the song, when they can show the emotion through their facial expression or their gestures, I am able to get into the emotion of the song or the music."
Tiffany Hamilton's been a professional sign language interpreter for 20 years, but she's been interpreting music for the deaf since childhood.
"My father is a big lover of music even though he can't hear. My father lost his hearing at the age of 12, and he had some residual hearing until he was about 40. And my father because of his love of music has given me the inspiration to want to share as much as I can with him, with the language that we share."
Sunday night and at future concerts of the Canton Symphony Orchestra, she'll keep sharing. "It's something that I think brings a visual beauty to an auditory art."
Sunday night it can be enjoyed along with the architectural beauty of the new Zimmermann Symphony Center.