Kent Waldeck of Crafted Artisan Meadery likes craft beer. A lot. That's what led him to mead a few years ago.

"In the back of every good beer-brewing book there's usually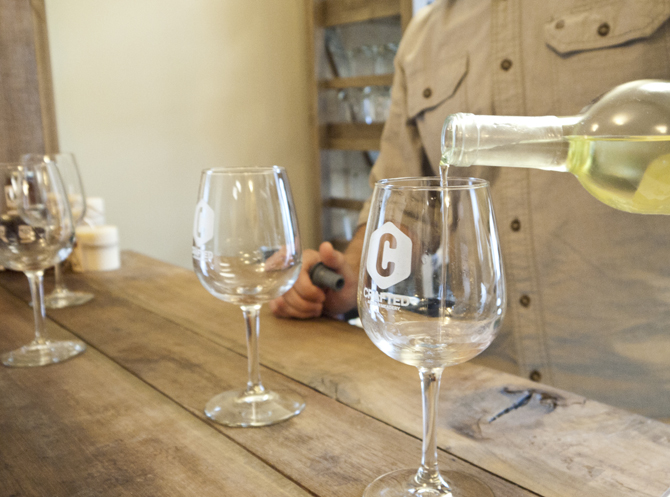 a little section on mead, and I started dabbling into meads. And got I think better and better at it. Every home brewer dreams of opening a brewery. To me, a meadery was just kind of a better fit."
An ancient libation
Mead goes back about 7,000 years.

It's "arguably the world's oldest fermented beverage, mentioned throughout literature and throughout history."
Mead is believed to have been discovered by accident when rainwater filled an upturned bee hive and some thirsty primitive got drunk on the fermented contents. Ancient Greeks called mead ambrosia or nectar of
the gods; it figures prominently in Norse mythology, too, and was the favored drink of Danish warriors in the Old English epic poem Beowulf.
Stronger today
Mead flowed in medieval times when kings and knights would guzzle the stuff.

But Kent Waldeck says the modern version is much stronger, as much as 16 percent alcohol.
"We have a lot of folks that come in, and they'll say they want a mead like people in Game of Thrones would have drunk. Mead at that point in time may have topped off at about 2 or 3 percent alcohol. It basically would have been a sweetened, slightly alcoholic water."
In olden times, they used wild yeast. But higher alcohol content is possible with modern brewing strains. Ingredients remain few.

"It's basically honey, water, and yeast," says Waldeck. "But from there you can use fruit, you can use spices, you can use herbs."
Main ingredient's not easy to get

For the last two years Waldeck has had a local source for wildflower honey.

"We get it from Western Ohio. We've went through about 175,000 pounds of it to date."

He frets about availability of his meadery's key ingredient. The main supplier lost 80 percent of his hives last year.

"So we're riding around with our beekeeper to go visits the hives."

He won't reveal the beekeeper's name. "Honey's hard to get. I'm all about supporting the local beekeeper, but I'm about draining this guy out, and I'm going to have a hard time getting the honey that I need for the rest of the year."

To meet increased demand over the holidays, he needs more than ever.

"Depending upon which mead, how sweet or dry it is, there could be up to a half pound of honey per bottle."
Concern for the bees
He wishes more people would join him in worrying about bee colony collapse.

"Lot of folks don't realize that it's even still a problem. They don't really realize the significance of it. Over one-third of our food supply comes as a result of the pollination of bees. I'm not a beekeeper, I'm a mead maker. But our first carbonated mead that we launched is called Pollinator."

On Pollinator labels, there's information about saving the bees, and Waldeck donates part of the proceeds to OSU's bee lab in Wooster. Pollinator is a sparkling dry-hopped blackberry mead with Saigon cinnamon.

Crafted Artisan's Tupelo Mead, is made with honey from the Florida panhandle. Since this variety of honey is highly valued and in short supply, Tupelo Mead is Waldeck's most expensive product at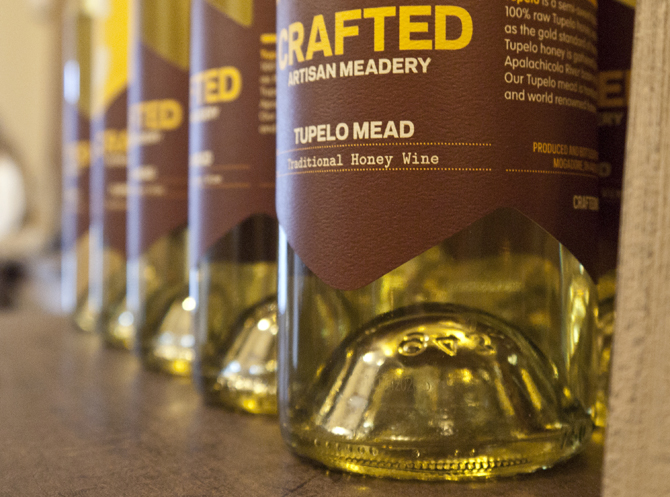 $29.99 a bottle.
Local flavor
Waldeck taps a keg of his newest and strongest brew, bourbon-barrel aged Borealis.

"It's buckwheat honey, wildflower honey, vanilla bean, locally-sourced coffee bean from our friends at Bent Tree Roasters in Kent. And then we aged it in a local brewery's award-winning bourbon barrel Imperial Stout barrel. So if that's not a mouthful. But that mead clocks is at about 16 percent alcohol and that's one, you really want to appreciate that mead."
Equipped like a brewery
Waldeck owns one of four Ohio meaderies. There are 150 now in the U.S., with average sales having more than doubled in the last two years.

To make his mead as quaffable as craft beer, Waldeck uses equipment you'd find at a craft brewery.

"This is our walk-in cooler that we use for fermentations." There's also what craft brewers call a bright tank. "This is basically a forced carbonation vessel."
Craft-beer lovers are his target audience.

"And we're at the beer festivals we're not at the wine festivals."
Mead is the smallest segment of the alcohol business in this country, but it's the fastest growing. Other Ohio sources for it include Jilbert Winery in Valley City, the Meniru Meadery in Canton and Brothers Drake Meadery in Columbus.