Stem cell production line
Michael Gilkey is a man with a dream. He's wants to see the world turn to Cleveland for advice on how to grow stem cells.
Stem cells can differentiate into any type of tissue, but growing them on a large scale is tricky.
We're in a crowded lab in the Cleveland Clinic's business incubator building just off the main campus where Gilkey points to a big glass-fronted case. It's a barrier isolator, or in his words, "a clean-room in a box."
He reaches a gloved hand in to show me a tray of tiny vials.
Gilkey believes stem cells could revolutionize medicine by tapping into the body's ability to heal itself.
They're being used to treat everything from diabetes to heart disease, stroke to bowel disorders.
It's a nearly $12 billion worldwide industry, ripe for the kind of technology being developed by Gilkey and his partners at the Clinic, Case Western Reserve University, and University Hospitals.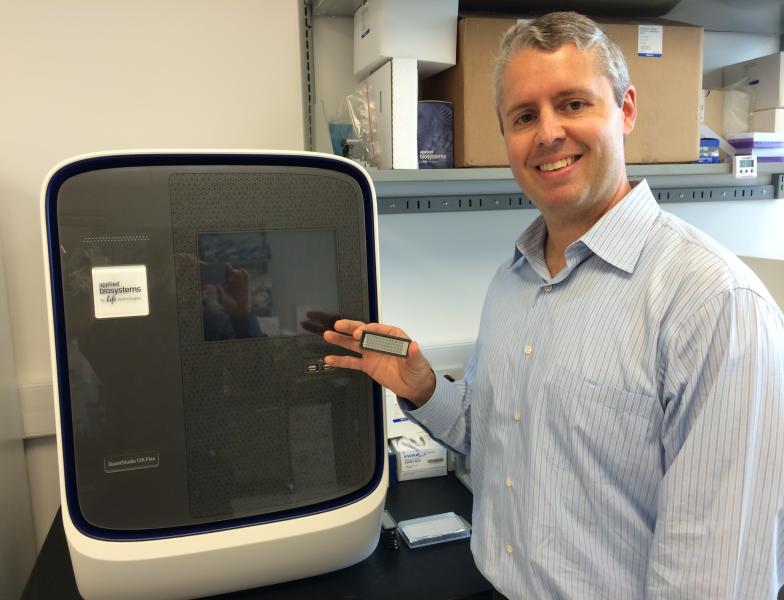 The venture, called Ohio – Alive is also funded by the state's Third Frontier program.

The goal, says Gilkey, is to put Cleveland on the biomedical map by helping streamline the manufacturing of therapeutic stem cells.

"We want to be the place where anybody comes that wants to develop a new stem cell therapy and we're going to help them all along the way of getting something from concept to the patient."

Tapping into Cleveland's expertise
The project is the brain-child of Stan Gerson, head of the National Center for Regenerative Medicine. About the name of his center - he says, "it's not really regenerative exactly, it's cell therapy - it's restoration with cells rather than with drugs."

He and his colleagues at Case were among the first to treat people using stem cells.

But Gerson says that, despite the deep academic know-how here in Ohio, the East and West Coasts are where the stem-cell industry is taking root.

"We don't have enough financial risk takers that are willing to take the same risks here that they might take on the coasts, and yet we know we're as competitive and as strong intellectually as anybody on the coasts are, so we need more investments," according to Gerson.

Athersys takes root in Ohio
One company to take that risk is Athersys. Co-founder Robert Mays says about ten years ago the company moved to Cleveland from San Francisco to partner with the North Coast's brain-trust.

"There's not a lot of places in the country that have the ability to have access to the big brains that we have at the Clinic and at UH and at Case Western."

But Athersys brought some West Coast attitudes to Cleveland. Senior Director Robert Perry gives me a tour of the Carnegie Avenue complex complete with workout facilities,a ping-pong table, a pool table…very un-Cleveland.

In a quiet room tucked behind the common room, head of regenerative medicine, Robert Deans peers through a small window into an adjacent lab. He points to a bubbling bag of red goo.

He says each one of those bioreactor units can independently yield a billion cells as a final product.
That's about 200 doses of live stem cells that are flash frozen and sent to doctors to test on patients who recently had a heart attack or stroke. The cells swarm to the injured area and orchestrate the healing process.
Robert Mays says they reduce inflammation and build new tissue better than any drug currently available. "I refer to them as Marines sometimes," says Mays, "these really good guys that show up and are working hard to get things back to baseline."
He says Athersys is still 4 – 5 years, and about $100 million away from FDA approval for clinical use. But the payoff, he says, could be huge.
"We're going to have to win in the clinic," says Mays, "If we win in the clinic all of our investors win and the company become very successful, it goes boom."

Juventus takes a different approach
Marc Penn, head of cardiac research at Summa Health System, has developed a different approach to stem cell therapy. His company, Juventus, is testing a type of gene-therapy that coaxes heart muscle to produce the signals stem cells use to coordinate healing, without adding the cells themselves.
But Penn is still rooting for success at Athersys and the handful of other Northeast Ohio biotech companies…
He says, "We really need some wins in Cleveland to further encourage that population of folks who really do want to invest in these things, not just to make personal money, but to also encourage the development in Cleveland."
Penn says angel investors and public funding for stem-cell therapy is keeping Cleveland's hopes for a biotech industry alive … but, he says, even angels get tired.