The first exhibit as you enter the Hall of Fame asks and answers the question, "Why Canton?"
The answer has to do with the formation of the NFL in a Hupmobile dealership more than 90 years ago downtown. But for years, the Hall of Fame has been kind of an island, off I-77 on the northwestern edge of the city.

Under a master plan adopted by the museum's trustees this week, that would change.

The island becomes a village – with a five-star hotel, a conference center, retail shops and restaurants, an athletic performance and safety center and corporate training facilities.
Seeing the possibilities
"What we've done is we've conducted several feasibility studies with partners to look at what is possible," says Hall Executive Vice President Joe Horrigan. "And what is possible is pretty dramatic."
One of the most dramatic aspects of the plan is something tentatively called Legends Landing.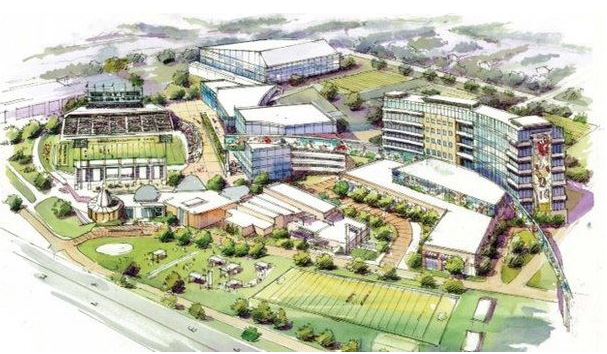 "We could create here a place where literally hall of famers, literally pro football players -- or men and women who just want to live in this type of environment -- could live in an assisted-living facility. Football fans don't quit being football fans."
Horrigan says there's no direct think to concerns over the special health concern of aging players.

"I think we see it as just one of those opportunities. … We represent the history of the game we represent all the players. And we look at how can we work with youth football. How can we work with contemporary, the legends playing today. But we don't want to forget our retired players, the guys who's shoulders we're standing on."
First things first
But first comes new life and purpose for the old Fawcett Stadium -- a Depression-era oval where the Hall of Fame preseason game is played each summer and a lot of high school games are played after that.
The turf and lighting have been upgraded to NFL quality, but Horrigan says the work that could begin right after the next Hall of Fame festivities is more complex than that.
"Some of the things we know we can do to enhance it is connectivity to the Hall of Fame campus. To the Hall of Fame itself. Maybe all the way over to the hotel and conference center, a kind of walk of fame, if you will. And within the stadium we can build a stage environment right into the north stands."
Stu Lichter and other interests
Horrigan says the overall project would come in three phases – the first involving the stadium, practice fields, a center for excellence and the conference center -- and costing as much as $230 million. He expects funding will come from state and local governments as well as partners and private developers.
One of the private developers with an interest in the project is Stuart Lichter, best known in this region for redos of the Goodyear headquarters and Hoover factory.
Horrigan says Lichter was knocking on the Hall's door not long after David Baker became the Hall's new president. And Baker's background – which includes building a $1.5 billion integrated health-care village in Nevada — made that make sense.
Heading west
Still, the Hall of Fame is pretty much landlocked on three sides by I-77 and the city's biggest high school and new symphony center.
Horrigan is a silver-lining guy when he talks about those.
"The beauty of having 77 where it is is it is our mobile billboard, if you will -- so many people pass by, see the Hall of fame, know we're here."
As for the symphony, he says the arts are a potential partner with the Hall.
A big change for a small neighborhood
But he acknowledges a massive expansion and change in the Hall's place in Canton will, by definition, change the neighborhood of working-class bungalows and small ranches behind it. The hall's already spent more than a million dollars buying up homes in the area and is looking to buy more.
Tim Wedekamm is a landlord, stopping by to work on a two-story bungalow that looks out over the Hall of Fame. He likes this house in this neighborhood. But he'd be more than willing to give it up and find his tenant a new place to live.
"Anything that would help the city of Canton grow and prosper, I'm for. I'm a large landlord in Canton and I have a lot of money invested in this town. All I want is for it to be better."
A block further west, though, Linda Harrison has questions – lots of them. She's lived in the neighborhood for 43 years come this Saturday -- though her Cape Cod accent still surfaces.
"The Circle K on the corner, it was just a little Lawson's milk store. Everything else is the basically same … quiet, except for Hall of Fame games. Used to be a lot of kids around. There aren't any kids anymore."
One of her sons worked on one of the previous Hall expansion. But she's never visited the Hall – and doesn't plan to. And she wouldn't want to sell her property for the newest vision for the hall.
"Cause I like the neighborhood. I like the area. Even though I'm from the East Coast, the ocean, I wouldn't want to move."
But if the feasibility studies, funding, land acquisitions and construction plans come together, Horrigan says the project could be complete in time for the NFL's 100th birthday in 2020 – and Canton could – for the first time – host the NFL draft.