On the first Friday of every month, a diverse crowd of about 80 neighbors, young and old, rich and poor, dine together at the United Church of Christ in Kent. They are time bankers, pooling their talents, skills, and resources to help each other out.
You don't need a penny to participate
Time banking is not bartering, because it's not a one-on-one transaction. It's not volunteering, because you get back something for everything you give. It's a system of exchange in which no money changes hands.
Abby Greer is a veterinary technician as well as the founder of the Crooked River Alliance of TimeBanks. In 2010, she started its charter group in her hometown.

"Some people have actually called me the Bill Gates of time banking. I'm actually the wealthiest person in Kent in time credit."
How it works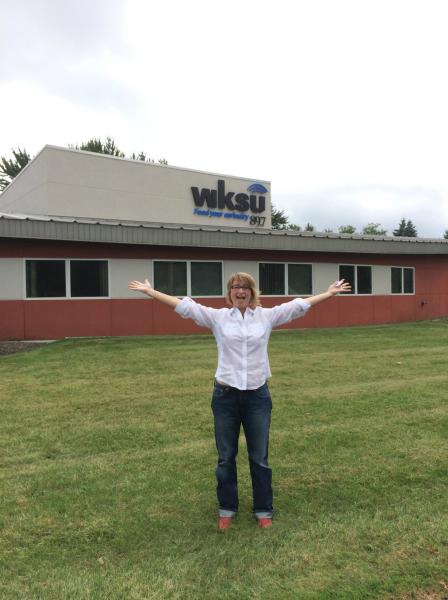 Greer explains that a time credit is a unit of exchange.

"When you do something for somebody for an hour, you earn a time credit. You may then spend that time credit on any of the other hundreds of services available in the TimeBank."
When you join the TimeBank, you get access to a website to search for services, make an offer or request, and record and deduct your time credits. Since its inception, 750 TimeBankers have exchanged more than 36,000 hours of service.
An invisible economy
"People are making TimeBank exchanges every day," says Greer. "You just can't see it. There's no storefront."
Abby Greer works hard running the TimeBank, but earns not a penny of U.S. currency as executive director. She's paid entirely in time credits.

"Unfortunately, the grocery store doesn't take time credits, yet. And Kent State University does not take time credits, yet. But for now I can do things like get my dogs walked. I've had curtains made. I've had meals made. I've had desserts made."
In return she offers her own talents and energy and runs the TimeBank, 'which I'm earning one time credit per hour doing," she says. "I also love to teach ice-skating. I love to give pie-crust lessons. I will also make pies and scones for people for time credits."
TimeBank helps feed the needy
Food figures prominently in the TimeBank, and groups as well as individuals participate.

The food pantry and hot meal site Kent Social Services has earned time credits by offering its kitchen and dining room for meetings and classes in
exchange for computer services.

Tom Phillips runs a farmers market in Canton as well as the Stark County Community TimeBank.

"If people don't have money to come to the market and spend, they can come to some of our vendors and just spend time credit to get food."
Spending time credits for help that's hard to get
Diana Singer is an artist and musician who describes herself as "mobility challenged."

She earns time credits with her talents and spends them to get around.
"And for some of us, this is really important, because this is not something that you can necessarily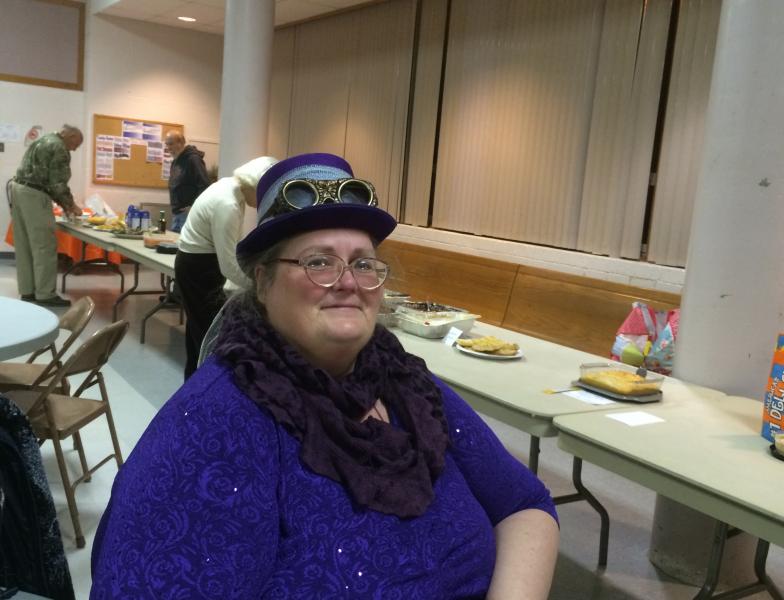 get through Medicare or anything. You know you need this kind of community."
Founder Abby Greer says TimeBank credits get you things money can't buy.

"Oftentimes our member will say, 'Well I thought this was just a service exchange, but I ended up meeting my new best friend.' "
A cooking lesson leads to friendship
Something similar happened to Greer when she exchanged time credits for a lesson in Indian cooking.

"Which was beautiful. We spent three or four hours together talking and cooking and laughing. I learned about her family, she learned about my family. And it turns out she lives right around the block from me, and I feel like I made a new friend."
An hour of cooking class is just as valuable as an hour of legal consultation, or an hour of an architect's time.
A family feeling
Or, an hour of 12-year-old time banker Luci Beck's pet-sitting. The Hudson Montessori seventh-grader does a lot of that. "A lot of cats. Once I did a lizard."
Luci's 10-year-old brother Levi shovels driveways and mows lawns to earn time credits, and their dad, Nate, thinks they benefit in other ways.

"It helps them learn how important it is to get to know your neighbors."
Diana Singer sees that value in it, too.

"People being so separated from each other and not knowing their neighbors I think is part of why we have problems, some of the problems we do."
Everyone has something to offer
Ray and Doris Aeschliman of Ravenna like to wash the dishes after the Timebanks's monthly potlucks.

"This is so neat," says Ray, "because everyone has some ability, something that they can do for someone else."
He's offered other services: "To take people fishing and to teach them how to clean the fish and how to fry the fish. I've had no takers yet."
Doris Aeschliman has earned time credits helping neighbors make flower arrangements.

"But what I'm really excited about is helping people learn to sew. And I've had some people come to

my house and introduced them to the sewing machine, something that they missed in school."
A new economy built on traditional values
When TimeBankers break bread together at the potluck socials, the community feeling is real. And Tom Phillips of the Stark County Community Timebank says in a way, it's nothing new.

"I think we're just going back to an economy the way it used to be, more, where neighbors helped each other, and they're more trusting. We have a thing that we talk about. People say 'Oh you're trying to build community' and we'll say, 'No, we're just teaching people to trust again.' And that's what time banking is all about."