Since 1997, Moxie has served what it calls "innovative American" cuisine. It's a
fine-dining establishment in Beachwood with a bistro ambience.

Doug Katz, who went on to open Fire at Shaker Square and Provenance at the Cleveland Museum of Art, was Moxie's first executive chef. The eatery has been popular with patrons and its style has been emulated by other area restaurants since it first opened.
A new look and new menu for 2015
But big changes are coming to Moxie in the New Year, according to Executive Chef Jonathan Bennett. He notes that just about a week ago, on Dec. 4, his restaurant marked a milestone.

"We turned 17 years old. So in February, we're actually going to close down for about two weeks and remodel the entire restaurant. The style of our menu's going to be very different."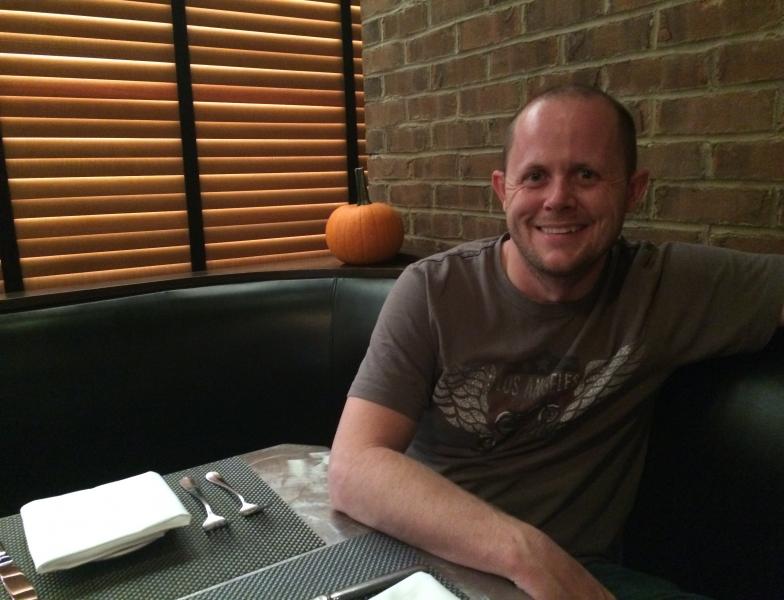 Bennett is one of two chefs among Moxie's five co-owners, including its founder, Brad Friedlander of Red, the Steakhouse.

Their plan for 2015, according to Bennett is still fine dining, but with more choices and more family-style participation at the table.

"I don't need flaming pots and guys flipping shrimp into their hat. But we're trying to free up a little creativity to them yet still maintain enough creativity that they can feel and taste what the chef is doing.

"Tonight they want the salmon, but they might not want it with the pumpkin gnocchi. They might want it with caramelized Brussel sprouts and malt vinegar. So the interaction comes with the sides and the stuff that kind of accentuates your entrée, to be able to enjoy what you want or be able to share it with the rest of the people at the table."
His favorite time to cook
All of that is still to come, but for now the fall menu reigns supreme. This is Bennett's favorite season.

"It starts getting a little chilly, the daylight's get shorter. We really start wanting to eat again. So I find it one of the most exciting times of the year to cook."

Even with Northeast Ohio's shorter growing season, he says he usually finds what he needs nearby.

"It would be nice if we all lived in southern California where we could grow stuff year-round. But it is amazing how creative the farmers in this area have gotten. They have what God gave them and they try to make the most of it. So with tunnel-growing, with a little bit of greenhouses, with cold frames, people are making a lot more season out of what we normally have."


Plenty of pumpkin
One of the stars of Moxie's fall menu is an autumn twist on duck confit with golden grapes, lemon zest and pumpkin bread pudding.

"That's one of my favorites," says the chef. Pumpkin has been a key ingredient this season.

"We got in ... 240 pumpkins, and over the course of three days, we peeled and roasted and seeded and vacuum-packed them and froze them. So sitting in the freezer, we've got a couple hundred pounds of pumpkin that'll hopefully survive the winter for us and make it through at least through the holidays."
Inspiration at the market
As we talk, Bennett tosses a salad.

"It's a little bit of a take on the apple salad we have on the menu right now. The apple salad we put on the menu has got celery and mascarpone cheese and a lemon-honey vinaigrette. So this one, I saw some persimmons at the market
yesterday."

Farmers' markets are among his many sources of inspiration.

"Adventuring, seeing what's growing, seeing what's at the market. It's amazing how many great markets that we have that are going year-round now."
The apples in Bennett's persimmon salad come from Spiegelberg Orchards on Cleveland's west side. The greens are also locally-grown.

"This is some watercress actually grown right out in Burton. It's a member of the cress family so it has a little sharpness to it, a little mustard-y flavor."

He dresses the salad with creamy sheep's milk cheese, done in the brie style, along with sherry vinaigrette and local maple syrup. "So we've got bitter, sharp, creamy, sweet, a little acidity with the sherry vinegar."

For a salad, it has a powerful aroma. "The apples and the persimmons give off a great fragrance."
The persimmons remind him of his youth.

"This is a Fuyu persimmon, which is one of the only persimmons that you can eat whether it's firm or whether it's nice
and soft. And the persimmon trees in my grandma's back yard, I tell you, you pick one of those up before it's fully ripe and you'll pucker like you've never puckered before."
Farm boy
Bennett hails from a small town in southern North Carolina.

"Grew up on a pig farm and vegetable farm. So I certainly know what the farm life looks like and feels like. Some days I miss it. Some days I don't."

He says he started cooking seriously at age 9.

"My Mom bought me a little electric wok, and I would actually do little hibachi demos in the dining room. I mean it's like the lamest thing ever to think about, but that was the beginning of my start."
A family of foodies
Bennett's wife is a former pastry cook. They met in school at the Culinary Institute of America and have two sons, ages 15 and 11.

"They both eat better than probably I ever did," says their dad. He says they also cook.

"They try their best. They're adventuresome eaters. We try to instill a little bit of that culinary knowledge. Alex, the oldest, hopefully is going to start working with us here next year when he turns 16. It think it's important to teach kids what work looks like and also to teach kids how to cook. Because it's a dying art. It really is."
Bennett's just glad he got into it.

"I really enjoy the instant gratification of being able to take something, do something with it and hours later you've got something that you can put in front of someone and make them happy."
What makes the chef happy when he comes home late from the kitchen?

"A bowl of Mitchell's ice cream."

He says his wife always keeps some on hand along with other local products he likes to use.

"It really is amazing that same way that our food scene has grown in great restaurants, our food scene has (also) grown in great producers. Whether it be the watercress that we were just making that salad with out of Burton, to Lucky Penny making some great goat cheese."
He says we've come a long way since Cleveland's culinary claim to fame was Chef Boyardee.

"He's still kicking I'm sure," says Bennett, "but we're a little expanded beyond that now."