Crystal wine goblets sparkle and sterling silver flatware gleams on crisp white linen tablecloths dotted with flower vases. This is not The Blue Door of old, although there's still one cuckoo clock on the wall.

Owner Mike Bruno has upgraded the décor in a bid to change the image of what was once a
popular, but casual diner.

"People are so used to us doing breakfast and lunch that they don't realize that we're doing dinner."
A chef-driven menu
Since the summer, and only on weekends, The Blue Door is doing a four-course menu that changes weekly under the guidance of a chef with international credentials and high standards.

"I do what I want, how I want it, without compromise."

For 22 years at fine dining establishments on three continents, Torsten Schulz has insisted on what he calls "proper" foods.

"Responsibly-sourced either in season or available to us from other parts of the country. And doing all of that without fear of cost."

At the Blue Door he enjoys free reign. "In my past cooking experiences most likely you want to do something nice, you're being shot down by the ownership or by whoever wants to make money. 'No it won't sell. People won't understand. You can't do that here.'

"Nothing like that here."
Something out of the ordinary
In the Blue Door's kitchen we watch him use a specially imported stainless steel shaver to make paper-thin slices of truffle. They'll garnish a soup of pureed Delicata squash.

"Of course we're going to top that with some
wonderful local micro-greens. In this case we have peppercress, which is one of my favorites, and of course the black truffle."

The peppercress comes from Chef Grown, Schulz's side business. He grows microgreens indoors at Canal Place. The truffles were a sudden inspiration.

"There is an urge sometimes to do something a little bit out of the ordinary."
Schulz told owner Mike Bruno they really ought to buy white truffles.

"And Mike said, 'Well, let's have white truffles.' And I said, 'Well, you know they're going to be like $3,000 a pound.' And he said, 'OK, let's not put too much on each plate."

In the end they weren't able to find enough white truffles.

"Mike felt bad about it, and so he bought me black truffles, the finest there are."
The owner speaks the chef's language
Twenty years in the Marine Corps taught Mike Bruno the value of what he calls mission orders.

"You give your subordinate a mission, and then you let him run with the ball. The subordinate is the one who is on the ground. He sees what he needs and he makes the decisions."

The owner and chef think alike and even talk alike. "We speak more German I think than we do English," says Bruno, "which is nice." Bruno grew up in Akron with a mother from Cologne and a dad from Berlin.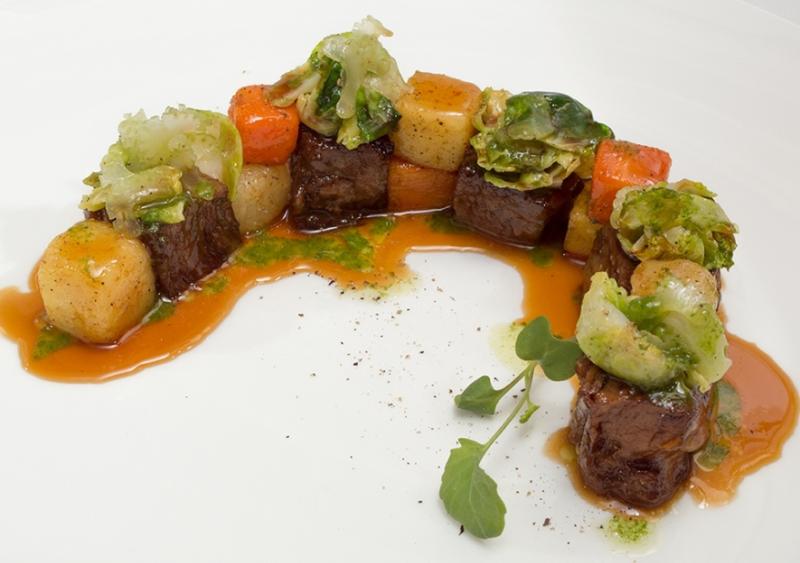 Paella without a passport
Schulz is from Saxony. But he spent a lot of time in Valencia, Spain, the birthplace of paella. There, they make it with rabbit. But Schulz prefers wild shrimp, adding chorizo, wild octopus that he gently blanches for 3 hours, and ham imported from the Andalusian region of Spain.

"It's the black pig that they use. It is super dark. It is very tender. And it is super delicious. We spent $200 a pound for that ham."

To that he adds saffron rice and onion blanched in Spanish olive oil.

"The onion is now combined with the delicious octopus. It's seasoned with a little bit of lemon juice, salt and pepper, very simple. And that sits on top of the rice that has been wrapped in this wonderful ham. Needless to say that we spent a fortune putting that on the plate, that you're not going to pay for. OK, we charge $20 for this. We should be charging $32."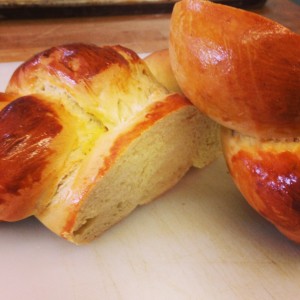 He concedes this is no way to make money. "

"It's nuts sometimes. Sometimes even Mike and I we look at each other and we're like, 'Damn, we just spent $500 on 15 pounds of fish. There's no way we can recuperate this cost.' And so this happens more often than we like I guess, but it's still the way it is."
Breakfast and lunch support dinner
Owner Mike Bruno may be losing money with every dinner served, but for now, he doesn't care.

"I look at the cost of ingredients more as being an investment. Give the customer an experience he or she will never forget, they'll go and tell three other people."

Besides, the corned beef hash, quiche, crepes and croissants are still selling well.

"Right now breakfast and lunch are assisting dinner in growing."

And that leaves Chef Schulz unconcerned about making dinner affordable. "Instead we buy the stuff that we buy, and we try to pass on the cost to the consumer, hoping that they forgive us, but also learn to appreciate and say, 'Wow, this was awesome. I'm going to come back."
An unlikely spot for high-end cuisine


The location, on State Road near Broad Avenue, amid gas stations, used tire and discount stores isn't where you'd expect to pay $33 for a plate of local goose, $24 for a vegan entrée of organic cabbage, or $34 for Hawaiian Wahoo. But Mike Bruno's used to surprising customers.The Blue Door used to be the Golden Goose, a donut shop Bruno took over from his mother-in-law about three years ago.

When he started offering brown eggs from free-range hens, nitrate-free bacon, and European breads and pastries, there were naysayers.

"I was told at the beginning that the breakfast and lunches that we were trying to do would never work in Cuyahoga Falls and that's proven to be completely wrong."
Come as you are
A humble location for a high-priced dinner might be surprising, but comfortable,
too, in a way. The chef likes the fact that there's no dress code at the Blue Door.

"Whether you wear sandals, flip flops or a $300 leather shoe made in Italy -- when you come in here you sit down and you enjoy a meal, and no one's going to judge you what you look like."
But the table, says the owner, will always look elegant.

"Growing up, when we did a special dinner my parents would always pull out the fine crystal and the fine china. I could care less what people wear when they come here, but I just want them to feel special."
Reservations are recommended for dinner at The Blue Door, served, for now, only on Thursday, Friday, and Saturday nights.