On Brittain Road near Tallmadge Avenue, in the parking lot behind the Fil-Am Market's back door, a sudden rain shower doesn't deter Fernando Suansing from grilling.
"This is pork barbecue. They been marinated for minimum 48 hours with soy sauce, lemon and garlic and onions, and all that, and Lily's secret ingredients."
Lily's his wife.
"This one, it's deer meat," she says. "That's red pepper, onion, green pepper and pineapple, marinated with vinegar, soy sauce and my special ingredient."
Monkey meat but not really
In the Philippines, these chunks of meat and vegetables cooked over charcoal on thin wooden skewers is called simply "barbecue."

"But most of Americans call it monkey meat," says Fernando. "The G.I. Joe. That was back in the Vietnam War, the '60s. Monkey Meat. Yeah, it was odd. But it's pork."
The Suansing's met and married in San Diego.
"She came from the Island of Leyte in Southern Philippines. I came from the north part of the Philippines, Luzon Island."
There are 7,107 islands in the archipelago and 170 different languages. Every region has a distinct cuisine.
Where Ferdinand's from, they're famous for boiled and steamed vegetables with fermented fish.
In Lily's southern island, there's more of a Southeast Asian flavor with lots of coriander, turmeric, and lemon grass.
"Similar with the Chinese. Pretty close. But ours is more tastier. They have the chow mein; they have the noodles. We have our own version of the noodles. We call it pancit. That's the pancit, and this is the bitter melon, and this is the lechon."
The national dish

Lechon is a whole roasted pig prepared by removing the entrails, skewering the entire animal on a long wooden spit, and twisting it over charcoal until the skin turns crisp.
Traditionally, a suckling pig is used. The name derives from the Spanish word for milk, leche.
Lily Suansing prepares Lechon, the national dish of the Philippines, only for special occasions.
"It takes five to six hours to cook it. So, that's why I will take a whole week to prepare that. I have to have at least 10 people order some because it costs a lot. They want it every Saturday, and I say, 'No, no, it's too much work.'"
She says every part of the animal is used. Nothing goes to waste.
"If there is some leftovers, like if this one is not going to sell, tomorrow I can turn it into Lechon parsim, which is you cook it with sauce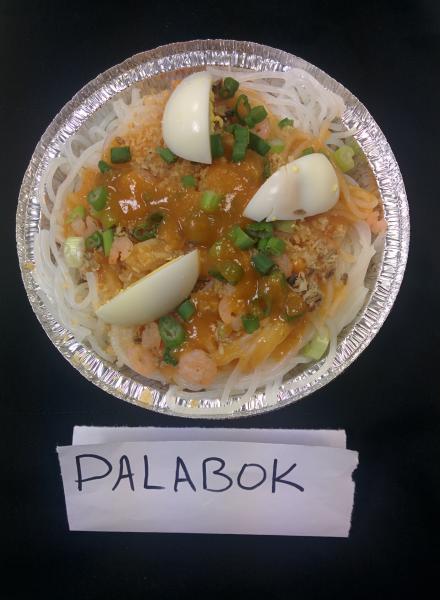 and vinegar and of course my special ingredient."
Keeping her secret
What could that be? We've seen recipes for Lechon that include 7-Up or Sprite for a touch of lemon and lime.
But Lily's keeping mum about her secret ingredient.
"I can give you anything else but one. My originality."
The Fil Am is more of a market than a restaurant, but today a few customers are balancing plates on their laps as they sit on a sofa in the back of the store, enjoying a buffet.
A bountiful buffet

There's longganisa, a garlicky sausage; puchero, beef in bananas and tomato sauce; adobo, another national dish of the Philippines with chicken braised in garlic, vinegar, oil, and soy sauce, bay leaf and peppercorns.
And Fernando's favorite vegetable dish, made with bitter melon.
"Ampalaya. The reason why they call it bitter melon is because it's bitter. Bitter fruit. I just fried it like just like stir fry, and I put a little bit of eggs."
Friends and family gather on weekends
Lily loves to cook for friends and patrons like Randy Parks of Akron.
"I came in the store, and the food is phenomenal, but the service to me, Lily, that's bringing me back more than just the food."
Lily's cooking isn't as Spanish as some Philippine cuisine -- not a lot of chili peppers here.
On some of the islands you'll note a Malaysian and Javanese influence with plenty of coconut milk.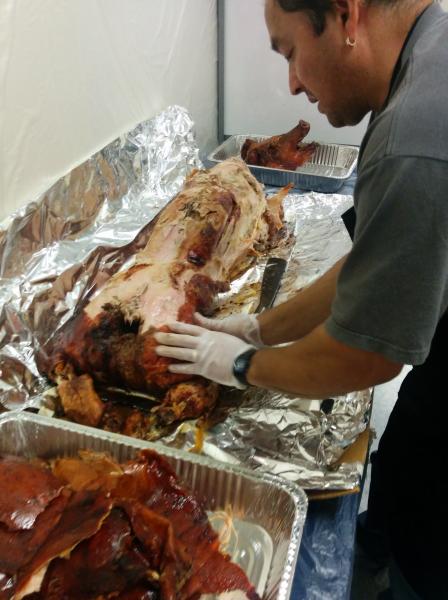 But Lily's southern island dishes are more like Chinese. Take her lumpia, "which is egg roll. Every time I make some I usually make like 700, and it only lasts three days."
Randall Phalen of Akron comes often for a dish that looks like Chinese noodles.
"This pancit is delicious. I don't know, it's just got a special flavor. I'd never eaten any Filipino food, and after the first time I just keep coming back. It's really good. You'll have to try it and then you'll see."
Snacks from back home
The ambience of Fil-Am Market is like that of a sari-sari, the convenience stores
found in most residential neighborhoods in the Suansing's native land.
The key attraction there, as here, is chichiria, snack foods in red, yellow, and blue sealed foil packs.
Fil Am market stocks all the salty, spicy, cheesy, crunchy favorites, including fried peanuts, pork rinds, salty fish crackers and garlicky fried corn snacks.
There are just a few places in Northeast Ohio where you can find them, like Nipa Hut on Cleveland's west side and Mely's Kainan in Parma.
It's a taste of home for Filipinos, but Lily says others who stop by the Fil–Am market find the sinful snacks just as addictive once they try them.
"They never go way. They keep coming back for more."