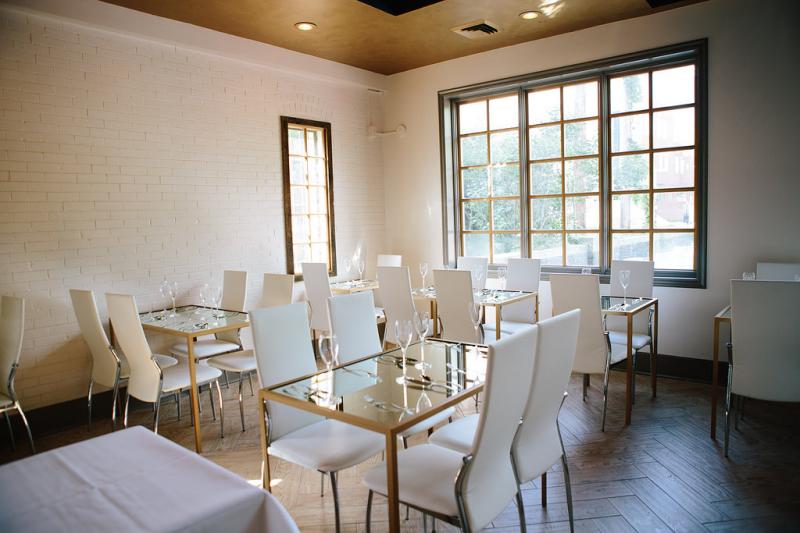 Trentina the newest and smallest restaurant in University Circle, opened in July with only 32 tables. The brick building on Ford Drive used to be Sergio's.
Built in 1910, it served as the carriage house for the adjacent Glidden House mansion, now a boutique hotel. Chef and owner Jonathon Sawyer likes the location.
"With 45,000 people working within a one-mile radius, between University Hospitals, Cleveland Clinic, Case Western Reserve, all the cultural
institutions, the veterans clinic right there -- I mean there's just so many people here who are underserved."
Bringing home the latest trends
A James Beard Award finalist last year, lauded in the New York Times in 2013 for "bringing trendy food to Cleveland," Sawyer is among Cleveland's young demi-gods of gastronomy.
The chef returned to his hometown from the Big Apple about five years ago with a full larder of fresh ideas.
His Greenhouse Tavern and Noodlecat in downtown Cleveland are both based on the concept of farm-to-table. Sawyer believes in supporting local farmers and producers and cooking what grows in his fertile native soil.
A new kind of restaurant for Cleveland
But Trentina is Sawyer's passion project. He named it for the wine-making region in the Italian alps where his wife Amelia's family still lives.
Here, Sawyer takes a new approach to fine dining: "To fill a void in the fabric that is the restaurant culture of not just Cleveland but of Northern Ohio. Trentina can be so much more than just a restaurant. It can be a tasting-menu restaurant, much more experiential as opposed to come in and select your favorite thing and have an experience, which is still wonderful, and then leave. We're looking to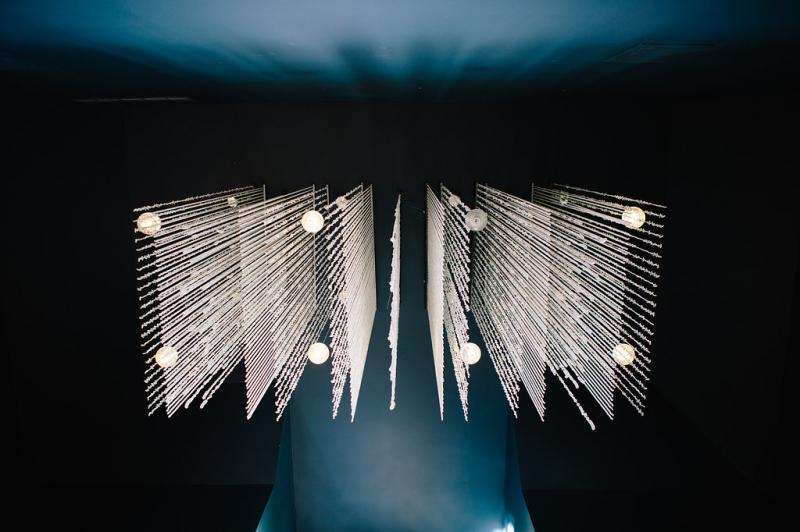 guide the ship a little bit more."
Plates are small, tales are tall
Servings are not more than a few bites, but the courses are multiple, as many as 16 for a fixed price of $100. And they're all presented along with anecdotes, sometimes told by Chef Sawyer at tableside.
Or by Captain Sawyer's first mate in steering the ship, Executive Chef Matt Danko. Right now he's cooking up some putanesca.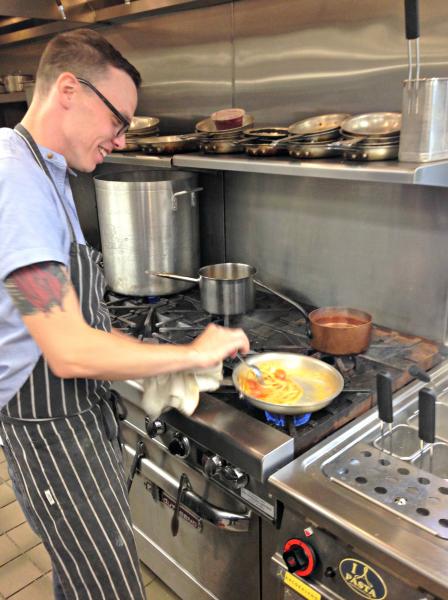 "It's a traditional pasta where we're going to use a little bit of anchovy, a touch of tomato, and then we're going to garnish with a little bit of dehydrated olive. Those are the main elements that we're going to recreate."
The goal is to take the diner not only to Northern Italy but back in time with an aromatic dish Sawyer says prostitutes would use to lure customers.
"Imagine yourself being like in Trieste in the 1900s and these cauldrons of anchovies, olives, capers, tomatoes, were simmering."
All pastas made on the premises
The putanesca is enticing, but essentially just a tease. Like all items on Trentina's tasting menu, what Chef Danko is plating up here is miniscule.
"We offer quite a selection and variety of food and we wouldn't want to inundate our customers with a bulking portion of pasta. So we range somewhere between 2 to 3 ounces of pasta per portion just because of that reason."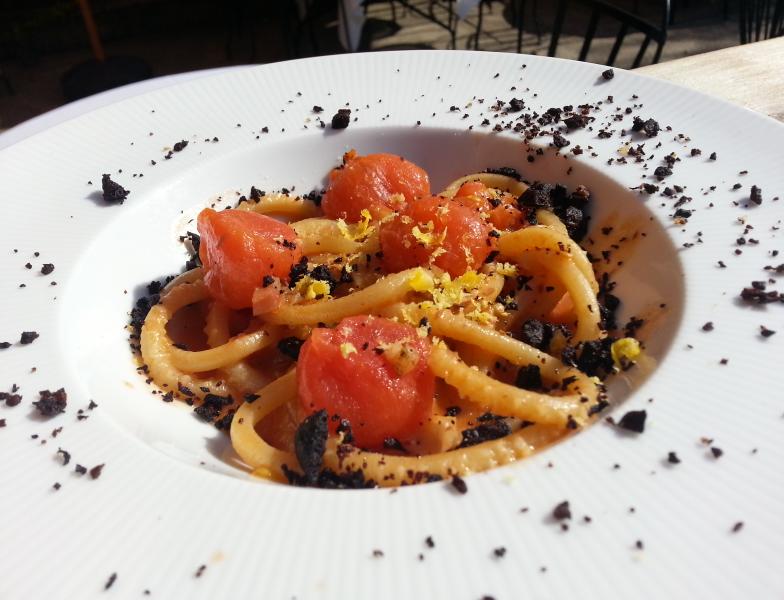 All the pastas are made in-house, and each one has a story. Spaghetti alla chitarra is named for a musical instrument.
"It used to be made in the guitar strings. So they would roughly shape a sheet of pasta and then actually roll it into the strings of a guitar and it would make these square noodles."
You might wonder what it is
The menu changes frequently, but it's always packed with surprises.
One course is nothing more than a candle that you might not realize right away you're supposed to eat.
"We put it on the table in a manner that it is just lit. And then as the candle melts it almost gets to the point where it's going to spill all over your beautiful table, then we bring out the bread service and we say, 'The candle is made from grass-fed beef fat from Ohio and is entirely edible."
As if that's not wild enough
Wild edibles are here, too. Chef Danko enjoys having a full-time forager on staff.
"As a chef, it's one of the truly exciting moments where you get to share something rare like reindeer lichen with a guest. It's sort of
like a moss. We dry it out and then we fry it and it becomes this incredible crunchy texture, once it's fried, it's just this crispy beautiful bite that reminds us of the forest as you enjoy its flavor."
Sawyer says reindeer lichen is just one of the ingredients that sets his restaurant apart. Forager Jeremy Umansky also finds wild mushrooms, sassafras, elderberry, wild watercress and more.
"He's out in the forest four days a week, five days a week. We've identified between him and us over 300 ingredients that we will utilize or have already utilized here at Restaurant Trentina that are locally foraged."
Trust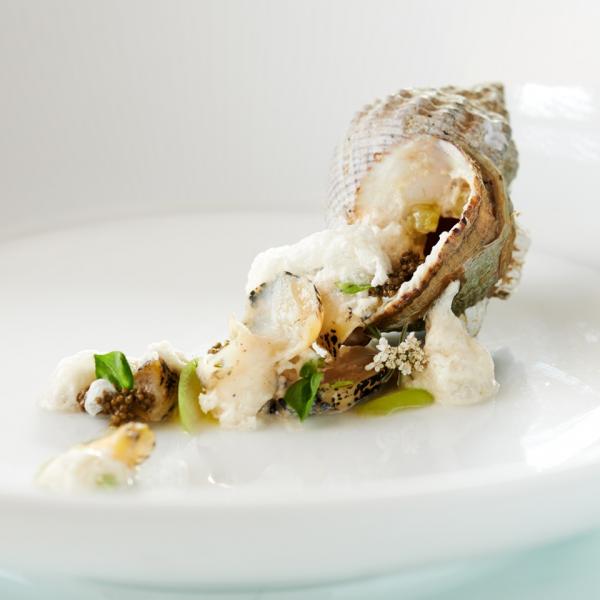 Trentina has only been open since July, but Sawyer says adventurous eaters are already responding to the challenge.

"They just close their eyes and say, 'We're on the journey with you.'"

Chef Sawyer says he's always been adventurous himself, but there are foods he shies away from.

"I don't like calves liver. And I try it almost every year, but that's one ingredient I just can't come around and love. I do love chicken liver. I love duck liver. I just can't do the calves liver."

Currently, there's no calves liver on Trentina's menu.