"Where these things usually get stalled is somebody raises the issue of, 'How much is it going to cost to implement Tanisha's law throughout the state?' It seems that it's a matter of hundreds of dollars for a 40-hour program, as opposed to thousands of dollars. The economic component of it shouldn't be the barrier."

Reforming the system
Along with reforms and legislation, Tanisha Anderson's aunt – the Rev. Diane Wheeler -- called on Cleveland police to reassess the way they deploy resources.
"The police department needs to reset crime-fighting priorities and strategies to make those strategies consistent with the needs of our community at large.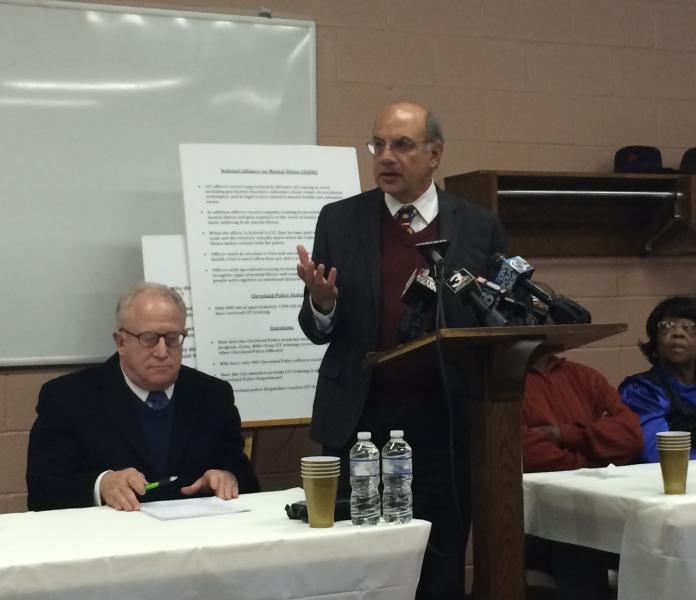 "And God is shining down a high-beam light on the Cleveland Police Department, uncovering the hidden corruption that has gone on for years because of the non-training of police officers in every facet of their job."
Representatives from the
National Alliance on Mental Illness
were on-hand at the press conference offering to help Cleveland police set up the right training.
Calls to the police union were not returned, and the city said in a statement e-mailed to Cleveland.com that it does not comment on pending litigation.
The two officers being sued in the Anderson case remain on desk duty.
Related Story:
Cleveland.com
is reporting that a fiscal manager in Cleveland's public safety department has resigned because of the police shooting of Tamir Rice and mass chase and shooting of Timothy Russell and Malissa Williams. Regarding Rice, he says the 12-year-old ended up "paying the ultimate price" for mismanagement of the department.