Merwin's Wharf is named for Noble Merwin, one of the Flat's first saloon keepers.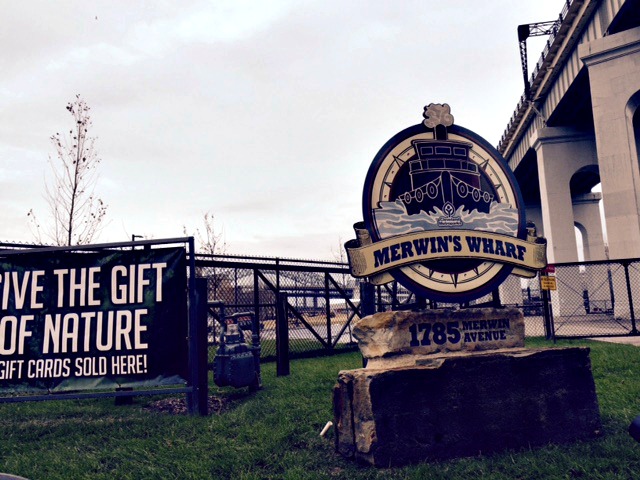 The park district opened the restaurant over the summer, on the banks of the Cuyahoga at Irishtown Bend.
Executive Chef Jarrod McCarthy calls it the perfect location.
"Literally seconds from downtown, a big metropolitan area, but if you look out the back patio it's almost like being in a park."
That's Rivergate Park, acquired by Cleveland Metroparks in 2012.
You can gaze at its greenery and the river and even catch glimpses of the lake through the restaurant's floor-to-ceiling windows.
"When it was really cold last week, there were literally thousands of gulls," says McCarthy. "One of our natural resources team came out, and the ones that were on the river going up and down were actually migrating."
Meanwhile foodies are migrating down by the river for Sunday brunch.
Familiar favorites along with novelties
The menu changes every week, but typically you'll find biscuits and gravy, chorizo
hash, mini sloppy joes, fruit salad, bread pudding, sweet potato pancakes and one of Chef Nick Lonzo's favorites: oatmeal pancakes.
"A little thicker than normal" he says. "Not as fluffy. Tastes like a cookie."
Amy Claussen's here from Lakewood, perusing the menu.
"I am actually doing the scrambled eggs, bacon, sausage and the black bean and sweet potato hash, so I'm excited to try that one."
Metroparks spokeswoman Sue Allen is excited, too, about the park district's first restaurant -- ever.
"It really fits into our focus of drawing people to recreational resources within the city. And of course, with everything that's going on downtown in terms of people who are living downtown, working downtown, and eating downtown as well."
Steady traffic down by the river

Since Merwin's Wharf opened in July, Allen says it's been busy night and day, attracting a varied clientele.
"They'll come in here for a full meal. They'll come in here with their families. We see people coming in here for a drink or some coffee and a big pretzel after they've been to a show or a concert."
Chef Lonzo is proud of that big pretzel. "Twenty-four ounces, made fresh every day. It's definitely one of our big signature items and it's enormous. It's huge. It's something that's made for probably four people, six people."
Topped with flaked garlic salt, the pretzel comes with beer cheese and house-made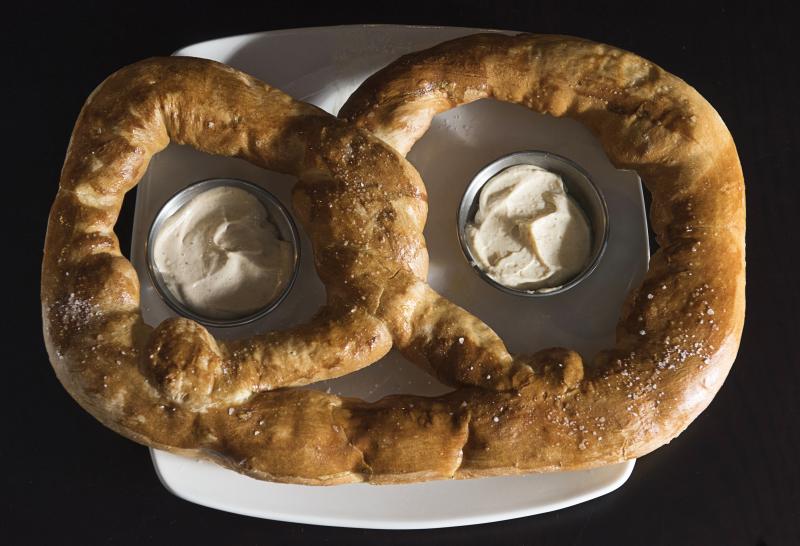 wharf mustard for dipping.
Chef McCarthy says that like everything else at Merwin's Wharf, the pretzel is made from scratch.
"We have a guy that comes in at 5 o'clock in the morning and he twists pretzels all day."
A sandwich in a glass
Pretzels are especially popular at the restaurant's full bar where craft cocktails include The Merwin's Mary.
"We're getting locally famous for our bloody Marys," says McCarthy. "They're big and come with a whole sandwich in garnishes."
Cubes of cheese and chunks of charcuterie hang off the Mary's tall glass. The house-made chorizo also tops Freighter Frites. The French fries are also sprinkled with scallions, and rosemary, and served with beer cheese and lime sour cream.
In the busy kitchen, McCarthy's glad to have the creative powers of Chef Lonzo. "Wildly talented. I actually hired him away from one of the restaurants on Playhouse Square."
A former pastry chef, Lonzo and his crew are always adding new desserts.

"We just play around with, 'Hey I saw that on TV' or 'That would be delicious.' Today we have a date and toffee cake. I've never seen anything like that."
Executive Chef Jarrod McCarthy has no trouble finding fresh ingredients nearby.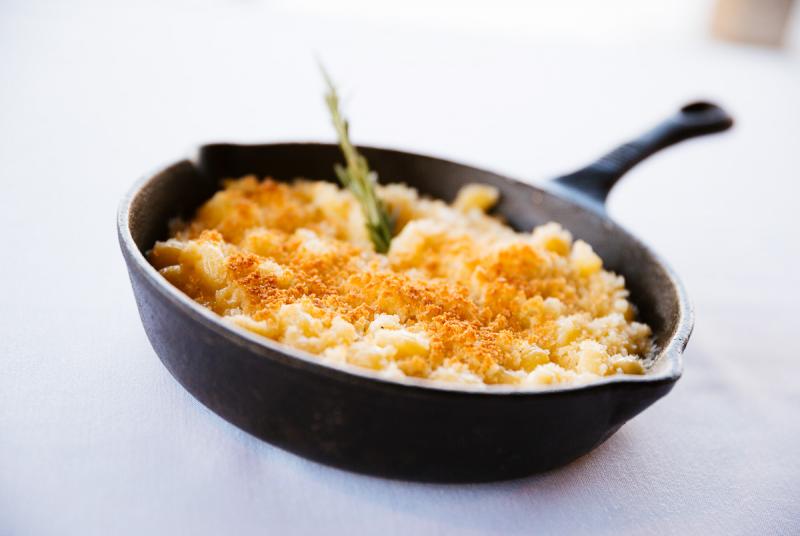 "We get our fresh fish from Cantonese Classic Seafood which is right around the corner. Our breakfast sausage we buy from the Pork Chop Shop in the West Side Market. We go to the West Side Market a lot."
Prices? That depends, says the chef, on what you're hankering for.
"You can come and have a $10 sandwich, or you can come and have a $28 steak."
Cool even when it's cold
Leah and Brad Hurley didn't have to come far for brunch at Merwin's Wharf. They live in Ohio City.
"We had some friends who came here when it first opened and said it was really cool," says Brad. "So we decided to come out."
"I just like the location," says Leah. "I think that it's cool, and I think it'd be really cool in the summer."
But why wait?
"To be down here on a winter day is really spectacular," says the Metroparks' Sue Allen, "and you are not going to get any closer to the river than you would right here on a snowy day."
You can rent a bike from a rack on the patio, take a hike, row, or skate, and then come in to re-fuel.
"We just had some kayakers come in this morning because it's not freezing cold," says Chef McCarthy. "The skate park opened up across the parking lot. It's kind of a hub of activity right in the middle of Rivergate Park."
Diners can warm up next to the firepit on Merwin's Wharf's 3,000-foot landscaped patio, and watch freighters come through and geese fly by, or maybe spot a Great
Blue heron.
Helping the park district in its mission
"One of the plans for Merwin's Wharf is to really have our outdoor recreation and our outdoor education folks be really a part of the experience," says the Metropark's Sue Allen. "With kayaking, possibly canoeing, things that are safe recreation, we'll have more learning opportunities available."
Allen says the restaurant will also help the Metroparks stay fiscally responsible.
"This will generate revenue and allow us to take the revenue from this restaurant and put it into the park district as well, so we're not relying strictly on taxpayers to fund things that are going to make lifestyles better for people who live within the area."
Life in the area of the restaurant is better now that road access has greatly improved. After being closed for 20 months for a $32 million upgrade, the Columbus Road Bridge reopened in December.
It's a straight shot now from Ohio City to Merwin's Wharf.