Alice Goumas gets the first graders settled so their fourth-grade helpers can get to
work.

"So your task is to clean the garlic, right? And then you're going to bring it over to the round table here where the first graders are going to chop the garlic. And then we will take it to the kitchen where they're going to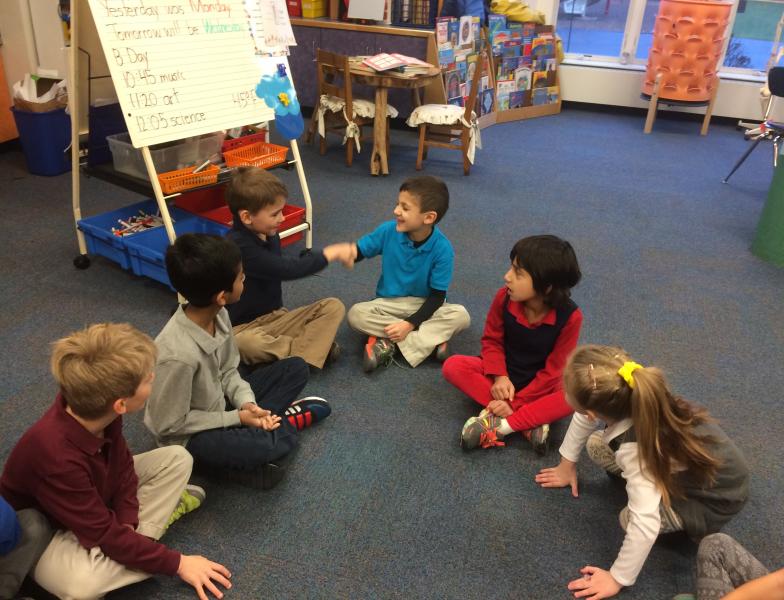 use it today in our garlic lunch."
Goumas helps run Old Trail School's "Edible Education" program. The children have raised hens, tapped maple trees, and grown a whole lot of garlic.

"Every student in the whole school was involved in the planting, and now the cooking."
Weather didn't cooperate for the children to harvest the garlic. So Hattie's Gardeners, developmentally challenged young farmers who raise crops on the school grounds, did that for them.

"We had a lot of garlic," says Goumas. "It covered the whole cafeteria. So they've been watching it hanging there drying for a long time."
Chopping time

Now it's finally time to get cooking.

"Adelaide come here. I'm going to ask you to stay and not come to assembly, and chop garlic. Is that OK?"

Adelaide responds quickly. "Yay! I love cutting garlic!"
The children says they like the taste of it, too. "I like garlic bread. Soup. I like garlic in pretty much everything."
Fourth graders have fun peeling.

"The skin," says one. "It smells like garlic."

"Obviously," says another, "because it is garlic."
Advice is freely offered. "After eating garlic or onions you should always eat some breath mints."
"That's what we should have brought today."
"I did. I brought breath mints. I brought two breath mints."
Peeling with passion
As lunchtime nears they peel faster.

"Do you have any garlic ready?" their
teacher asks.
"A lot of it," the children tell her.
"OK. Do you want to take it over to first grade?" she asks, adding, "Nice cloves, you guys."
The first graders are well prepared to chop.

"They've all learned about knives. We've been slicing apples and quartering apples, and it's all part of our math. We call this life skills," says Goumas.
Kathy Sapienza teaches art at Old Trails School and is in charge of edible education for grades 3 through 8."
Sapienza and first-grade teacher Alice Goumas both trained in Berkeley, Calif., at the Edible Schoolyard, a program founded by activist chef Alice Waters of Chez Panisse Restaurant.
The mission is to enrich the curriculum of schools and the lives of students, through hands-on learning about where food comes from.

"Cooking, eating is a sense of adventure," says Sapienza, "and if we can make that healthier and more local, all the better."
Growing knowledge
Learning begins in the school's own growing fields.

"When we go to the garden," says Sapienza, "we talk about sustainable farming practices; organic farming practices; how to prepare the soil; how to take care of the soil; how to work with
each other."
Edible education finds its way into every discipline.

"Tomato tastings in Spanish classes. They cook and they make gazpacho or they make salsa."
Sapienza takes her art students to the garden, too. "And they sketch so they are sketching from life, and they see the garden grow. They see different plants and textures and colors."
Fourth-grader Caelin C. is happy to have mastered the basics of garlic planting.


"You had to like separate the garlic 6 inches apart, and it had to be deep down a certain amount."
First graders, meanwhile, are proud of their chopping skills. "It's so easy. Watch. It smells good. It smells very good."
They're really serious about doing this right. "We need to recut this, We need to get it smaller."
Finally the feast
The children's hard work pays off.
Executive Chef Laszlo Tomaschek makes delicious things with their garlic.
"We're starting off with curried butternut squash soup. They'll get garlic cheese straws as a dipstick for the soup which might be fun for the children. Roasted broccoli with garlic and lemon. Smoked gouda potato gratin. And for the entrees
we're serving a vegetarian quiche with carmelized garlic cloves, and the other is going to be a lemon roasted garlic chicken."
The chef knows some of the dishes won't be familiar.

"But the great thing is that the ingredients inside are stuff that they already had their hands on."
"It's just special because you grew it by yourself. You didn't buy it at a store. And you're learning how to cook, and how to do it on your own so someday, if you want to like grow a farm or something, you could do it yourself."
First graders learn about hunger, too.

"We work at the Willard Food Pantry once a month, " says Goumas. " Seventh and eighth grade students do the same thing."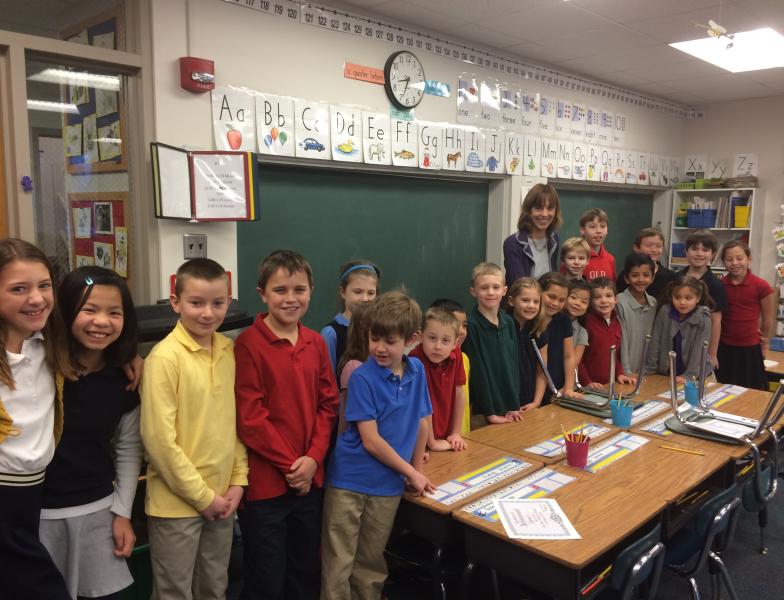 The children miss their hens, now living on a classmate's farm. Their teacher assures them they'll see them again. "They're in Charlie's barn and it's heated, and they'll come back in the spring."
Raising poultry, planting, growing, it's all fun for the kids, but they seem to like cooking best of all.
"I'm going to look up some garlic recipes," says an aspiring beginner chef, "and I'll be like, 'Let's make this, Mom!'"
Garlic Day is just one part of Old Trail School's "Edible Education" program. It's helped by the availability of farmland at the school's location in the Cuyahoga Valley National Park.