Arts and Entertainment



Thursday, January 29, 2015




There's no off-season for the Cleveland International Film Festival




The CIFF runs March 18-29, but the staff is always busy planning events, designing programs and choosing programming


by WKSU's KABIR BHATIA


Reporter
Kabir Bhatia
At last year's Cleveland International Film Fest, "Matt Shepard is a Friend of Mine" won two awards on its way to critical acclaim; it's being released in theaters next month
Courtesy of Run Rabbit Run
Download (WKSU Only)
The Cleveland International Film Fest is still about two months away. But the staff is hard at work – and has been for some time. They're reviewing more than 2,000 submissions for this year's festival. They also have to figure out where to show the films, and how to fill the seats. WKSU's Kabir Bhatia has a behind-the-scenes look at preparations for the 39th festival.
More often than not, the core staff of the Cleveland International Film Fest doesn't see each other that much – in-person. But increasingly, they're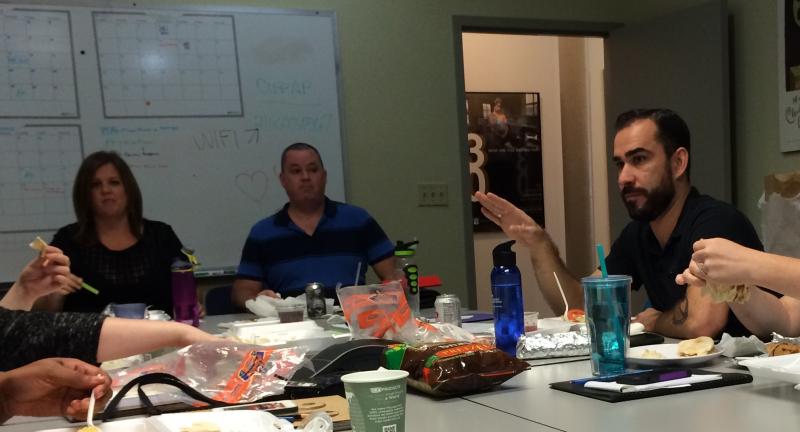 gathering in the festival's offices. They coordinate thousands of details by text, phone and email, but they also try to get in a little face time.

Patrick Shepherd, the associate director of the Film Fest, says the full-time staff of eight has been working hard for some time.

"Sometimes people don't grasp the size and scope of the festival. We'll be in here seven days a week. Typically 80 hours per week at the peak. And our next day off will be Friday, April 3."

Come the week of the festival, about a thousand volunteers and part-timers will join the full-timers.

Marketing Director Debby Samples is putting together events leading up to the festival.

"We really are just a huge machine at that point. ... When the program guides hit the streets is when the wheels fly off. That's when it's just really fun for us."

By the book
That happens in late February. Shepherd says those glossy, half-inch-thick books profile every frame of film being shown.

"Literally, we take delivery of 100,000 program guides, push them out into the community, and try to get them into all of our members' hands, all of our sponsors' hands, all of our partners' hands. We have a delivery company that makes sure every coffee house has some. Dollar Bank is our presenting sponsor, so they go out to all the Dollar Bank branches. They're typically at a lot of library branches."


Getting short
For now, though, they're still picking films. In years past, features like "Matt Shepard Is a Friend of Mine," "Good Ol' Freda" and "Dying to Do Letterman" have gotten big boosts from being shown at the Cleveland fest.

Many of this year's 2,000 submissions are shorts, running 45 minutes or less. Paul Sloop became a fan of short films by attending the festival in the past, and eventually worked his way up to being in charge of programming the shorts 11 years ago. He says the key – then, and now – is variety.

"I knew I was going to see some good animated stuff. Good documentary stuff. Drama, comedy, scary stuff. And it was all going to be mixed in, in one program. The programming committee helps me select all the films. From that point, I sit down with the films and write the programs. You're putting a puzzle together when you're looking at running times, what films will complement eachother. Trying to create an emotional stability to the program, so that it's not too heavy and dark. I think it's one of the things that makes the films pop and really work."

Get Shorty
During the year between festivals, the Film Feast series is one way viewers can stay connected. The events are held throughout the year, and one of the most popular is tonight. It's called "Get Shorty." Marketing Director Debbie Samples says it's being held at the Capitol Theater, which is much larger than venues in years past.

"So we have room for 400 people. And at this event, we have Paul Sloop on hand and he sort of emcees an evening of short-film viewing. So we show a handful of short films. The audience and attendees actually vote on each film. And the top vote-getters get played at the festival itself."

After this year's Festival ends on March 29, Shepherd and everyone else connected to the Cleveland
International Film Festival will be looking ahead to next year.

"I think what happens the day after the festival is we get a full night's sleep for the first time in three months. It's a never-ending cycle in terms of programing, fundraising, media and marketing, membership: every component of the festival is in constant motion."

The Cleveland International Film Festival will be based once-again at Tower City. And there will be a free Akron preview party March 4. Special screenings will be set up throughout Northeast Ohio at venues including the Akron Art Museum, the Cedar Lee and possibly at the new Nightlight Cinema.
Page Options
Print this page
---
---