The beans come from the Third World. The barista hails from Bay Village.
John Johnson is the director of quality control and a partner at Rising Star Coffee Roasters. The company has two shops, one on Murray Hill Road in Little Italy and a much smaller cafe at the site of its roastery in Ohio City.
It's part of a specialty coffee trend.
"A place like our shop here five years ago would have really been pushing the boundaries," says Johnson, "but now it's really fairly standard."
Percolating interest in specialty coffee
Nationwide, the craft coffee market has been steadily growing. The research group, IBISWorld, says it'll reach $34 billion by 2018.
And the wave has hit the North Coast.
At Pour Cleveland in the 5th Street Arcade, Troubadour Coffee Roasters in Fairview Park, Root Café in Lakewood, Phoenix Coffee in Cleveland Heights and Ohio City, and Dewey's in Shaker Square, you'll find the same commitment to craft coffee that John Johnson holds to.
"Breaking that mass commodity mold of faceless, nameless, gray, everything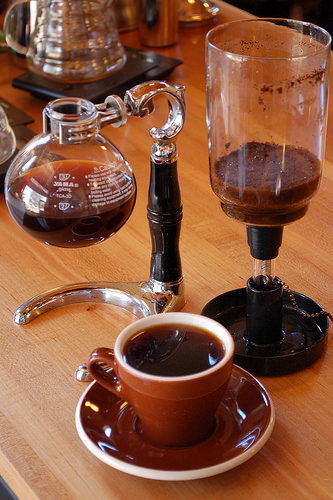 tastes the same -- and really making something that's unique and special."
Specialized tools
Customizing each cup from scratch requires precise devices.
"This is our EK-43 grinder. These are German, and they're awesome, because to get really nerdy, they make the narrowest particle distribution of any coffee grinder. So you can get just incredible flavor out of them."
We watch Johnson demonstrate the pour-over method.
"The first thing I do is rinse the filter. Then we add the coffee, dump out this waste water, then we get nice and fresh hot water."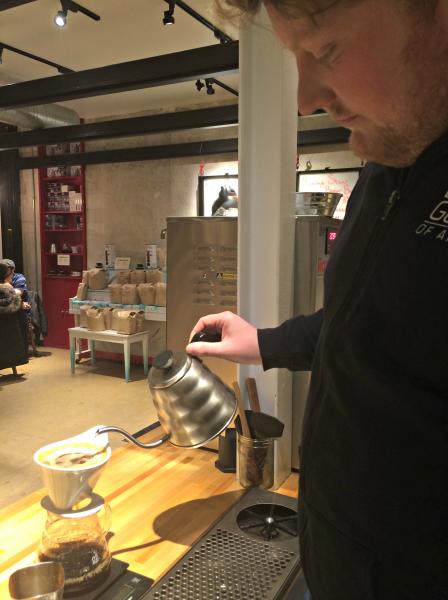 He's using a slow-pouring kettle with a long thin spout to dampen the grounds.
"It allows the barista to evenly distribute the water through the bed of coffee and make a really even, balanced cup of coffee."
But not a quick one. It can take up to 5 minutes.
"It's definitely not as quick and easy as driving through McDonald's. But we're not really in that convenience model."
Other processes work for various preferences. Like the aeropress.
"They're almost like a French press. Anyone that likes a really thick, full-bodied cup of coffee will really like an aeropress."
At Rising Star they also use the siphon pot.
"A 200-year-old method of making coffee that just makes a really delicate, really clear cup of coffee."
Relationship trade
Of course it all starts with the beans, and John Johnson's says there's only one
kind he'll buy.
"Coffee that we know is not only really good but also has a positive social impact."
It's "direct trade" coffee, as opposed to "fair trade" that requires farmers to join cooperatives. Johnson buys from individuals.
"We have relationships with farmers we work with who we know and care about."
It was a different kind of relationship that got Johnson into coffee in the first place.
"I was trying to impress a girl who really liked coffee and liked a guy who could pour latte art. ... So I was like, 'Oh I gotta learn about this so I can impress her.'"
Johnson's fascination for the girl didn't last. But coffee was another story. He set out to master the art of the barista.
"I became really interested in where coffee comes from and how it gets from these like crazy far-off places to the United States, and really
fell in love with the craft of making coffee and the job of being a barista."
Arabica versus Robusta
Now he travels far and wide buying coffee for Rising Star. He was recently in Brazil and Peru.
"I have a trip coming up to Guatemala, also possibly Costa Rica. In the fall, I'm supposed to go to Ethiopia."
That's where he has to go for Arabica beans. And he pays a premium for them. Industrial, commodity coffee, like you get at the grocery store, out of the pot at the gas station, or through the fast food window, is called robusta.
"It kind of has the taste of burned popcorn when you roast it very light. So it's not very good. But it's very robust and hardy and it's very cheap."
He claims that to mask the quality of its beans, Starbucks, which has the biggest share of the U.S. coffee market, roasts them longer.
"So the actual flavor of their coffee is like rubber and cooked beef and mold. They
roast it very dark to get rid of all those flavors."
Craft coffee brewers roast light. Johnson compares it to cooking your steak rare so you can taste the beef.
"It allows you to see what the farmer did and really actually taste what makes his coffee special."
No coffee snob
Johnson is a purist. But he won't turn up his nose.
"I drink McDonald's coffee. I drink Starbucks. I drink Dunkin' Donuts."
That's what called "second wave" coffee -- the first wave being Maxwell House, Folgers and the like. Craft coffee's the third wave. But Johnson says the second-wave stuff isn't all that bad.
"I don't like how commoditized their coffee is. I don't like that it's just mass-produced, mass-marketed or whatever. But at the same time it's not horrible coffee. I've had some horrible coffee before."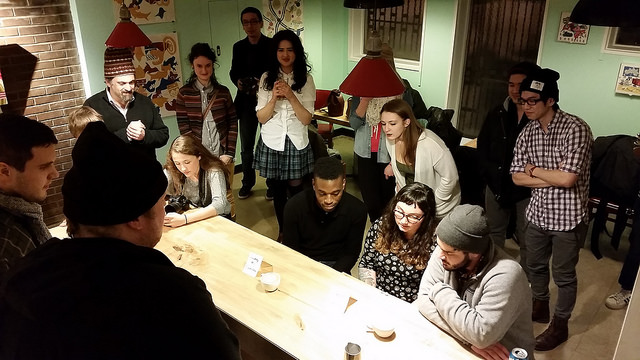 It's wrong, he says, to label craft-coffee lovers as snobs.
"Craft beer was initially labeled snobby, and now it's so ubiquitous that it would be weird to go to a restaurant and not have an IPA on the menu."
Friendly competitors
The craft-coffee community unites every other month at Rising Star for a latte contest. Baristas from all over the region compete.
We observe barista Sam Mooney's technique for steaming milk.
"Making sure we're getting enough air into everything, but not too much, not heating it up too much."
Then comes the design. He pours the froth ever so slowly.
"It just kind of starts on the surface, draw a little bit of something, wiggle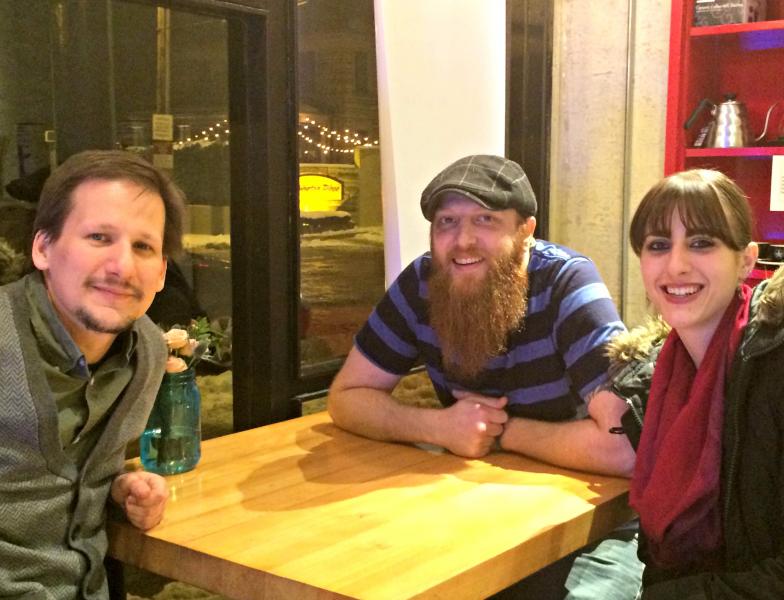 it around, and then to make that little heart design you just kind of pull it through."
The latte looks beautiful. But Mooney doesn't consider himself an artist.
"Absolutely not, I have zero creativity."
"That's not true," says John Johnson. "Your hair's bright green, dude!"
"Yeah," Mooney acknowledges, "I look like an art student, but I promise you I'm not."
The littlest barista
To 9-year-old Niko Ustin, he's a mentor. Niko's father, Jeff, got him an espresso machine for Christmas.
"It has one of the foamers on the side," says a smiling Niko."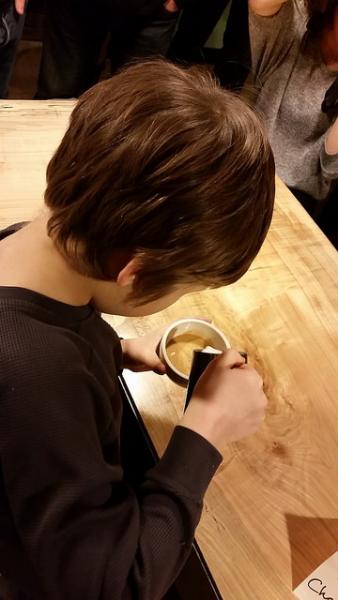 "Sam here gave him a lesson," says his dad.
"Yeah," says Sam. "Niko's my new personal apprentice. He made some capuccinos for his mom the other day and did a really good job. It was awesome."
Niko didn't win the latte throw down this time. John Johnson himself took the honors. But Niko will get a chance to shine as he grows up, Johnson says, with craft coffee now a growing part of Cleveland's culinary renaissance.
"We have a pretty good food scene; we have a really great beer scene; and the coffee scene here is definitely starting to get really good, too."