Over the last three years, the culinary empire of Chef Chris Hodgson and entrepreneur
Scott Kuhn has greatly expanded.
Sanctuary: The Restaurant and Wine Bar is joint venture No. 9.
Unique challenges of a hotel restaurant
This isn't the first time Kuhn and Hodgson have catered to hotel guests. Their Washington Place Bistro in Cleveland's Little Italy made the Cooking Channel's list of top places to stay and dine a couple years back.
But it's a boutique hotel with only seven rooms. There are more than 400 in the Double Tree Hotel in Beachwood where Sanctuary opened in October.
Kuhn says naming it wasn't hard.
"We thought about a hotel and comfort, warmth, and we just kept going back to
Sanctuary."
Drawing from the locale
He hopes it draws as many local restaurant-goers as travelers.
"There's some great competition here in Beachwood, like Red, like Moxie. You can't only think of the hotel guest because we need the local business from the community."
Since they opened Chef Hodgson's been learning the ropes of a big hotel kitchen.
"The ins and outs of room service and things that people find comfortable or quick on the go, or what businessmen like. You kind of have a much broader spectrum of people that you're trying to target with the food from 5-year-olds to 75-year-olds
coming into town to visit their grandkids."
Family matters
Meanwhile, he's catering to a new, very special customer. "Eliana, 3 months old."
Kuhn's wife is expecting their first child, too.
Hodgson says he's used to balancing work and family, never easy for a full-time chef and restaurateur.
"But there's something just different about coming home to the little munchkin, and you look forward to it. And it forced me to slow down and really take a little bit of time for me and the family."
Flexible staffing
It helps, he says, to have a staff that can cook in any of his kitchens.
"No matter which restaurant you go to during the course of the year, you'll see them plopping from one spot to the next. And it's really fun because it creates a great atmosphere, great culture, almost a family feeling."
Your server and even some menu items at Sanctuary may look familiar, like hangar steak with frites or blue crab hushpuppies.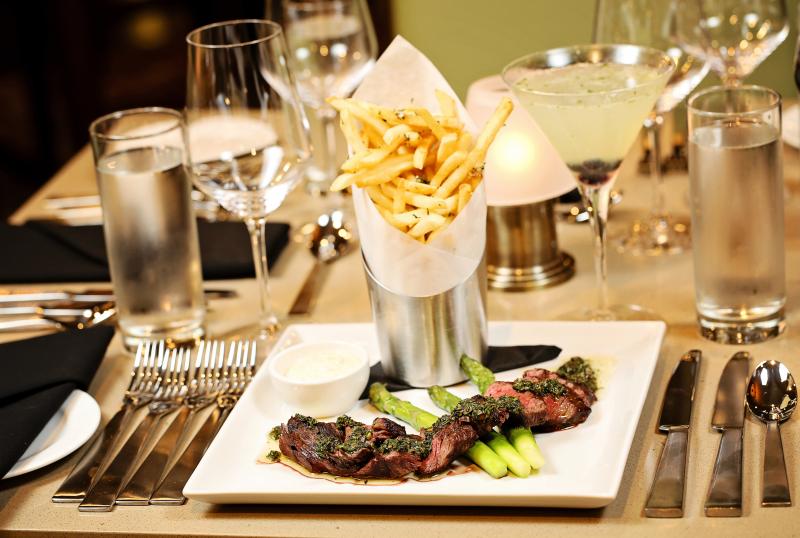 "They're one of our signature items down at Hodges. Got to do them on the Today Show. But it's just blue crab. It's very light, little bit of cornmeal, some sugar, light and fluffy, little bit of old bayonaisse which is Old Bay, a little honey and some mayonnaise and fresh cucumber."
Pierogi kicked up a notch
Another appetizer as hearty as an entrée is braised beef & wild mushroom ragu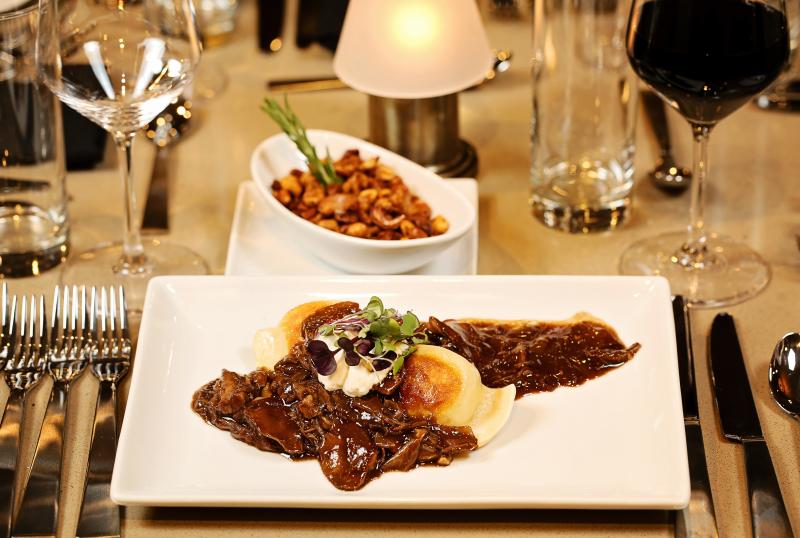 pierogis.
"That's one of the signature things Scott opened Washington Place with. And it's just a really rich and comfortable dish."
He sources the key ingredient from The Pierogi Lady of Hartville.
"What's inside that pierogi? Just a little bit of parmesan, potato, little truffle, salt and pepper. So very simple because we're going to add so many other flavors to it, with the beef, with the caramelized onions."
Hodgson sautés the plump little dumplings in a blend of olive and canola oil.
"Nice and low, nice and slow, we want to get a nice brown color to them. So it will take just a little bit of time.
"Adding just a little bit of garlic to the pan, our caramelized onions.
"We just put in braised beef, so it's shredded up into bigger chunks. So we're adding that to the pan. There's some wild mushrooms in the pan. And we're about to hit it up with a little demi."
That's demiglace, a rich brown sauce.
"Mushrooms right on top, then we're going to garnish this guy. We put a horseradish crème fraiche and some micro greens. Adds a little creaminess to it."
Television can wait
Hodgson finished second in The Food Network's Great Food Truck Race a couple years back with Dim and Den Sum, which he believes was the first food truck to hit the streets of Cleveland. His second truck, Hodge Podge, still rolls.
But he's not on television as much these days.
"I've been asked to do more shows. It's just not in the cards right now. We have a growing business. We have a growing catering company. I have a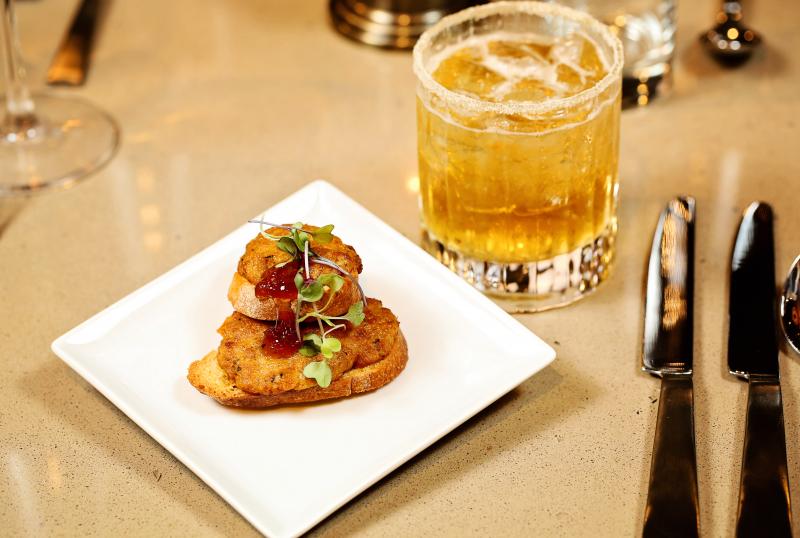 growing family."
He's still getting to know little Eliana but one thing's already clear. "She is going to eat very well."