In the Cleveland Galleries of the Cleveland Museum of Art's East Wing, the curator of American Painting and sculpture, Mark Cole, points out a painting by Frank Wilcox. "The Bee Tree" shows the artist as a child in his family's Brecksville backyard.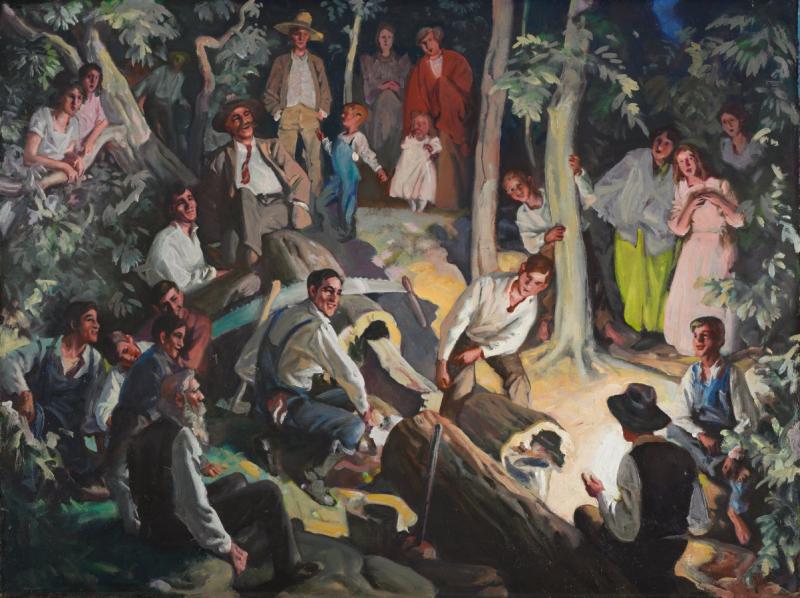 "And he's participating in this nighttime ritual of felling a tree in order to extract some honey."
"This is one of my favorites actually," says Doug Katz, the chef at the museum's restaurant, "because we get local honey here."
Honey's part of a prix-fixe menu at Provenance inspired by local art.
Local art, local food
"We thought how fun it would be," says the chef, "to highlight the local artists and highlight our local food and purchase local ingredients for our local dishes."
Katz is using local honey in a salad dressing, a glaze for carrots and turnips, and in a dessert.
"It's a local apple upside-down cake. There's a little bit of honey in the caramel."
There's a splash of Cleveland Whiskey in it, too, and it's served a la mode with Cleveland's own Mitchell's homemade vanilla.
The prix-fixe menu also includes pan-roasted chicken thighs from Geauga County's
New Creation Farm and roasted cauliflower salad with the key ingredient grown in Huron by farmer Bob Jones of The Chef's Garden.
Long-term relationships with farmers
Katz first started to connect with farmers at Shaker Square where his other restaurant's located.
"Since I was 7, I knew I wanted to be a chef. But until I opened Fire 14 years ago, I didn't know that I wanted to use local ingredients. I learned that when I went to the farmers' market at Shaker Square. I would never turn back, and I would always use local.

"And I learn every day when I talk to any farmer. They're teaching me something about their food."
He's also learned something about their lives.
"The chef's life, there's actually a closing time most often. And in the farmer's life there isn't. The chef's life is a walk in the park, or a walk on the farm compared to the farmer's."
Bison Bolognese
The bison for Katz's Bolognese sauce was raised by the Swope family of Heritage Lane Farm in Salem.
Katz says he's noticed that health-conscious diners who prefer grass-fed beef also
like the bison meatballs he serves at Fire.
"When you're preparing Italian food or preparing a lean steak of some kind, it's much healthier than just a traditional beef."
But because it's lean, it can be tough and dry. So cooking bison takes special care.
How he makes it tender and moist
The chef needs a big, sturdy, enamelware pot to brown the meat.
"If you have a pot that has a very thin bottom, it'll burn. It won't allow you to cook slowly without affecting the flavor of the dish."
He seasons the ground bison with salt and pepper. "And I'm just pressing that out into a nice patty, just in the bottom of the pan."
Patience, he says, is key. For a while, he hardly touches it.
"I like to keep it in a patty. If you start moving it around too quickly you're going to release the liquids from the meat and it won't brown as well."
When the time is right, he uses a kitchen tong to agitate the fond of toasty, caramelized bits that'll add flavor to the sauce.
He has crushed tomato, diced tomato and chopped carrots, celery and onion ready to incorporate in the sauce.
"It's important to add these vegetables separately and to really develop the flavor."
Once the onions are translucent, in goes the garlic. "And garlic, it's cooked long enough in the pan when it starts to smell sweeter."
Faint aroma from the meat
We don't smell the bison.
"What you tend to smell is fat. The fact that the bison is lean, you might not smell that as much. But you will taste it."
The sauce should cook for two hours before the addition of a touch of cream.
"You could probably rush it and cook it for an hour," says Katz, "but better to go
slowly."
In the final minutes of cooking, wine is added for a touch of acidity and to tenderize the meat.
"This is just a Chardonnay," says the chef, "We're not adding red because it can make it a little bit too rich."
Local noodles, too
The bison Bolognese simmers while Katz boils Cleveland-made noodles.
"Ohio City pasta -- it's a pappardelle, a wide egg noodle."
First he seasons the water.
"I always say it should taste like the sea. If it doesn't taste like the sea you haven't added enough salt."
Water to pasta ratio
He needs lots of liquid.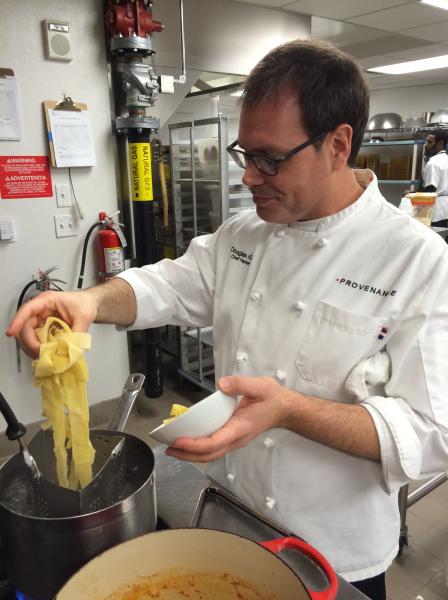 "About eight times the amount of water as you have pasta. Fresh pasta tends to stick together if you don't have enough space."
When it's al dente, he drains the pasta, tosses it with the sauce and garnishes the finished dish with a sprig of local microgreens and paper-thin shavings of artisan cheese from creameries in Mount Gilead and Kent.
"We have a Kokoborrego sheep's milk tomme, and we also have a Lucky Penny Farm feta."
A source of inspiration and pride
Walking off lunch later in the Cleveland Galleries with curator Mark Cole, we stop before a piece of op art Julius Stanczak painted in his Seven Hills studio.
"There are bright colors," says Cole. "There are bright patterns; there are razor-sharp forms."
How does that inspire Chef Katz?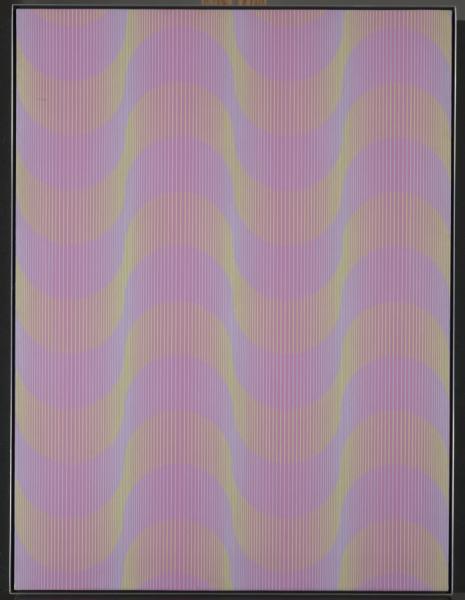 "The detail," he says. "A lot of time when you're plating food and you're creating food, the detail is what you need to focus on to make it something that is great. And it needs to excite the senses, and I think that this does."
Curator Cole hopes diners drawn by Katz's culinary art will also stop by the Cleveland Galleries.
"When you come into the museum here and you see these wonderful works by artists who are from the community, I think it's definitely a point of pride."
Katz hopes to instill pride, too, in the bounty our region's farmers provide.
"If I didn't support these people, I couldn't take pride in the product that we produce."
The Cleveland Gallery-themed prix fixe menu at Provenance, starting with locally-foraged mushroom soup and ending with panna cotta infused with Cleveland's Rising Star espresso, continues through early spring.