Paul Sheesley needed waders Thursday to navigate his driveway. He was checking out the half-frozen pond that his front yard had become.
Sheesley's home is one of about 30 along a bend in the Chagrin River, in Willoughby Hills, that got hit with sudden flooding Wednesday night.
"It was just creeping around the side of our garage, and then within 20 minutes, our whole yard and driveway was covered," Sheesley said.
Ice flows and other problems
As river ice melted, chunks of it floated downstream, damming the Chagrin, which overflowed into garages, yards and basements.
City fire officials said the water rose so fast, a rescue crew had to pull about a dozen people, and a lot of pets, out of water up to waist-deep Wednesday night.
Jackie Gagich, Sheesley's neighbor, was taking pictures of the river from a small bridge near her home Thursday.
It looked like a thick cookies 'n' cream milkshake, with jagged chunks of white ice and
"We were lucky, because we're high up, so we're one of the lucky ones. However, the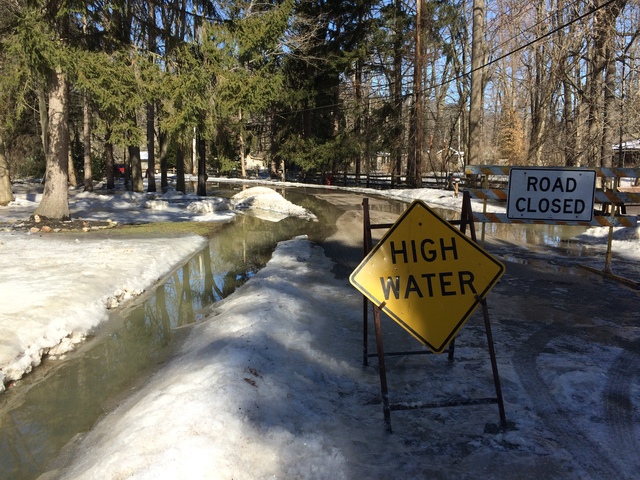 More rain forecast
Rain is likely today and tomorrow, and there's a flood warning in effect until Sunday afternoon. basement's flooded and there's only two steps more to go before it's up into the house." snow and some tree debris, jammed together, bobbing on the water. Gagich said the water in her yard was still about 20 feet from her house.
Willoughby Hills' fire department was urging people to voluntarily evacuate Thursday, and warned that areas north of the city around the Chagrin in Lake County should watch out for flooding there.