This story originally ran on Sept. 28, 2012.

Ginius Macys knows his customers.
"We have quite a few people from Romanian background so they really like Italian. We have quite a few Irish people, so Irish soda and rye goes with that. And also quite a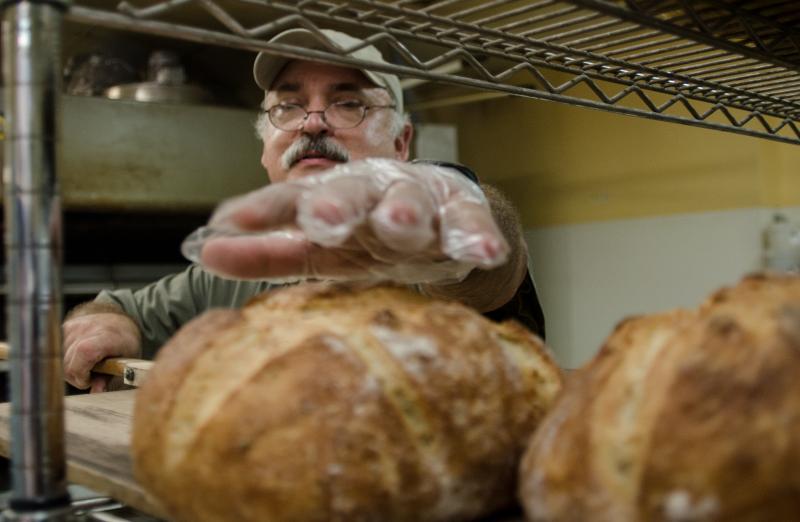 few more Slavic, more Russian type they like their ryes, too."
Carlos Ramos stops at Breadsmith every week for his favorite hardy, dense, crusty German loaf. He's been a regular since the bakery began filling his neighborhood with enticing aromas 12 years ago.
"Lakewood was missing a bakery that made fresh bread every day and used really good wholesome ingredients. There are a lot of old world methods that they use that you don't see anymore."
Old world methods and tools
You would think you were in Munich or Paris when Ginius lifts his 10-foot-long wooden paddle.
"A peel. It's a French word. I can load in 200 loaves at a time."
They bake 45 different kinds of bread from scratch every week: French Ciabatta, Rustic Italian, Tuscan Herb, stone ground wheat, dark rye… a tangy beer bread made with Cleveland Porter from Buckeye Brewing , and Austrian Pumpernickel, a hearty rye that Sabina Macys claims has just 4 grams of fiber per half-inch slice.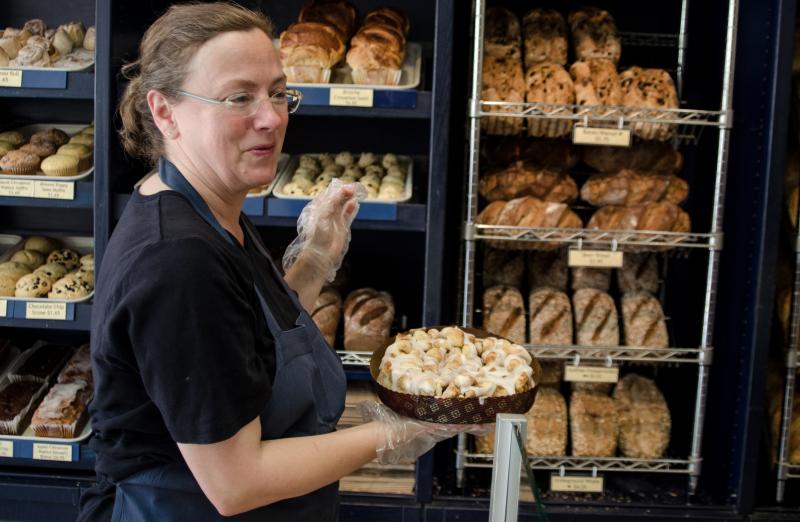 She's equally proud of her dessert breads.
"Our pumpkin chocolate chip bread, which is vegan bread. We have a whole line of vegan sweets as well. Orange-cranberry, brioche cinnamon swirl, which is again a favorite breakfast bread or for French toast. Our rustic Italian, just a basic Italian might be one of our best sellers. We make a Tuscan herb which is kind of a focaccia in loaf form. It's got basil and oregano and thyme and all kinds of good stuff."
Local sources
Sabine wants us to sample her newest recipe. It's a 100 percent whole-grain bread made with only local ingredients that she calls Homegrown Whole Wheat.
"And there's some oats in there, too, and that comes from Stutzman which is in Holmes County. And of course local honey helps if you have allergies and that kind of thing. We are a peanut-free facility. We have no high-fructose corn syrup, No transfats."
It's a cozy place, redolent with the fragrance of freshly baked bread. There's one table where you can sit and have a cup of coffee with a muffin or a chocolate-chip cookie.
And Sabine treats everyone like family.
Cultivated taste for quality bread at home and abroad
Sabine's parents were from Germany and Ginius' family came to Cleveland from Lithuania. They each lived for a while in Europe and neither has ever liked American supermarket bread.
"You look at that chemistry set of ingredients, let alone not having a real crust.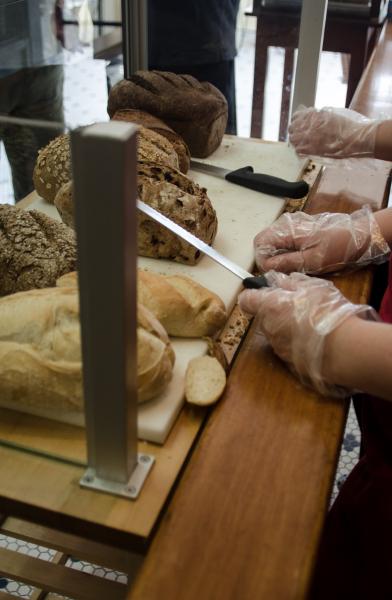 It didn't seem like real bread to me."
Ginius grew up baking in his mother's kitchen on East 185th Street. But there were other good options in his neighborhood.
"We used to go to one Italian market to get our rolls and then another market to get our rye, and this was all within three or four blocks of each other. Those shops are no longer there."
Breadsmith of Lakewood supplies several restaurants, including Georgetown, Players, Joe's Deli, Angelo's Pizzeria and Tartine's and vegan and vegetarian breads for Sweet Melissa's in Berea. They also donate bread every night to food pantries and homeless shelters.
Sabine and Ginius Macys open the door to their corner bakery every weekday morning at 7, rest on Mondays, and on Sunday they open at 8.