Something is always simmering in Jonathan Sawyer's kitchen.
Today, it must be exceptionally good because food writer Michael Ruhlman has brought four friends to the chef's table. It is an intimate and informal space in the basement kitchen of the Greenhouse Tavern, Sawyer's hip new place on East 4thStreet downtown.
'I love this guy'
"This is my favorite restaurant in Cleveland," says Ruhlman. "Jonathan is just, he's daring, he's aggressive. I mean, who else would serve a barbecued pig's head? I love it. I love this guy. I love this restaurant."
So does Chris Hodgson, owner of Dim and Den Sum and Hodgepodge, the food truck that took second place in the Food Channel's "Great Food Truck Race." Hodgson has come for lunch. He and his crew are moving into his new restaurant downtown called Hodges, a comfort food fusion that is replacing the former Zinc.
"It opened up a lot of doors, gave us a lot of national exposure. We e really just want to show the nation what great food Cleveland has," says Hodgson, "because a lot of people don't think of us as a culinary kind of mecca. But we do have phenomenal chefs here, whether it's fine dining or it's oriental, ethnic or street food we got unbelievable chefs, world class that are doing phenomenal things."
Local support
In some cities, including New York City and Akron, bricks and mortar restaurateurs resent losing business to food trucks. But Greenhouse owner-chef Sawyer is a big fan of the trucks. He loves what guys like Chris Hodgson and others are doing for downtown Cleveland.
"It's great to get people out of their office buildings onto Public Square," says Sawyer, "because the Tavern and Noodlecat and all of East 4th and all of West 6th are just a couple more feet away from that. We're all just fighting for 5 percent of the national marketplace."
The support that the local Cleveland restaurateurs are providing for each other encouraged Sawyer to open his second downtown restaurant three years ago. It's called Noodlecat, just steps away from the Greenhouse.
Chef Sawyer's commitment to the farm-to-table movement is reflected in Greenhouse's menu. He gets his greens out of nearby soil and his walleye out of Lake Erie. Server Kevin Mead reels off today's offerings.
"Vegetarian soup today is going to be a coconut curry eggplant, garnished with some cilantro and lime zest. Lake Erie walleye's going to be our fish today. Pizza preparation starts out with the goat cheese, spinach on there, a white bean and pancetta salad also topped with some mozzarella."
'Edgy dishes'
Chef Sawyer grew up in Strongsville in an era when Cleveland got a bad rap as a "meat-and-potatoes" town. Sawyer would rather think of it as being comfortable and affordable, and his menu has grown in that same way. Beginning early on with 20 menu items altogether, Sawyer then started realizing the possibilities and pushed the envelope a bit with a whole roasted pig's head. The idea was "edgy dishes" as Sawyer puts it.
Food critic Michael Ruhlman likes Sawyer's French flavor — his pike quenelle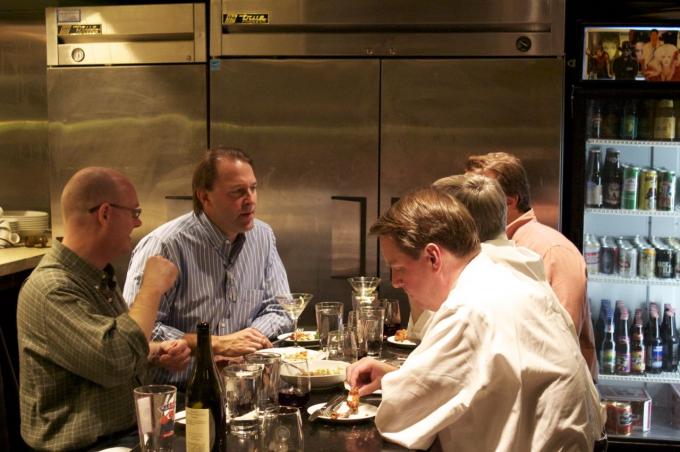 and beef tartare. He's also found digging into something more comfortable like the chicken-fried lamb steak or the "Sloppy-Jonut," a pork filled donut topped with red sauce. This simple oddity is what Ruhlman loves about the restaurant.
International credibility
Rulman's friend Dave Loomis says it is not as good as what he is eating.
"Crispy chicken wings confit with roasted jalapeno, lemon juice, scallions and garlic. ... I live for this stuff.

"The whole food scene in Cleveland, Ohio, right now -- this is giving us this national and maybe international credibility like nothing else. I've met people in the last couple months who have said, 'Oh, you're from Cleveland; there's a real foodie scene going on there, right?'

"And to me that's awesome. But the crispy chicken wings. They're to die for."