Steve Schimoler owns Crop Bistro in Ohio City and Crop Kitchen in University Circle.
He plans to open two new restaurants this summer on the east bank of Cleveland's Flats.
'60s vibe
A self-proclaimed "product of the 60s," Schimoler says Crop Rocks will be casual and hip.
"The look and feel of this is going to be similar to what you would have found in Haight Ashbury in 1969 in San Francisco."
He says his friend Terry Stewart, former Rock Hall CEO, will provide his collection of a half-million vinyl records.
"You'll be able to come in and pick something from 1956, or it's the Hollies, or it's an early Elvis rare album, and ask to deejay."
Asian flavor
All Schimoler's restaurants have the word CROP in them, an acronym for Customer Restaurant Operation Platform.
Along with Crop Rocks on a 1,200-foot boardwalk along the Cuyahoga River will be Crop Sticks.
"I love Asian flavors, and I've been cooking it for a long time. I always knew I'd end up doing something with it kind of fun."
Schimoler's fun with food began in a big New England family.
"My mother was really a great cook and we entertained all the time. It was nothing out of the ordinary to have a dozen to 16 people at the dinner table on any given night with friends over."
Fell in love with food service
He helped in the kitchen as well as in his dad's lab and was on a path to become a veterinarian, too, until he started playing in a rock band after high school.
"To kind of make ends meet and pay for some bills, I ended up getting a part-time job at a local restaurant there, and was immediately sucked into it."
He worked hard at it, opened his own Long Island restaurant at the age of 23 "and had four places going by the time I was 26."
Schimoler never went to school for it but cooks every day, largely by instinct.
"It's just kind of trial by fire. But it's led to some pretty good food over the years, and a bunch of restaurants."
Self-styled food scientist
His business strategy has him serving diners while consulting and testing new products for food companies and restaurant chains.
He designed the model in 1990, setting up a test kitchen a mile from his Vermont
restaurant.
"We would take menu concepts and products or ingredients, and when they were mature enough to leave the lab, we would integrate them into the restaurant for operational testing: 'What's the best equipment that it should be cooked on when it goes to 3,000 restaurants?' Or 'What's the packaging it should be in, should it be frozen, should it be shelf-stable, should it be a refrigerated product?'"
Inventions for manufacturers
One of his first corporate clients was Vermont's Cabot Creamery.
"I developed a process on incorporating liquid into butter without it separating and purging."
Sony and Loew's liked his flavored butter idea for movie-theater popcorn.
"Using all these flavored butters that I had been producing, (such as) maple walnut butter, and throw it in the butter melter and pump that over your popcorn -- sun-dried tomato basil butter and jalapeno lime butter."
That deal ultimately fell through, but Schimoler went on to develop products for other food companies and restaurant chains, including Wendy's and the Olive Garden.
After he sold an invention to Nestle, the company brought him to Cleveland in
2005 as director of innovation and development.
Back to being his own boss
But he quit after two years.
"I wanted to get back into my own private business. I'm kind of a serial entrepreneur if you will."
Schimoler wanted back in the restaurant business. But why Cleveland?
"I could do something here for 50 cents or less on the dollar rather than going back to a New York. So it was more risk-friendly. And I think I proved it right because here we are -- seven, eight years later -- and Cleveland is just busting at the seams, getting great press nationally and internationally as a destination."
Historic building
Schimoler opened Crop Bistro about eight years ago in the Warehouse District, but moved to Ohio City when the United Bank and Trust Building became available.
He "immediately was smitten with it, ended up doing a renovation and restoration and built the restaurant, And here we are four years later here."
The 1925 building was designed by Walker and Weeks, architects of Severance Hall and the Federal Reserve Building.
Schimoler kept the original structural elements including the high-cast copper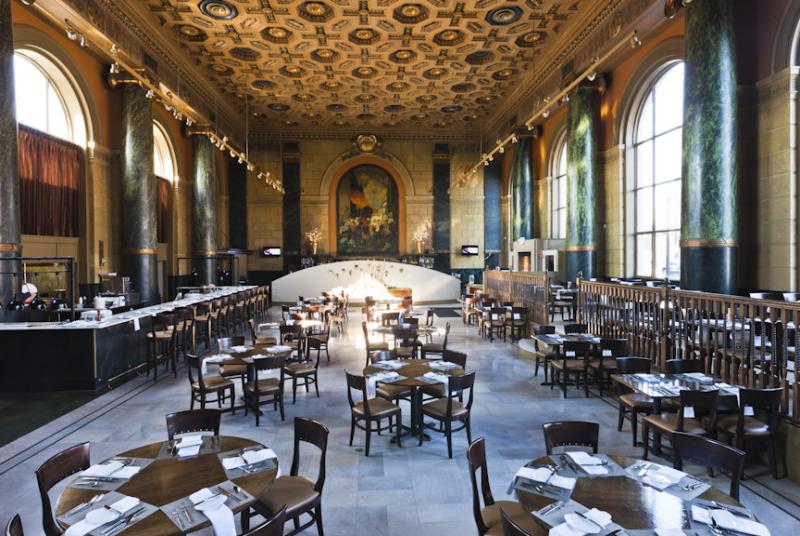 ceiling, floor-to-ceiling arched windows, a signed 1925 mural of a bustling marketplace, and the second largest bank vault between New York and Chicago -- which now serves as a private dining room.
The vault's front door in the prep and test kitchen underneath the main dining room is 90,000 pounds of steel. The back door weighs 70,000 pounds.
"Envision Pinkerton guards with sub-machine guns down here in 1925," Schimoler suggests, "because it was the Dillinger days."
The chef's lab
One section of Crop Bistro's kitchen is a lab filled with gadgets as well as starches, gums, flavors and scores of extracts.
This is where Schimoler takes off his toque and puts on his thinking cap to refine processes and develop new items for his own restaurants as well as multi-national clients.
One of his newest is Hard Rock Café.
"They're looking for innovation in their menu, some of it manufactured. A sauce might be done by a company in Dallas, Texas for us, an adobo or mole sauce, one gallon bags. It's frozen, super-high quality, and that might
be a component that's going to go on a new chicken sandwich."
He's also working with Cleveland's Pierre's Ice Cream on signature batches for the city's top chefs.
"They'll come here to Crop. We'll work in the lab in the test kitchen, and I'll assist them with the commercialization of their new flavors."
Innovations on the menu
A meal at Crop Bistro might start with what Schimoler calls appetinis, food-filled cocktails, like a Bloody Mary topped with a deviled egg.
"There are techniques. Some will immediately eat it off the top. Some will let it get soaked into the Bloody Mary, and then they'll finish with it."
His Thai-tini with coconut milk and vodka infused with ginger is garnished with raw ribbons of yellowfin tuna.
Also popular at the bar is a popcorn salad appetizer with a dressing Schimoler created in the lab.
"A balsamic vinaigrette that we make differently so that it stays creamy even when it's warm."
A salad that pops
He prepares the warm salad on a hot plate at the end of the bar, sautéing Julienned red and green pepper, red onion, sun-dried tomatoes and fresh arugula.
"It's very quick. We want them to still be crunchy. We already popped the popcorn. We just have plain popcorn. No salt. No butter. Nothing. And then just toss it around, evenly coat it."
Then it's tossed into a bowl and garnished with asiago cheese, fresh basil and balsamic syrup.
Casual for the college crowd
It's a very different menu in University Circle at Schimoler's Crop Kitchen.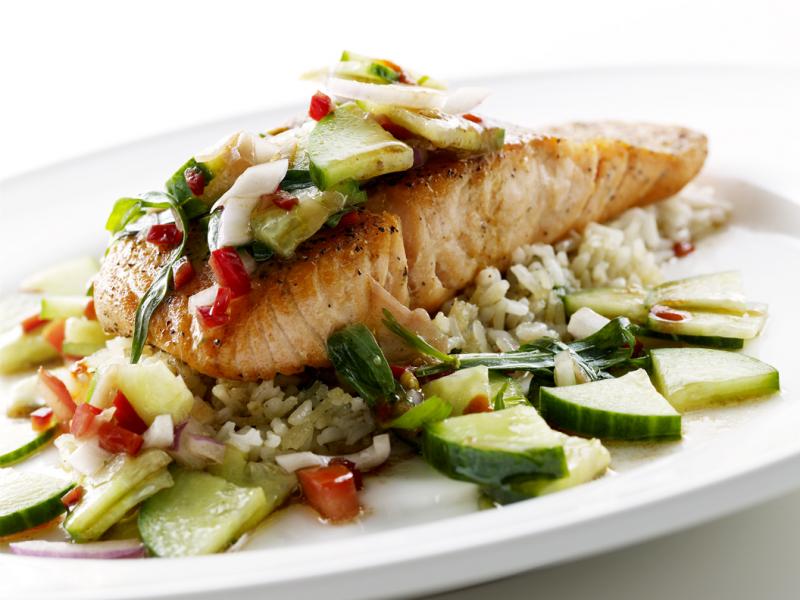 "The menu here at Crop Bistro is decidedly more upscale. But we wanted something that was more casual, and more accessible.

"We're in a different demographic over there. We've got student population. It's the first time in 30 years I had a burger on my dinner menu."
Schimoler knows from the pedometer he always wears that he logs about 20 miles a day just walking around his lab and restaurants, but he still finds the energy to play drums with his kitchen staff in two bands, the Crop Dusters and Cream of the Crop.
They entertain most Friday nights at Crop Bistro, and will be tuning up to join other local chefs who rock at the sixth annual Chef Jam next month at the Rock Hall.