The more than 100-page consent decree will be overseen by federal Judge Solomon Oliver and a monitor. It sets up a community police commission, appoints a civilian inspector general and puts a civilian – rather than a police officer -- in charge of internal affairs.

It overhauls training. And it establishes a special unit – with a high-ranking officer in charge – to respond to people who are dealing with severe psychiatric or emotional crises.

In short, says Mayor Frank Jackson: "At the end, we will have community policing as part of our DNA."

The bottom line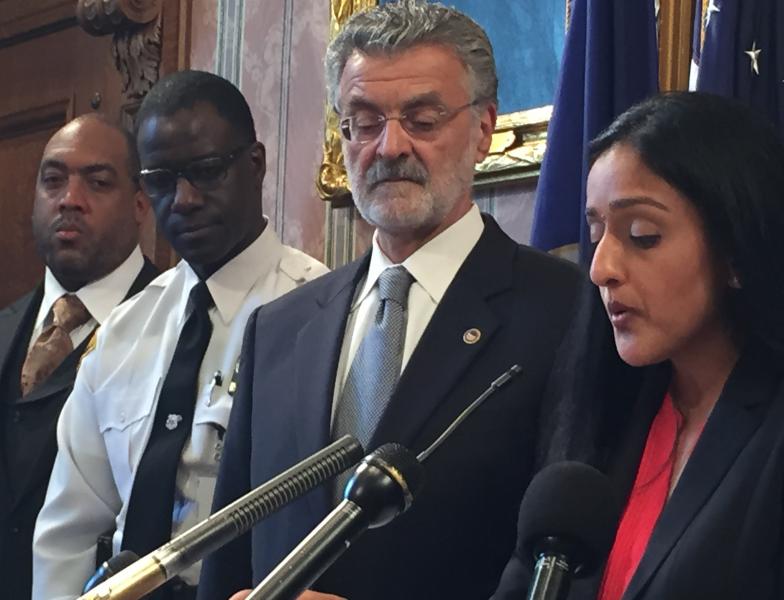 What the consent-decree omits, for now, are some significant details, including just where the money to implement the changes will come from.
At a press-conference unveiling the deal – with portraits of previous city leaders looking over his shoulder -- Jackson acknowledged implementation will cost millions – money the city doesn't have.
"In order for us to be truly successful this has to be a community effort, so it cannot just be borne by government. We have to engage our business partners and our philanthropic partners."
As important as scoreboards
Assistant U.S. Attorney Steve Dettelbach – a Clevelander who says he's proud of his city's progress in other ways – insisted the money will be well-spent.
"Every bit as important as a new hotel, or a new public square or a convention or a new scoreboard is an investment in a state of the art, 21st century police department that constitutionally services a community." :16
Dettelbach, Jackson and Vanita Gupta – head of the Justice Department's civil rights division – say beyond money, the decree needs broad community buy-in, including from police unions.
Other options:
Windows Media
/
MP3 Download (0:07)

Police union role
Gupta noted that the civilian-police commission will include three union reps among its 10 members and said the unions were among the dozens of groups and hundreds of individuals who contributed ideas for the consent decree.
"I think that they are recognizing that if the communities don't' trust their officers, where there isn't mutual trust and mutual respect, … it puts them in more dangerous situations."
But the mayor acknowledged that the consent decree cannot unilaterally override union contracts or the decisions of arbitrators, whom he's said in the past have stymied attempts to hold officers accountable. But the difference now, Jackson maintained, is that people are watching.
Some of those watching remain skeptical.
Other options:
Windows Media
/
MP3 Download
(0:13)
Blue code of silence?
Bishop Eugene Ward Jr. is pastor of Greater Love Baptist Church and used to sit on the police review board. The board is to be revamped under the consent decree, and Ward says that's needed.
"We want to know what is going to stop this blue code and this gang of police that come together and protect themselves. There's good police and there's bad police and we've got to make sure there's something in that document that ensures we have better police."
'Better,' says U.S. Attorney Dettelbach is the most realistic hope for the agreement.
Brelo, Tamir Rice and Tanisha Anderson
The Cleveland agreement is the 16th consent decree governing police departments reached by the Justice Department.
The decree was released just three days after a Cuyahoga County judge acquitted officer Michael Brelo for his role in a massive chase and shooting of two unarmed suspects – a decision that led to mostly peaceful protests in the city.
Mayor Jackson says the protests and the consent decree are part of the same cloth.
"The people have a right to protest. The people have a right to demonstrate and express their concern. … And they have a right to demand of government a response to that protest and demonstration -- and demand from government the ability to change according to what is right." :19
Jackson is encouraging people to continue to make those demands even as two other controversial cases are looming: The police shooting of 12-year-old Tamir Rice and the death in custody of Tanisha Anderson, whose family had called police to help when she had a psychotic episode.

Here are links to the documents filed as part of the consent decree:
Download Cleveland Complaint (32.66 KB)
Download Cleveland Joint Motion and Memo for Entry of Consent Decree (26.98 KB)
Download Cleveland Settlement Agreement (21.39 MB)
Download SPL Police Accomplishments 5.26.15 (212.23 KB)
Download Cleveland Division of Police 5.26.15 (180.2 KB)