Government and Politics



Tuesday, June 9, 2015




A new week, a new mayor for Akron as Moneypenny resigns




Factions clash over who should be the next council president


by WKSU's TIM RUDELL


Reporter
Tim Rudell
On June 1, Garry Moneypenny moved from council president to mayor. He resigned on Monday, effective Wednesday.
Download (WKSU Only)
Political drama continues in Akron. A fight is brewing over replacing new City Council president Jeff Fusco who suddenly has to become Mayor. That's because his predecessor, Garry Moneypenny, who had to suddenly take over for the departing Don Plusquellic, just announced his own resignation. WKSU's Tim Rudell reports.
The recently appointed mayor of Akron says he's changed his mind and will resign effective Wednesday after admitting last week that he acted inappropriately with a female city employee when she tried to congratulate him on his new position. Garry Moneypenny, mayor since June 1 when longtime Mayor Don Plusguellic abruptly announced his resignation, issued a statement Monday that says he doesn't think he can govern effectively because of the incident. Moneypenny announced Friday that he'd turned a hug with the employee into a "too-personal encounter" that she reported to the city's personnel office. Moneypenny said then he wouldn't seek election to the office but would finish his term.

Current council president Jeff Fusco is expected to become the next interim mayor.


Now ,there's a need to replace two council presidents. First, Moneypenny, who replaced Plusquellic, and now Fusco. At council's regular meeting Monday, council member Mike Williams, who is also running for Mayor, balked at assertion that the vice president automatically becomes president.

A Williams' council ally, Tara Mosely-Samples says filling the vacant council Garry Moneypenny's could change the balance of power in council. "They want to have a majority to put the person they want in Ward 10 before they make the transition."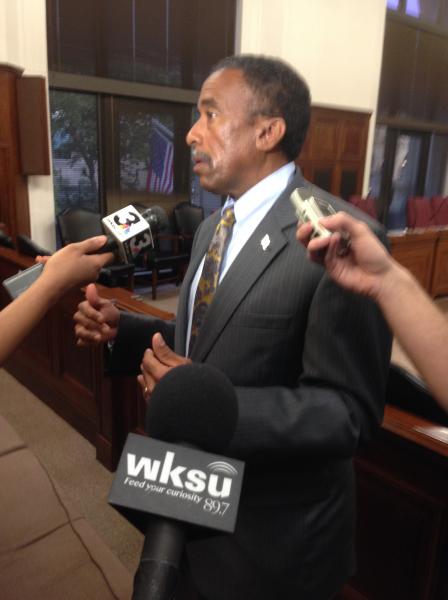 The meeting was beyond standing room only as security set up listening areas on three floors of City Hall with audio speakers so people could hear the meeting.

There will be special meeting Thursday to take up the issue of council leadership succession.
---
Related WKSU Stories
New Akron mayor admits inappropriate behavior
Friday, June 5, 2015
New Akron council head Fusco says tension is natural but must be set aside
Tuesday, June 2, 2015
Plusquellic says farewell in an uncharacteristically low-key fashion
Friday, May 29, 2015
What's up next for Akron's long-time mayor?
Friday, May 29, 2015
Moneypenny talks about succeeding the larger-than-life Akron Mayor Plusquellic
Monday, May 11, 2015
Page Options
Print this page
---
---