Michelle Darvis's collection of 365 oil paintings were shown in March at Hudson Fine Art Gallery, in April at an expo in Monterey, California, and this fall they'll be on view in Scottsdale, Arizona.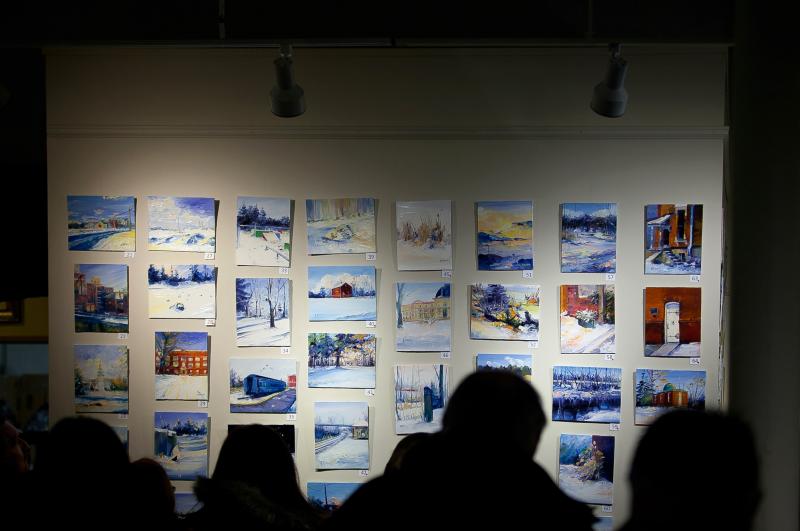 She titled the body of work "A Year in Plein Air."
"Plein air" is French for "in the open air."
"Just taking all your materials outside, your brushes, your paints, setting up on location, and painting direct from the subject."
Grew up in a culturally-rich area
Monet, Gauguin, and Renoir all painted that way, and the French Impressionists made an early impression on Darvis.
"As a little girl in Cleveland I would go to classes at the Cleveland Museum of Art, and to see works of art like that is priceless."
She especially admires Claude Monet for growing his own outdoor subjects.
"I'm a gardener also, so I feel like I'm close to Monet at heart."
A 2007 graduate of Kent State University, Darvis calls herself a concept artist: "I like to work in exhibits of groups of works that portray one idea."
She's also a multi-media artist.
"I don't restrict myself to say just oil paint or water color. I prefer to work in many different mediums. I feel like the more I work in one, the more I understand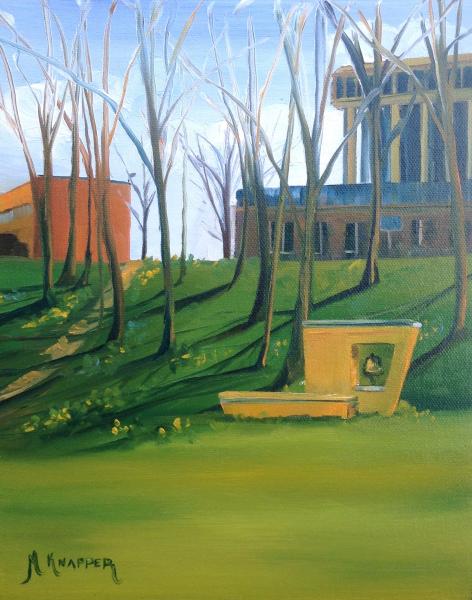 another."
Gave herself a formidable challenge
Darvis felt she hadn't done enough oil painting, though, before last year. So she gave herself a tough assignment.
She went as far north as Chautauqua, N.Y., and as far south as Cincinnati, but most of the work was in Northeast Ohio.
"Kent and Stow and Hudson. We really didn't want to go anywhere extravagant. We really wanted to keep it the life of an artist in Northeast Ohio."
Darvis devoted herself to the project, refusing to wrap up for the day until she'd finished a painting.
"At first the change of light was very frustrating for me. You know you can't fall in love necessarily with the light the way it is."
Most paintings took five hours unless it was a scene at sunset.
"That happens so quickly. A sun sets within 5 to 10 minutes, so those paintings are more around half an hour."
Learning to work with the light
An early challenge was capturing the changing hues at the Learned Owl bookstore in Hudson as the winter sun began to set.
"It started out very bright, so I painted in all the color. And as the sun started to set, all the beautiful light from within the shop, glowing candles and things, started to pop."
That was a key lesson.
"Take what you love from that moment and paint that, and then whatever you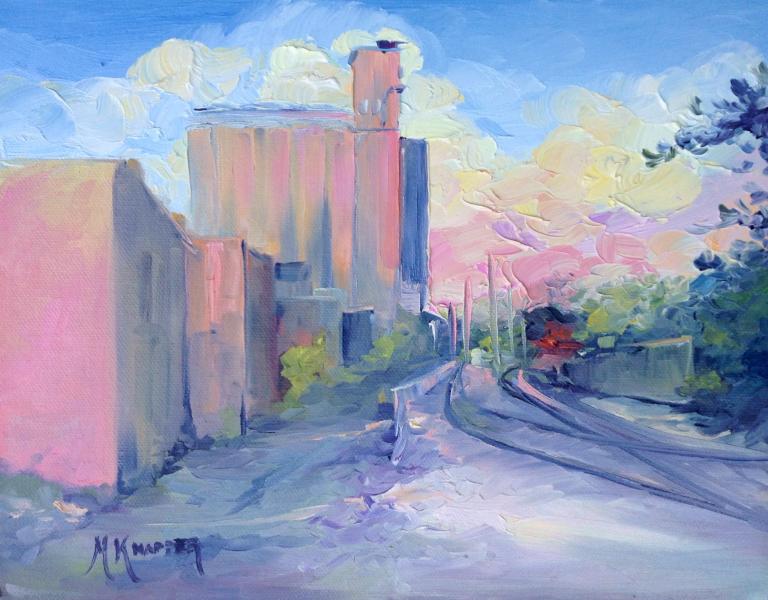 love from when it gets darker, paint that."
She learned quickly, but "A Life in Plein Air" wasn't easy.
Moral support
Fortunately she had help from her husband.
"Making sure that there was canvas every day for her," says Joe Darvis, "making sure that there was paint tubes every day for her."
He was always there to set up his wife's easel and pick up her spirits.
"There were definitely days when I didn't want to paint," says Michelle, "and I would be crying, saying 'It's over. This is the last day.' And I would have him to be like, 'No, you're so far, you can make it.' And he would keep hiking up the hill and say, 'Hike a little bit further and see this.'"
She painted the ledges and hills of the Cuyahoga Valley National Park's Virginia Kendall hiking trail, the Cleveland skyline, the Kent State art building and whatever else caught her eye.
"It was really on a hunch of the day," she says. "My husband works with a masonry restoration company. Sometimes he'd have jobs in Mansfield, and so I would go along and paint near him. And so a lot of things were determined by just the day-to-day life which is kind of the beauty of this."
Snow on the canvas

What wasn't always beautiful, though, was the weather.
"Every day could be very cold or hot or windy. There was a tornado that touched down in Stow."

And that nearly cost her some of her art. "I saw an entire canvas fall over in the snow where a pine tree was, and there happens to be a pine needle still stuck in the painting."
The cost of materials was another hurdle to get over. Darvis underestimated what it would take when she first started out to do a painting every day.
"I have tubes of paint that cost well over $150."
Her husband helped with that, too, getting donations of paint from a company in Oregon, and brushes from one in Barcelona, Spain. Michelle says Joe has great business sense.
"Eventually when she gave permission after 90 days to get sponsors, that was my role," Joe Darvis says. "Contacting everyone. I just tried to take as much off of her plate as possible since she had the daily stress of doing daily paintings."
Even on her wedding day
The wonder of it is how she found the time.
"That was the challenge of the project. I was married in August. To plan a wedding and paint every day was a huge challenge. The week leading up to the wedding I remember thinking my paintings were showing my nervousness. And the emotions really come out in the paintings."
Michelle and Joe Darvis grew their own flowers for the wedding ceremony in her parents' Hudson back yard.
Joe got up early that misty morning to watch Michelle capture the setting.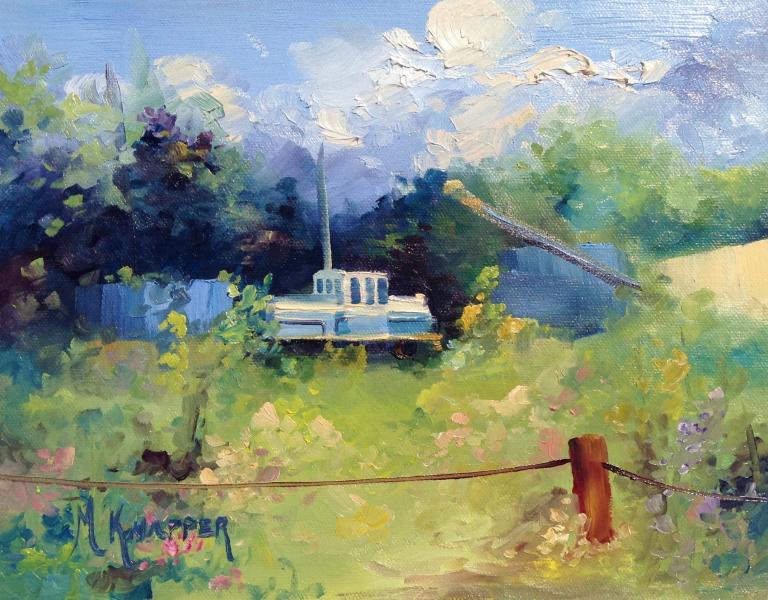 "It was actually very calming and beautiful, " Michelle remembers. "Misty and foggy. I was thinking it would be just absolutely overwhelming to take time out of that day and paint, but it was kind of this lull that we actually got to spend together."
They learned a lot about each other and the region in "A Year in Plein Air," and Michelle also learned the benefit of painting directly from a subject, rather than from a photograph.
"There's no 'lost in translation.'"
And no shortage of plein air artists in our region. They'll be out in force next month in Ashland. A "paint-out" is planned for July 5th in Brookside Park, as part of Ashland's bicentennial celebration.