On a recent sunny Friday in Ohio City, lunchtime's crazy busy in TownHall's kitchen. The 6,500-square-foot dining room is mobbed, every stool at the long wooden bar is occupied, and the patio is packed.
Owner Bobby George oversees the service before sitting down to lunch.
"This is a charred grilled veggie salad. Now, I ordered it without dressing because I'm a very bland eater."
He has to be, as he discovered when he got into the bar and restaurant business about 10 years ago.
"About that same time I started realizing I had a genetic disease called hemochromatosis."
Health crisis put him on a mission
It affects his organs, mainly his liver.

"I absorb more iron than the average person. So, I had to give a pint of blood twice a week. My therapy was really aggressive for the first year. It made me feel terrible."
And it wasn't working. So he turned to alternative medicine and changed his diet.
"Through a friend I started seeing a naturopathic doctor."
It worked for him.
"I feel better now than when I was 21, and I'm 33. I feel younger. I take care of my body. This is really the only place I eat in Cleveland. I eat here a couple of times a day."
A clean food advocate
He now thinks that what caused his disease is inflammation.
"Inflammation is caused by a rise in the glycemic index of the body," he's learned, "So we try to provide menu items that you can eat that are low glycemic."
He says it still tastes great to him, because "I love clean food."
But he admits not everyone agrees.
"At times, customers will say certain items are a little bit bland or they're not used to them. But to people that eat healthy, I think they love our taste."
Everything is checked for GMOs
So he and his customers can feel safe eating at TownHall, George hired a consultant to screen everything that comes into his kitchen.
"Either they've got to be verified by the Non-GMO Project or Certified USDA
organic, or she approves them."
That includes on-site visits to farms and factories.
"To see what they feed their cattle, where their dairy comes from, what kind of milk's in the product. And she will give us her stamp of approval. If she doesn't we won't carry it."
What he does carry is what the doctor ordered: lots of quinoa and kale, a juice and smoothie bar with Chinese berries and citrus fruits, a cherry-like fruit from Peru, and edible daisies from the Andes. There's a vegan menu every Monday, a paleo menu every Wednesday, and health advice every Tuesday night.
"Like a gardening class, how to make your own kombucha class, a speaker on healthy food or genetically modified products."
One of the speakers, Kayla Barnes, is also George's media consultant.
"And I am a non-GMO speaker certified by the Institute of Responsible Technology. I'm one of three in Ohio."
She's also a regular customer at TownHall Café.
"To be honest, it's one of the only places that I really love to eat, because it's hard being a consumer and avoiding GMOs. So to have a restaurant that is operating at such a high volume and to be able to trust that it's GMO free, it's incredible."
This is business
Bobby George may be on a mission against GMOs, but he says he opened the restaurant two years ago to make money.
"I'm not going to lie to you. I'm a businessman. I just wanted, I just saw a niche in the market. People need a place to go eat healthy that's actually a cool atmosphere. I mean you can find a place to eat healthy but the atmosphere's so boring."
Carlos Calestra of Willowick isn't the least bit bored here.
"The atmosphere, it's just nice."
He came today with his mother, Sharon Samueli of Lakeline.
"He's 11 and he's a vegetarian."
She is not. "No. I'm having a lamburger today."
Meanwhile Carlos slugs down shots of wheatgrass.
"I try to stay away from all the fat foods."
Bobby George stocks lots of board games, balloons, and coloring books for the kids.
He says it's probably the atmosphere rather than the healthy food that brings local athletes to his restaurants. Cavs coach David Blatt is a regular.
LeBron James is not. "He's the only one. Kyrie Irving, Joe Haden, Johnnie Manzell, they all come in here. But LeBron has not come in yet. Hopefully soon."
Appealing to suburbanites with kids
With 36 craft beers on tap, TownHall's bar is open until 2 every night, but Bobby George thinks a hip, urban restaurant can appeal to families, too.
"You think just because you're a suburbanite and you have a family, you don't like to be in a good atmosphere? I think that's the problem with these other boring, stiff restaurants. A dad might want to come here and have a great craft beer while his son's playing a board game."
He says his location near the West Side Market is perfect for what he wants to do.
"It's just a great area. Ohio City's a great neighborhood. You got foot traffic. You get people coming here for brunch; they come here for lunch; they come here for dinner; and they come here at night to be social, which makes my business model work."
Coincidentally, it's booming
George graduated at the top of his class from Ohio University and had job offers from all over the country, when he decided to open his first nightclub.
Along with his partner, former Browns center Jeff Faine, he now owns 17 restaurants in Ohio and Florida. But TownHall is his passion project.
"I hope I still sound humble, but I'm finally in a position financially where I could do what I wanted to do. So I developed a concept that I would want to eat at and be at every day, and just coincidentally became a huge hit."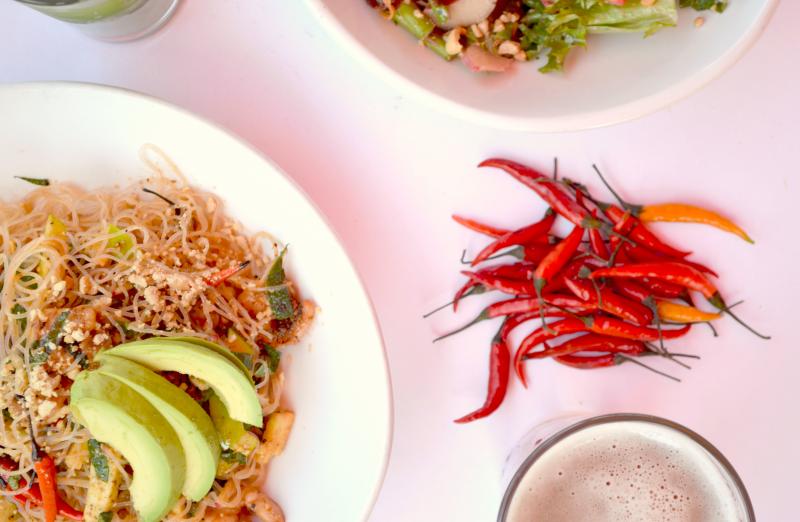 George is gratified by feedback from customers.

"I have people come up and hug me. Tables call me over all the time when I am here to just shake my hand."

Bobby George may be onto something, but he's not alone. In April, Chipotle went GMO-free. And restaurants at the Cleveland Museum of Art and Case Western Reserve University also strive to eliminate GMOs -- as hard as that is to do.

The USDA reports 94 percent of soybeans and 93 percent of corn are genetically modified, along with 75 percent of the processed food at supermarkets.

And that's this week's Quick Bite.