At Hattie's Garden at Old Trail School in Bath, John Hercules enjoys feeding chickens, weeding, watering, sowing and working with children.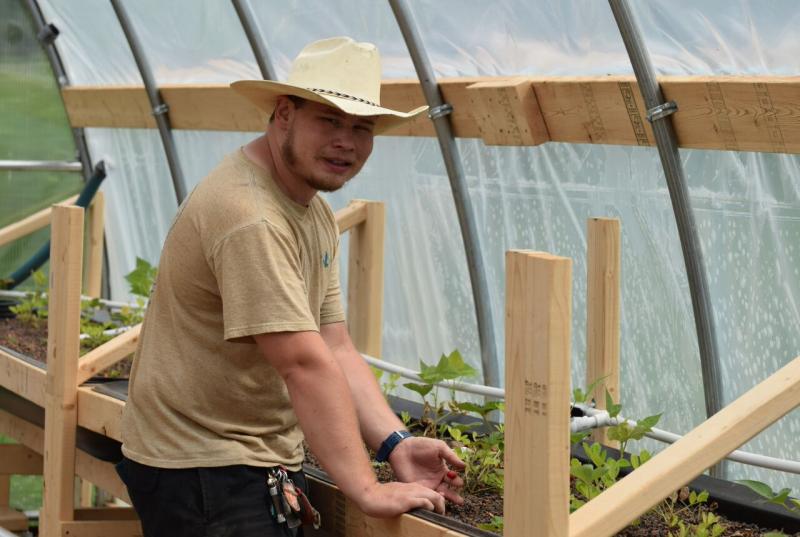 "I like showing younger kids that if you want good, healthy food, in a way grow it yourself, because that way you know what the nutrition value is No. 1. And No. 2, you know what went into growing it, and you know it's safe."
John is 25. He says he was very young when his grandfather first took him into the garden.
"He thought it would be just be a hobby. But since I was so good at it, I decided to take that and turn it into my career,
because really nobody farmed in my family since the 1800s and I'm going way back to our roots."
John has been apprentice farming at Hattie's Garden since it opened about four years ago.
Growing greens and building careers
Garden Manager Nathan Edge says other participants have moved on to jobs in the community.
"One of them went directly into a landscaping job at our main center for Hattie Larlham. And we've had a couple other folks move on to more food preparation and production rather than just direct farming."
The agency's moving on to a new job, too: providing a place for local produce to be processed for retail sale.
"Hattie's mission has ultimately been about providing services for people with disabilities," says Edge, "but we always throw around the phrase 'social justice' -- a nice way to explain how our training missions tie into this new goal we have in a more urban setting, where we're really trying to affect the food-desert issue."
Getting fresh food to places where it's scarce
A food desert as defined by the Food and Drug Administration is where there's no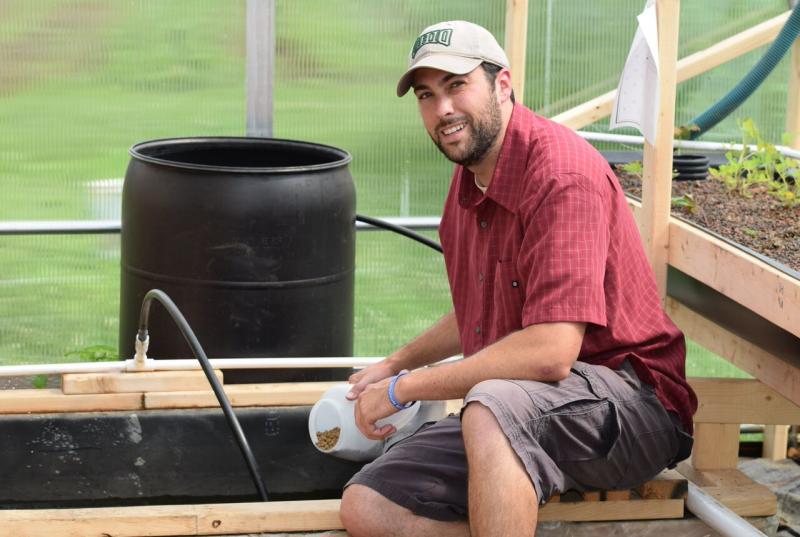 fresh produce within a mile radius. Sixty Akron neighborhoods fit the definition, including Douglas Street where the new food hub is scheduled to open next year.
Zach Rineberger will manage the 4,400-square-foot complex.
"Loosely defined, it's kind of like a food aggregate. So we would be taking in food from a local radius and distributing it throughout the community, whether it's in fresh produce, or a CSA format, or value-added."
Hattie's Gardens already has a CSA, or community-supported agriculture program, in which people can buy shares of its relatively small harvest.
Garden Manager Nathan Edge also comes to Countryside Conservancy's Highland Square Farmers Market weekly with the good things that grow here.
"So here we have a couple different types of cabbages. We have also interspersed
some white onions in between."
Hub Manager Zach Rineberger says all that and more will be available at the new food complex at 395 Douglas St.
Help for other small farmers
And he says other small farms will be invited to process and package food there for retail sale.
"Where they're too small to get into larger processing facilities, like our farm, (we) help aggregate them together to help distribute their products, to help kind of raise the whole local food community."
New local food items for Hattie's Cafes are expected from the hub's commercial kitchen "sold throughout the cafes in sauces or jams or things like that from the farm and other local farmers."
Hattie's Garden Manager Nathan Edge says partnering just makes sense.
"We also have connections with local restaurants. We sell to Blue Door Café in particular, Brick Oven Pizza, which is in Ellet, and we're reaching out to more restaurants, more higher-end outlets."
Public-private partnership
The food hub is a $1.2 million project. Hattie Larlham's Vice President of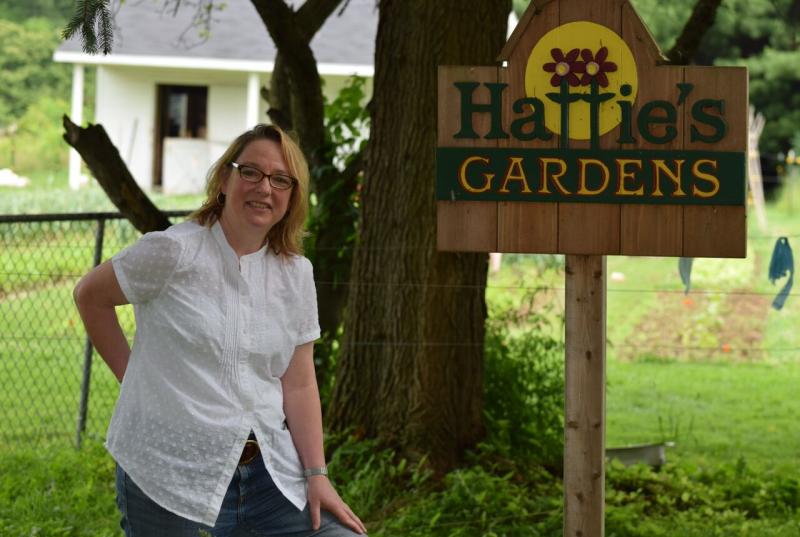 Vocational Training Dotty Grexa says it's made possible by the City of Akron donating vacant land, a quarter million dollar state grant, and private donations.
"By this time next year, we'll be fully operational."
By that time some of the occupants of two 500-gallon fish tanks may be turning up on dinner plates.
A new aquaponics system was recently installed in one of the garden's greenhouses.
"We have tilapia on one side," says Edge, "and coy and goldfish on the other side."
Fish along with the chickens and bees
Eventually there'll be yellow perch and trout swimming here, too.
It's a closed-loop nitrogen cycle in which fish waste feeds plants.
"The plants are then filtering out that ammonia, adding oxygen back into the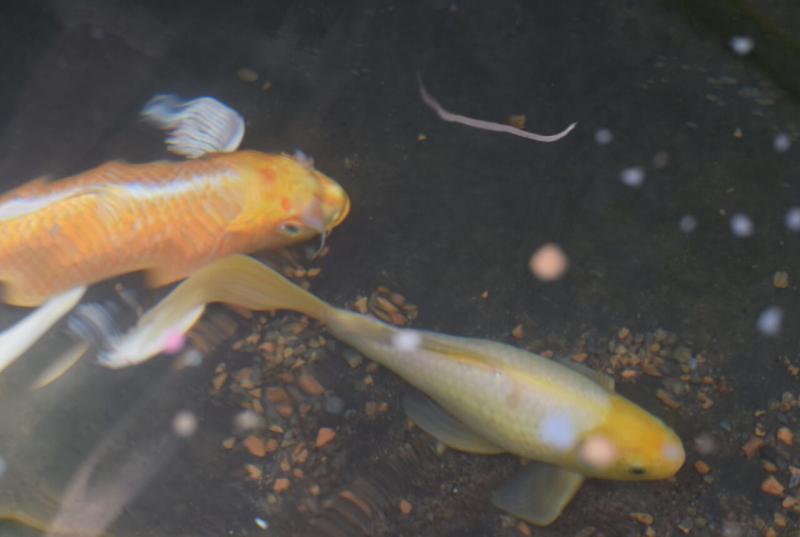 water, and it gets filtered back into the fish tank."
Something else new this year at the farm is a bee bath. Dottie Grexa says Hattie's Gardeners decided to build it to help the bees that Old Trail School students are keeping.
"So that the bees now have access to water right here in their backyard. They really walk the walk and talk the talk of being kind to nature out here."
Lessons about Mother Nature and human nature
Old Trail School Edible Education Coordinator Kathy Sapienza says besides farming basics, her students learn other important things when they work with the developmentally disabled apprentice farmers:
"That everybody is just a regular person like everybody else. So it's kind of a win-win."
Others join in. When we visited, volunteers from United Way were in the growing fields.
People want what's fresh if they can get it
They're motivated by the same goal food that drives food hub Manager Zach Rineberger: to get good food to where it's needed.
"A lot of people don't have transportation, rely on public transportation. In these food deserts, then, people tend to rely on a lot of fast food, a lot of processed foods, which can lead to health issues. People want this produce, they just don't necessarily have access to it all the time."
William Murray, Hattie's head gardener, says, "I know that feeling very well because I live in central Akron. The nearest grocery is about 3 miles away. So it is a common problem and especially our Akron site addresses that problem very nicely."
But there's still a lot of work to do. Ground will be broken Thursday, but the food hub won't be operational until next summer.