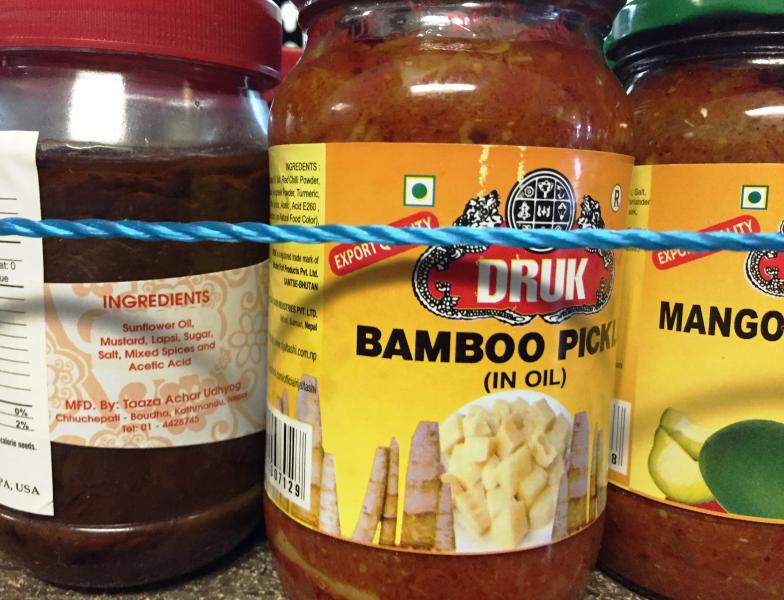 The shelves in the front room of Dhimal's Mini Mart are jammed with things like bamboo pickles, Panjabi cookies and momo masala. But to get the real flavor of the place, you have to head to the back room, with its floor to ceiling swirl of brilliantly colored saris.
Ever the enthusiastic salesman, Tika Dhimal makes his pitch.
"They are pretty and they're cool. I would say why can't some American people try these clothes, too? They look really, really cute when they're wearing these kinds of clothes and I see that."
The 24-year-old Dhimal has been running the business for three years. He, his father and three of his brothers pooled about $60,000 to start the store. His father had been stripped of a thriving wholesale business when they were forced from Bhutan into refugee camps in Nepal nearly 25 years ago.
For background on the Bhutanese refugee camps, her's a link to the UNHCR report:
UNHCR overview


So the money for the store was saved from first jobs in the U.S. – burger joints and machine shops.
Tika Dhimal acknowledges they all worried whether the business would make it—but only for a few months. Now he says he's living the American Dream.
A little longer wait

Naresh Subba says his worries and those of his two brothers lasted a little longer – about a year -- after they started their Family Groceries store in 2011. After all, that was before the people who were hungering for long beans and bitter melons, goat meat and dried fish had reached critical mass in North Hill.
But about 500 Butanese refugees a year have been resettling in the area.
Now, Subba says, he has long-time customers bringing in new refugees -- showing off his cast iron pots and bushel baskets of hot, hotter and really, really hot peppers.
"When I overhear them enjoying looking at making choices, I feel very proud."
Customers these days also include Burmese, Africans, South and Central Americans and, yes, he says, Akronites – especially vegetarians.
Jobs that created those businesses
Of course not all of the 4,000 to 5,000 refugees who have settled in North Hill are starting businesses. Many are heading to jobs in the region ... at the Case Farms chicken plant, Gojo and small machine shops.
Antoine Wilson has the absolute attention of the nearly three-dozen people at a job-orientation session the International Institute of Akron holds each month for new refugees.
His own job at the institute is to make contact with employers – and to prep new refugees to apply for work -- beginning with the power of a handshake. He says many of the Bhutanese arriving now have a leg up
"A lot of their family members or friends are already working. And so they know what the work world is and they want to go work with them."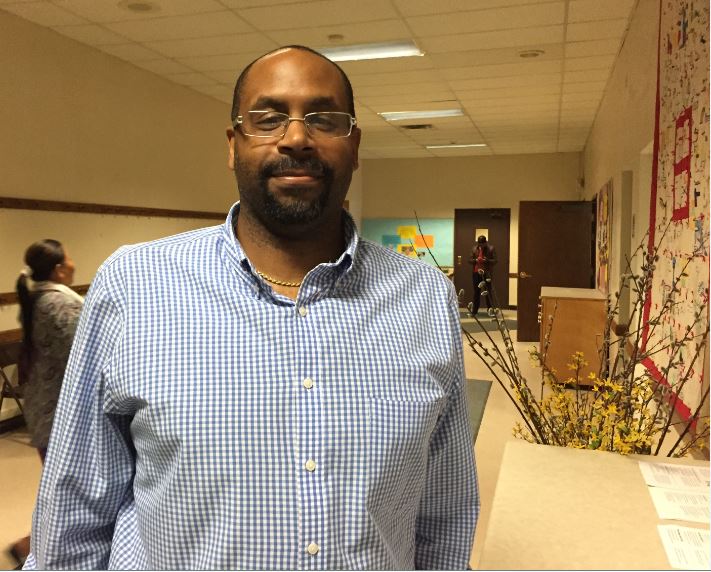 But he also acknowledges his job is getting a bit harder. That's because the first people to leave the camps and head for the U.S. were often younger and better educated – schooled in some English and or at least literate in their own language. Those arriving now tend to be older, less educated. And there are physical and mental scars from two decades or more in refugee camps.
Sons and daughters of farmers
Still, Wilson and so many others use a single phrase in describing the refugees: Hard working.
Naresh Subba says it's the same trait that keeps him working six days a week at his store, and keeps his brothers on the road each week picking up fresh produce from Chicago and New York.
"Bhutanese are – I don't know whether it's OK or not, but let me put it this way: These are really hard-working people; 100 percent of these people have a farming background. What they know is work. Just work. That's what keeps you going. Keeps you alive."
These days, when refugees are asked in the camps where they'd like to be resettled, Akron is often a choice.
And Elaine Woloshyn, head of the International Institute, says those numbers add up to create another dynamic: secondary migration.
"People have been resettled in the United States in another city and then they move to Akron. I actually know of a number of folks that have come to Akron because of the size of the Nepali speaking community to start businesses."
The influx has had its impact on some non-Bhutanese businesses in the neighborhood as well. The CVS pharmacy has a Nepali-speaking clerk.
Landlords have plenty of tenants. Houses are selling – and Realtors say as many of 80 percent of the Bhutanese – unfamiliar or uncomfortable with the U.S. credit system – are paying cash. The city says tax collections are going up.
It may still take time
But not everyone in North Hill is benefitting ... yet.
Scott Bailey runs Crest Bakery, whose art deco building looks a lot like it did when it opened in 1939. An array of cakes fill one display case; cronuts are a specialty in another. Bailey says competition has cut into business. And Crest took a hit when North Hill's population started to shrink about 20 years ago.
Thanks to the refugees, the population is rebounding. But Bailey says he hasn't seen that reflected in customers.
"They don't spend a dime. The parents who are over here are not doing it. I think the kids will change, but can everybody around here wait for that to happen?"
Then again, he acknowledges, something is happening in North Hill -- and it beats the alternative.