Government and Politics



Wednesday, October 28, 2015




Three NE Ohio cities targeted for marijuana farms have mixed reactions




Lorain, Hudson and Alliance would have three of Ohio's 10 licensed growing operations


by WKSU's KABIR BHATIA


Reporter
Kabir Bhatia
Tim Strader of Lorain says he's all for Issue 3, which would legalize marijuana and place one of ten growing facilities in his town
Courtesy of K. Bhatia
Download (WKSU Only)
One of the ballot questions facing all voters in Ohio next week is Issue 3. They'll be asked to decide whether to legalize marijuana and authorize 10 commercial growing sites throughout the state.

WKSU's Kabir Bhatia reports on how well that's going over in the Northeast Ohio cities that could be home to the facilities.
Downtown Lorain -- even during rush hour -- is much quieter today than when U.S. Steel and Ford Motor Company were running multiple shifts in the 1970s and '80s. Cliff Strader retired from Ford and now owns The Bootlegger's Den, a bar in the mostly empty downtown of Ohio's 10th largest city. He says he's fine with the plan to put a marijuana growing facility on 76 acres on the Black River if Issue 3 passes.

"I think it's a good idea. Take some of the drug dealers off the scene. And I've seen on TV where people say they've moved to another state because their kids needed the marijuana for medical purposes. And they said if it passes here, they'll come back."

Strader says the city needs jobs, and ResponsibleOhio – which is backing Issue 3 – estimates the site would employ about 200 people.

Lorain Mayor Chase Ritenauer did not respond to requests for an interview for this story. But he told Cleveland.com in February that the city got a $2.3 million economic development loan from the state in 2008 to ready the site for businesses – businesses that never came. In that article, he also said if the marijuana facility comes to fruition, the city could see $200,000 in additional income tax.


Alliance, Stark County
The promise of jobs also appeals to Nancy Stutler, a nurse and lifelong resident of Alliance in Stark County. Issue 3 would place a growing facility on 27 acres in an industrial park on the city's west side.

"I think they should have security just for the fact of people trying to steal. That would be the biggest thing for me. It should be regulated, obviously. ... To be honest, I think alcohol should be more illegal than marijuana should be."

Stutler acknowledges downtown Alliance is kind of run-down. She envisions today's empty storefronts housing tomorrow's marijuana dispensaries.

"I think it would maybe take a little bit of the riff-raff away because that would obviously bring police, security down to this area maybe a little less crime. Not that there's a big deal, but I think that it would still lessen it, even more so."

However, the mayor of Alliance – Alan Andreani – is not so sure the city is ready for its potential newest business.

"The tenor has been – and it may be that they like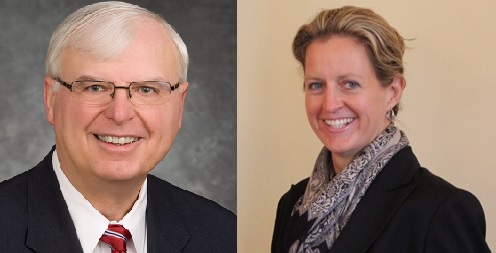 talking to me because I have similar views – is that, I worked in the schools for 30 years, and I've seen a lot of things, issues with students on this. And I think everyone's very concerned."

Backers of Issue 3 presented Mayor Andreani with an outline of their plans back in the spring, saying it would create maybe 50 to 100 jobs. And while he says he wants job growth, he's not sure this is the way to do it.

"The citizens of Ohio – when they're doing such an expansive change – need to carefully consider this. And maybe this all-in-one approach may not be the best thing. And I think it needs to go back and be reconsidered."

Hudson, Summit County
An hour north, in Hudson, Kristina Roegner agrees. She's a mother of three and has been a state representative since 2011.

"I do support medicinal marijuana. Maybe I'm differing from some of the other conservative Republicans I serve with."

But she is not at all behind recreational marijuana, or the 29 acres in an industrial park in Hudson that are earmarked for the marijuana facility.

"It's going to be right across the street from where we go to church. I'm not sure you will see it from the road. But I have to believe you might smell it."

The Hudson site is being backed by a group that includes singer Nick Lachey of 98 Degrees, who's appearing in ads for ResponsibleOhio where he says, "Ohio is my home. And I care very deeply about the people here."


Those ads tout the creation of about 1,100 small businesses throughout the state, which could sell everything from recreational marijuana to pot-infused Gummi Bears and cookies. That's fine with Sean Collins, who owns Western Reserve Music in downtown Hudson.

"I think that the monetary gains from it -- and the decriminalization and the money spent on incarceration being decreased – will greatly benefit the state."

With less than a week to go before the vote, it's unclear what the chances for passage are. While a recent poll by Kent State University showed Issue 3 with the support of 58 percent of registered voters, a survey by the University of Akron's Bliss Institute of Applied Politics found that voters are almost evenly divided.



Page Options
Print this page
---
---