Mike Patton works a block from where the flight from Dayton's Wright Brothers Airport crashed. He says he saw the whole thing from his office window -- including the plane appearing to list with the pilot bringing it in very low.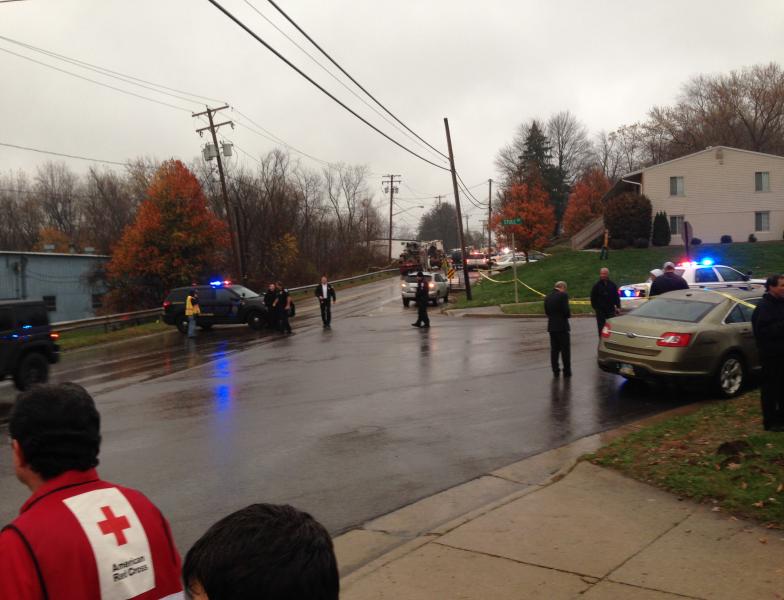 "As he was coming to the trees, you heard the thrusters and he was just still dropping. Next thing I saw was a blue flash, so I figured he hit power lines. And then next thing was a big plume of smoke. And then a couple of small explosions afterwards; and some crackling in the woods. And just sirens after that."

After hitting the power lines, the plane slammed down into two multiplexes along Mogadore Road. No one was in them a the time.

Fatalities aboard the plane
The owner of the Hawker H25 twin-engine jet, Agusto Lewkowicz confirmed to the Akron Beacon Journal tha seven passengers and a crew of two had been on board and did not survive.
Ashley Sitowsky lives one street away from the crash.
She, her 2-year-old and a neighbor had just come back from shopping.

"We were in my car getting ready to come in the house and we heard this boom.
And we thought it was a truck, but it wasn't. The entire area over here was engulfed in flames."
The Summit County Medical Examiner is awaiting the arrival of a forensic specialist before confirming or releasing identities of the dead.