Presidential campaign stump speeches usually include a lot of warm-up acts. Not Bernie Sanders'. The only person to take the stage at the Wolstein center before him was former state Sen. Nina Turner – a recent convert from the campaign of Hillary Clinton.
"He is a man of principle," Turner assured the crowd that really didn't seem to need much reassuring; many came in saying they fervently believe in Sanders' message that income inequality is devastating America.
A different start with Paris in mind
But on this night, the Vermont senator started his speech far away from that message. Instead, he began with foreign policy -- in light of the terror attacks in Paris Friday night. And he called for a balance.
"We need to create a world-wide coalition that will defeat ISIS. But no, the United States of America must not be involved in perpetual warfare in the Middle East."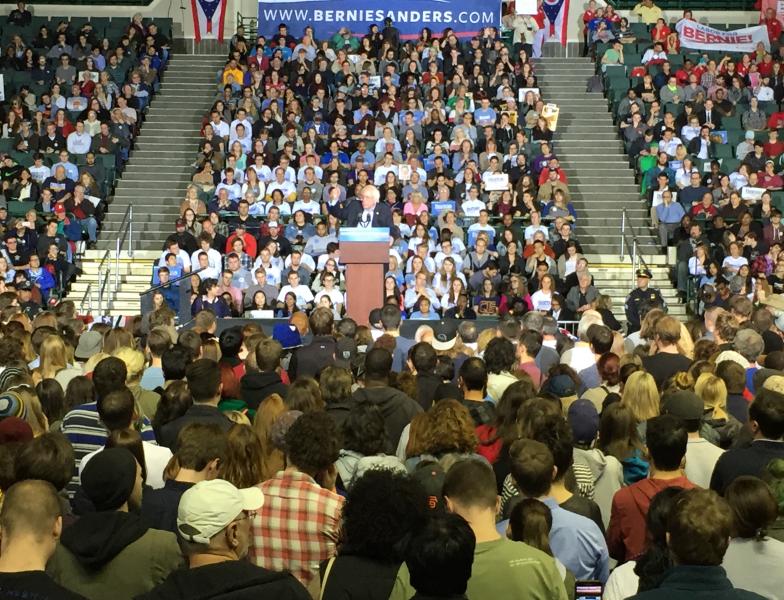 He supported President Obama's attempts to build alliances to defeat ISIS. He protested calls from Gov. John Kasich and others to bar Syrian refugees from the U.S.
And he scoffed at Republicans who say Obama is not tough enough, raising the specter of the Iraq War pursued by President George W. Bush.
"We had a president and he was very, very tough. But not very smart."
They all want a revolution
Then Sanders pivoted from the Middle East to the middle class. And to a blending of specifics -- like the need to reinstitute the Glass-Steagall Act's restrictions on banking risk – to the broadest of calls for action:
"What people know and what this campaign is about is not just electing a president. It is creating a political revolution."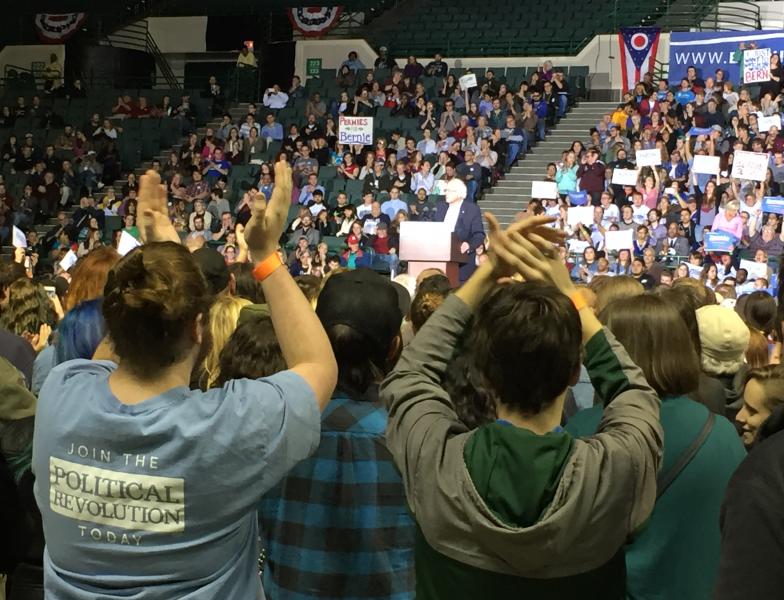 And, the Democratic socialist promised, an economic revolution as well.
"What this campaign is about, simply stated, is creating an economy that works for all of us and not just millionaires and billionaires."
Jobs, education, not prisons
Sanders says that means changes in corporate tax policy, equal pay for equal work, protecting pensions, ensuring paid family medical leave and a quality education.
"Let me tell you what I think is the most common sense Idea out there. And that is instead of investing in jails and incarceration, maybe we should invest in jobs and education."
To perhaps the biggest cheer of the night, Sanders talked about being pro-choice and supporting gay marriage -- as a family value. And about ways to better race relations and establish pathway to citizenship for immigrants here illegally.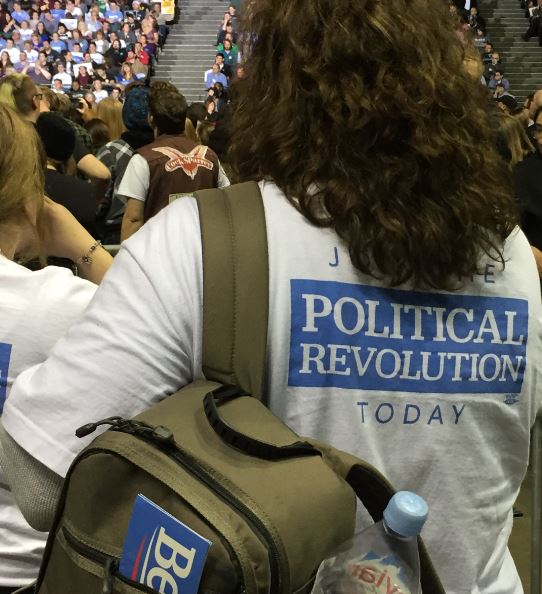 No Hillary from Bernie
It wove the rhetorical fabric Robert Rice and Mario Pollard – students at nearby Cuyahoga Community College -- had come to hear.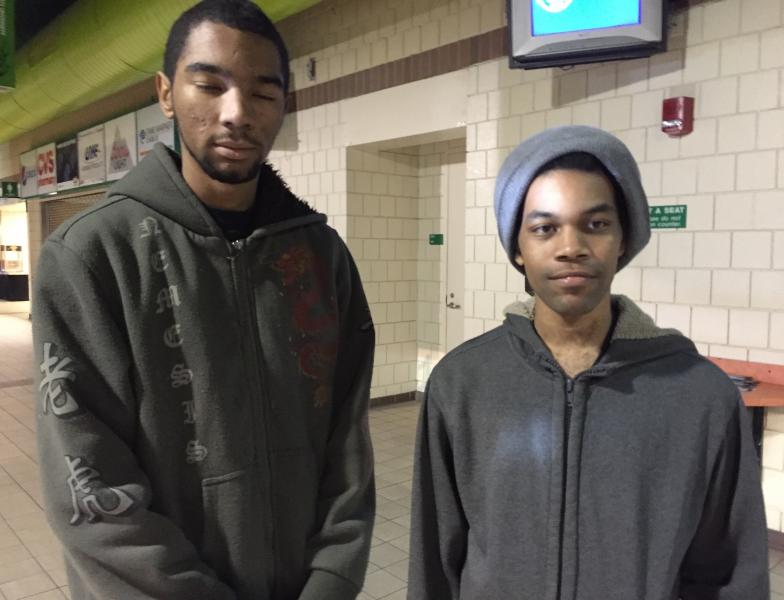 "He's not your average same old politician who's just talking the same crap. He's really reaching out to all types of people. Young and old. Whatever race. Whatever religion."
"I was very drawn to his blending of solid economics with his liberal, his progressive policies."
With his criticism of the Iraq War and causes and effects of the Great Recession, Sanders sounded at times as though he's running against George Bush -- or at least the stable of Republicans running for their own party's presidential nomination.
One name he did not raise -- even when the audience invited him to take a shot – was Hillary Clinton – the front runner for the Democratic nomination.