Sports



Wednesday, December 23, 2015




Pluto: How Terry Bowden took Akron from 1-11 to bowl champs




Bowden's experience led a rebuilding process that turned Akron into first-ever bowl champions


by WKSU's AMANDA RABINOWITZ


Morning Edition Host
Amanda Rabinowitz
The University of Akron won its first ever bowl game on Tuesday, following its first winning season in a decade.
Download (WKSU Only)
The University of Akron football team won a first-ever bowl game yesterday, 23-21 over Utah State. It caps a tumultuous year for the team that made headlines for having the lowest attendance in all of Division I, coupled with its $8 million annual deficit. WKSU commentator Terry Pluto talks about how the Zips overcame a decade of losing.
The Zips (7-5 overall, 5-3 MAC) beat Utah State in the Famous Idaho Potato Bowl in Boise on Tuesday for Akron's first-ever bowl win. It was only the second time they've been to a bowl game; the last time was 2005.

Terry Pluto talks about a pivotal moment when the Zips turned a corner.

"The middle of the season their record was 3-5. There was all the discussion about the stadium and all the money that's owed on the stadium and the field house. There was all this turmoil at the University of Akron. A new president comes in, job cutbacks and everything else. There were even some people on the faculty who wanted the team to drop back a division or two to play a lower level of football, which meant they would have had to leave the MAC.


Bowden ball
Pluto says Coach Terry Bowden's job was on the line. The school hired a new athletic director -- and they typically like to hire their own coach. After four years at Akron, Bowden's records had been 1-11, 5-7, 5-7. And in the middle of the fourth year, he was 3-5.

"And then suddenly, they started to win some games. Four in a row to finish the season 7-5," Pluto says.

Pluto says Bowden's experience has paid off for Akron. He was an assistant at Akron in 1986. He become the head coach at Salem (W. Va.) University and Samford (Ala.) before moving to Auburn, where the Tigers won his first 20 games. He resigned after a 1-5 start in 1998, however, and became an analyst for ABC television.

"When they hired Terry Bowden, he was 54-years-old. If this guy was sincere about wanting to do a good job, he actually knows what to do. He's been around. He's not a training-wheel coach."

When Bowden came to Akron, he was the third coach in four years. The last time the team had a winning record, J.D. Brookhart was the coach in 2005. Then, Rob Ianello was fired after going 1-11 in two straight seasons. "So, they had gone through almost like Cleveland Browns-type turmoil. And, Bowden even went 1-11 in his first year."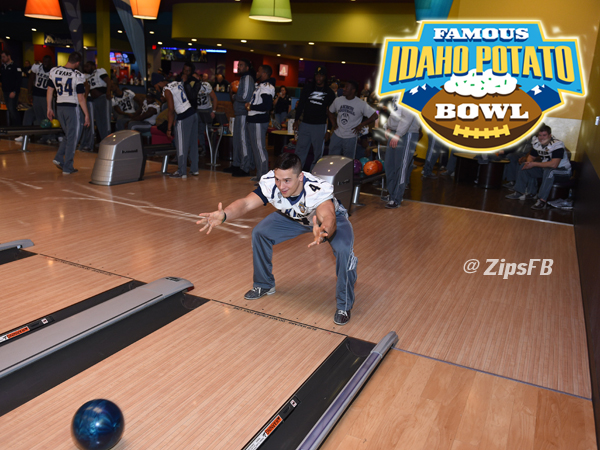 Too many bowls?
There are roughly 40 college bowl games, which means about 80 out of 128 Division I teams are competing. Since there weren't enough teams with 6-6 records or better, the NCAA had to invite teams with 5-7 records.

So, does winning the Famous Idaho Potato Bowl with a 7-5 record matter for Akron?

"It's kind of the little exclamation point on a winning season," Pluto says. "I remember after they won their last game, beating Kent rather decisively, which is a big game for them. Because had they lost that game to Kent, they're not going to the Potato Bowl. They're not going to the Ty-D-Bol," he jokes. "This is not a program-changing game. But when you're Akron and it's been 10 years since you've had a winning season, you're glad any bowl wants you."

No longer a joke
And, Terry circles back to Bowden's leadership. "I will give him credit. He came in here; he's worked hard. He's brought in a lot of local kids. And at least now, Akron football is no longer a joke in the MAC."

And, Pluto says Bowden, at 59, intends to stay at Akron.

"I'm happy for him. He won me over early. And then he won me over by how he worked hard at this job with his assistants. Becuase it's not easy to win in Akron."

Other options:
MP3 Download
(6:35)
---
---
---