Sports



Wednesday, January 13, 2016




Baseball Hall of Fame voter Terry Pluto calls for more transparency




Pluto says three baseball writers who voted 'no' for newest Hall of Famer Griffey Jr. should explain themselves


by WKSU's AMANDA RABINOWITZ


Morning Edition Host
Amanda Rabinowitz
Terry Pluto says the three writers who did not vote for Griffey Jr. for the Hall of Fame should explain why
Courtesy of wikipedia.org
Download (WKSU Only)
Baseball's Hall of Fame selection process has always been shrouded in controversy, and this year was no different. WKSU commentator Terry Pluto is among the nearly 450 baseball writers who vote. He talks about the criteria for selecting players and why thinks the three writers who passed on Ken Griffey Jr. should explain themselves.
The Hall of Fame relies on a controversial voting process. Ballots are received by Baseball Writers Association of America after they have spent 10 years as BBWAA members. And, this year signaled a change. Eligible voters must not only have 10 years of continuous BBWAA membership, but also be currently active members who have covered a game the past 10 years. The vote total in 2016 decreased by 109 from the previous year, to 440.


Who Pluto voted for
Terry Pluto is one of those voters. "Sometimes you look at the ballot and you wonder why some of these guys are on there. But, never on your original ballot is someone left off who's worthy of being on."

Pluto voted for seven candidates: Ken Griffey Jr., Mike Piazza, Tim Raines, Trevor Hoffman, Mike Mussina, Curt Schilling, and Jeff Bagwell.

Ken Griffey Jr. and Mike Piazza were elected to the Hall of Fame. Griffey ranks sixth on the all-time home run list with 630. A 13-time All-Star, he won 10 Gold Glove awards and a Most Valuable Player award with the Mariners in 1997 over a 22-year career.

Three 'no' votes for Griffey
"Three guys didn't vote for him. It's not like you rank them one through 10. You can vote for up to 10 people. So it isn't like, 'Oh I have one vote, who do I give it to?' You have 10! That means you are saying on this ballot that there are 10 other players better than Ken Griffey. There's no players on this ballot better than Ken Griffey by any objective, subjective or rational standard."

And, Pluto says as a Hall of Fame voter, he takes it seriously. He uses an analytics pro, Jacob Rosen, to help him with his ballot. "I've had him run numbers for me on these guys, even comparing eras and so on. And to those of us, there's three guys we don't know who they are, who didn't vote for Ken Griffey, we look stupid. Explain yourself, that's all. Part of me says you should have your card taken away."

A history of odd 'no' votes
Pluto did some research and found some other puzzling votes. "Five guys didn't vote for Hank Aaron [in 1982]. There were several people who didn't vote for Cal Ripken, Jr. [inducted in 2007] who broke Lou Gehrig's consecutive game streak." And, he says in 1936, 11 people didn't vote for Babe Ruth and five people didn't vote for Ty Cobb.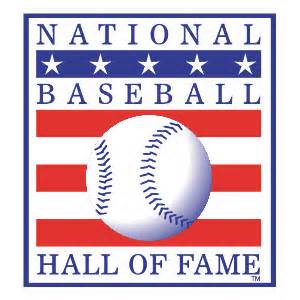 Pluto says with no specific standards for voting, the writers can vote based on how they feel about the player personally. "Albert Belle was on the ballot for three years and then dropped off. You have to get like 25 percent of the vote to stay on the ballot. I voted for Albert all three years. I thought he was a Hall of Fame player. Nine consecutive years of 100 RBIs. A lot people just didn't like Albert Belle."

Even more mystery in football, basketball selection process
"Football there are 44 media people from around the country. Tony Grossi is the representative for Northeast Ohio. They debate all this and they come out with the Hall of Fame people. So it isn't like there's 400-some [like with baseball]. You don't know who votes for who, or what. Basketball, I have no clue how they pick it. So, at least for the baseball writers, we know who they are. And most of us make our ballots public. We put them in our columns, we put them on social media."

And Pluto says there should be more transparency in the results. "I think they should be made available, if someone wants to know. Contact the baseball writers at the Hall of Fame. You should have no problem standing next to your vote. Becuase I've had people say your vote should be private. This is not like who you're voting for president! You're in the media! The media complain about other people being transparent and you don't want to be transparent? It's an honor to vote for the Hall of Fame and you should take it seriously."

The Hall of Fame induction ceremonies will be held on July 24, 2016 at the Hall of Fame in Cooperstown, New York.

Other options:
MP3 Download
(1:40)
Other options:
MP3 Download
(7:37)
---
---
---