Economy and Business



Tuesday, January 26, 2016




FirstMerit to be acquired by Huntington




Corporate HQ of the expanded bank will be in Columbus


by WKSU's TIM RUDELL


Reporter
Tim Rudell
Twilight over Fist Merit Tower, downtown Akron tallest building (left), I will no longer be the bank's corporate headquarters
Courtesy of Tim Rudell
Download (WKSU Only)
Akron's FirstMerit Bank is becoming part of Columbus-based Huntington Bank, in a deal estimated to be worth nearly three-and-a-half billion dollars. WKSU's Tim Rudell reports.
Four thousand people work at FirstMerit, about half of them for the Akron corporate headquarters. There's no word yet on job cuts related to the deal and won't likely be any until it is completed.

Bottom line
But, Rick Parsons, an independent banking industry analyst and author,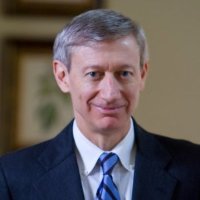 says much of the motive for big regional banks to merge is cost consolidation. "They say: here's the economics; what we can do together. We'll take out X number of dollars. And I'm sure they've already started to talk about that publicly. And, 55% of most banks non-interest expenses are personnel. And, that's really the expense line that gets attacked."

Local Reaction
Summit County Executive Russ Pry says he understands the business reasons for the merger, but is still disappointed about losing the FirstMerit corporate headquarters.
Other options:
Windows Media
/
MP3 Download

(0:22)


"Well, it's obviously in my mind not good news. You know, they've been a great local partner on so many issues. Our job now is to work with both banks to make sure that we get commitments from Huntington that we're going to have that same kind of relationship. Talk to them about the impact on the branches, the employment; and try to work this out for the best for the Akron and Summit County community."

Time frame
The sale, which still must be approved by the shareholders of both banks, is expected to close in the fall. The combined bank's assets are projected to be close to $100-billion, and in terms of deposits, it will be Ohio's biggest bank.
Page Options
Print this page
---
---